Tomi Büchler co-founded and helps lead Minyanim, an initiative to develop the next generation of European Jewish leaders
By MORDECAI SPECKTOR
The Jewish community of Hungary is not like that of Minnesota. Hungarian Jewry was decimated in the Shoah; and those Jews who survived the Nazi cataclysm and returned to their homeland suffered repression during decades of Soviet domination.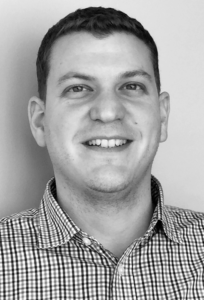 In an effort to redress this sad history, Tamás "Tomi" Büchler helped found and leads a group called Minyanim, which encourages young Hungarian Jews to design programs aimed at reigniting Judaism and Jewish community in their corner of the Old World. As of this year, Minyanim has expanded its "European Jewry 2.0" outreach to more than a dozen other European countries.
Büchler visited the Jewish World offices last week, immediately after flying from Budapest to Amsterdam to MSP. He allowed that he didn't get much sleep during the 12 hours of flights, but he seemed completely lucid.
The 33-year-old Budapest resident was accompanied by Mort Naiman, who directed the Minneapolis Jewish Federation's fundraising campaigns for many years, and now is a senior vice president for the Jewish Agency for Israel, serving on the group's North American Council. Naiman visited Hungary late last year with participants in the Harry Kay Leadership Program, an initiative of the Federations in the Twin Cities.
Büchler recalled the "really, really interesting discussion around what Jewish leadership might look like in the future," with the local Jewish activists in Budapest.
Explaining how Minyanim came about, Büchler provided some context about "what's happening in Hungary with the young Jewish crowd."
He mentioned that his Jewish peers "grew up in very assimilated households. When I say 'assimilated' or 'unaffiliated,' it's not like the American sense [of the words]."
Rather than not going to shul or celebrating a Bar or Bat Mitzva, Hungarian Jews might not know they're Jewish until they reach their early 20s, according to Büchler.
"It's a complete disconnection from any kind of organized Jewish events or organized Jewish community — literally, no connection," Büchler explained.
Even before the horrific experience of the Holocaust — in which 80 percent of the nation's Jews were murdered in the span of six or seven weeks — Hungarian Jews were quite assimilated into the larger society, according to Büchler.
"Hungarian Jews were never shtetl Jews," he pointed out, and added that Hasidism and Yiddish were not in the mainstream of the community. Büchler remarked that Hungarian Jews were mainly middle class or upper middle class, and had their own stream of Judaism, which is called Neolog Judaism and originated in the late 19th century — "a more liberal version of Judaism."
After the trauma of the Shoah and the Communist era, Hungarian Jews who made Judaism a priority in their lives fled the country. "Even our grandparents made the choice not to be too involved in the Jewish community," commented Büchler, whose family is an anomaly, in observing Jewish holidays.
Büchler's parents — who each suspected that the other was Jewish when they met in dental school, but did not know how to broach the subject — had a Jewish wedding. It took place in Büchler's grandparents' apartment, with a chupa, or wedding canopy, and the Judaic ritual performed behind drawn curtains.
Jews were not physically exterminated by the Communist overlords ruling Hungary during the Cold War; but Jewishness was regarded as a hindrance to social advancement, said Büchler, who added that the official Jewish federation colluded with the Communist regime. "It wasn't necessarily the kind of framework you wanted to be part of."
To illustrate how his parents and their generation were traumatized by the Communist era, Büchler told the story of his two-year-old son's bris.
"I wanted to have have a Brit Mila [ritual circumcision]… and we invited people. Hundreds of people were showing up — we did it in one of the Jewish schools, and the mohel was on the way, we had a mohel coming from Israel.
"So my father, literally, two minutes before the [ritual], told me, 'Tomi, you really don't need to do that.'"
Büchler informed his father that they would be going forward with the bris.
The younger generation of Hungarian Jews apparently is more open to Judaism and Jewish culture, which is where Minyanim, which is sponsored by the Jewish Agency for Israel, plays an important role.
Büchler had his eyes opened about the diversity of the Hungarian Jewish community when he participated in a Jewish Agency-sponsored Birthright Israel trip. A half dozen or more Hungarian Birthright trips take place each year. Büchler, who had been an enthusiastic participant in Jewish camping and other activities, poured himself into Jewish activism.
"I think what the Jewish Agency is doing in Hungary, by promoting Birthright and funding Birthright, makes a crucial difference," he said, "because my parents' generation never wanted to send their kids to Jewish camp, so the 500 kids I grew up with were 500 kids of parents who saw some sort of a value in sending their kids to a Jewish camp; but the other 90 percent of [Jewish] parents, they never saw that it made sense, or this was no value proposition for them."
However, the disconnected "90 percent" of young Hungarian Jews arrived at university and found that they could get a free trip to Israel through Birthright, if they could prove that they have a Jewish grandparent.
Upon their return to Hungary, many of the Birthright participants are looking for "a sense of belonging and a way to connect with their heritage," Büchler pointed out.
Minyanim, in its efforts to foster a new generation of European Jewish leaders, has offered micro-grants, since 2009, for varied Jewish-oriented projects. Buchler mentioned that a young woman in Warsaw, Poland, created challa baking workshops. Also in Warsaw, a Jewish running club was formed; Maccabi Poland now offers soccer, yoga and other athletic programs.
And Büchler cites a success story in Budapest: A woman started Talmud Now, a text study project that attracts 70 to 80 people to sessions held in "the most hipster bars."
"They are secular people who don't have a deep knowledge, if any knowledge, of Talmud or Jewish texts," he pointed out. "But they are going to this bar, and they get a text and they start a discussion around the text. It's pretty powerful."
At the end of his visit, Büchler made a couple of points. First, he mentioned that if the North American Jewish community, which allocates funds to the Jewish Agency, pulls out of Jewish programming in Eastern Europe, nothing will be left — "definitely no young adult programming at all. It's one of the scariest things."
Unlike North American Jewish communities, Hungary's Jews do not have a tradition of Jewish philanthropy, or general philanthropy. "It's not part of the culture," said Büchler.
Secondly, Büchler said that North American Jews and Jewish Israelis view European Jews as something from the misty past, like characters in Fiddler on the Roof, in the "land of the Holocaust," or living in a blighted situation amid suffocating anti-Semitism.
"I think these views have an element of truth: this is where the Holocaust happened and also some of our grandparents are from the shtetl, and yes, there is still anti-Semitism, but it's just a really small part of our story…. I think the story is much more optimistic. It's a harder story to sell, because a viable, flourishing Jewish community in Eastern Europe doesn't fit into the Israeli Zionist narrative, and also doesn't fit into the American Jewish story. It's something of a counter-cultural, counter-narrative; but this is our story, and there's a lot to talk about there."
Büchler added that in recent years, American Jews are becoming more open to the narrative of a vibrant Eastern European Jewish culture. Many years ago, the only American Jews he met were those participating in the March of the Living, which visited Auschwitz and other death camps, and stopped off in Budapest.
"Back then it was almost impossible to switch the conversation from the Holocaust and victimhood to other topics," he said. In recent years, however, American Jews have been more willing to engage in "a dialogue of what Jewish existence means in Eastern Europe and what's the potential there — what are real challenges and really what kind of vision there is of the future. Also in Hungary, you have a critical mass of Jews, 100,000 people who, unless something horrific happens, are there to stay…. I passionately believe in the future of Jews in Hungary."
(American Jewish World, 2.9.18)