Reviewed by NEAL GENDLER
Oxford's new History of the Holy Land is an ambitious, erudite and handsome, if incomplete achievement.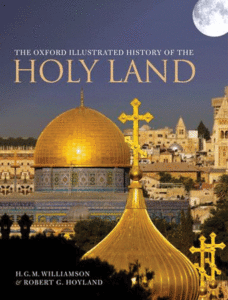 The gorgeous cover photo features a full moon over the golden Dome of the Rock and the golden cross-laden dome of a church — an exquisite composition showing nothing I could identify as Jewish.
That probably was inadvertent, but not so the fact that The Oxford Illustrated History of the Holy Land ends in 1917, as Britain drove Turkey from Jerusalem, nor the title chosen for political neutrality.
"Different names and geographical definitions bedevil the history of this part of the world," the introduction says. "That is one good reason why we have called a halt … just at the point where [British Prime Minister] David Lloyd George was clarifying his thoughts on the post-war settlement."
That's unfortunate, even cowardly, considering how the boundaries drawn by Britain and France have affected the region's history. Jews and Arabs indeed have very different Holy Land narratives, but discernible facts exist.
Even so, Holy Land's 372 pages of text, with 141 photos and drawings, make it a lengthier read than suggested by its three-quarter-inch thickness; pages exceed 7 by 9.5 inches.
The contents are worth the time: 10 chapters of chronological history followed by chapters called "Pilgrimage," "Sacred Spaces and Holy Places" and "Scripture and the Holy Land." All but one are written by scholars in clear English, if sprinkled occasionally with terms not in the 70,000-word paperback dictionary next to my reading chair.
Scholars disagree about Israel's early history, says first-chapter author Avraham Faust. Some see the Bible as mostly reliable for events, "while others deny any historical value to the texts." Most scholars are somewhere in between, he says.
Faust aims for a middle ground, saying that "the 'real' story of Israel — the one that can be identified on the ground … begins in the second half of the 13th century BCE."
Chapter 2, "Iron Age," assumes some familiarity with the Bible, discussing much about Saul, David and the extent of their territories. Chapter 3 is a slightly head-spinning history of rulers, wars, assassinations and kings paying tribute to other kings.
H.G.M Williamson's "Babylonian Exile and Restoration" traces the land's political history "to uncover the intellectual and spiritual developments which accompanied it," he says.
Chapter 6, "A Christian Holy Land," has enormously long paragraphs and doubtless would be more engaging to Christians, but I learned from it.
Later, we get histories of conquests, building booms — the murderous Crusaders' rule created more than 400 religious structures — destruction of buildings and their replacements by the next conquerors.
Throughout, we learn of rulers' ideologies, benevolence or brutality, prosperity or poverty and religious freedom or restriction. The story of this land so central in Western minds is necessarily long, but generally easy and interesting reading.
The final history chapter, "From Napoleon to Allenby," is by controversial British journalist Robert Fisk, both praised for Middle East reporting and accused of being anti-Israel and giving misleading, pro-regime coverage to Syria's civil war.
His chapter begins with Napoleon's ill-fated invasion of 1798. Within a few paragraphs he injects Jews, saying Napoleon courted them. Amid Fisk's historical overview are his opinions and statements of how historical events echo in the region's problems today.
He says that the Turkish grip on its empire was thin. "Although in its final century it ruled most of the Arab peoples … it never attempted to colonize the land."
He calls Zionists "colonizers" — not, as Zionists would have it, returnees. But Fisk is more neutral than I'd expected about the Zionist influx before 1917, even as a photo of two Arab girls is captioned a bit sarcastically, if accurately: "For a 'land without people,' there were a lot of Arabs in Palestine."
His chapter closes with two largely off-topic photos from the Armenian genocide. More appropriate would be the famous photo of British General Allenby entering Jerusalem — in deliberate humility, on foot.
***
Neal Gendler is a Minneapolis writer and editor.