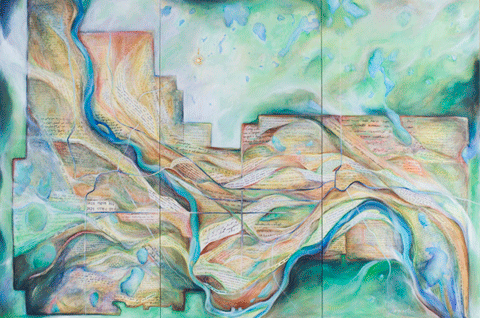 Or Emet – Minnesota Congregation for Humanistic Judaism will host artist Susan Armington for a presentation of her work, which includes imaginative map paintings of the Middle East made with ancient texts, 7:30 p.m. tonight, Friday, April 5 in the Beit Knesset, Room M-28, at the Sabes JCC, 4330 S. Cedar Lake Rd., St. Louis Park.
Armington will speak on "Coming Together, Coming Apart: Spiritual Geographies in My Art," and also present excerpts from other work including her "Talking Suitcases" art and storytelling project.
She has been a member of the Jewish Arts Lab, and a COMPAS Artist in the Schools teacher. Armington is the recipient of three Minnesota State Arts Board grants, a "Changemaker" award from the Minnesota Women's Press, and has shown her work at the United Nations and the International Labour Office in Geneva, Switzerland.
Rabbinic Candidate Eva Cohen will lead a short Humanistic Jewish Sabbath service to be followed by the program which is free and open to the public. An Oneg Shabbat reception will follow.
For information, contact info@oremet.org, or go to: oremet.org.