I had last talked with Rabbi Jonathan Perlman, in the fall of 2010, for a Jewish World story. It was titled "Jonathan Perlman returns to Steeltown." Perlman, his wife, Beth Kissileff, and their three daughters lived in St. Louis Park for several years. He was the director of what was then known as the Robert and Janet Sabes Center for Jewish Arts and Humanities at the Sabes JCC, and later served as a chaplain resident at Abbott-Northwestern Hospital in Minneapolis.
I talked again with Perlman on the Sunday after Purim. He was at home in Pittsburgh, his hometown. I've thought about Rabbi Perlman many times over recent months, since a gunman came into the Tree of Life synagogue and murdered 11 Jewish worshippers.
Perlman, the rabbi of New Light Congregation, which rents space in the basement of Tree of Life, escaped the slaughter on Oct. 27; but three of his congregants — Daniel Stein, Melvin Wax and Dr. Richard Gottfried — were shot to death.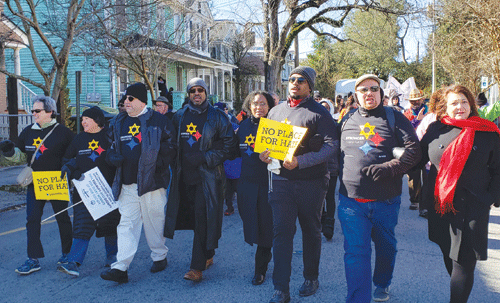 In the midst of the carnage, Perlman and others were hiding from the gunman in the building. "I eventually found a way out and went home," he told me. "I found a door, some kind of hidden door that they'd never seen before."
He informed a police officer that there were two other people who were hiding in the building. "He just told me to go home."
Beth, his wife, was in the kitchen, reading the New York Times, when Perlman entered and told her that there'd been a shooting at the synagogue.
Kissileff is a talented and accomplished writer. In a February article for JTA — which explained her opposition to the death penalty for the Tree of Life gunman — she wrote about the New Light congregants who were murdered:
"Dan, Mel and Rich were all past presidents of the synagogue; all regularly read the haftarah and led prayers. They were all incredibly generous with their time and were pillars of the synagogue.
"Dan, 71, had wanted to be a translator for the United Nations when he was young and had spent time in South America. Rich, 65, not only volunteered for the synagogue but gave his professional services as a dentist to patients who could not pay. Mel, a retired accountant, did some people's taxes for free and had helped many residents of his apartment building register to vote.
"The synagogue feels emptier these days without their presence and commitment."
My conversation with Jonathan Perlman occurred not long after another mass shooting at another place of worship — actually, at two mosques in Christchurch, New Zealand. A White Power advocate murdered 50 people in Christchurch. Of course, the mass murder of Muslim worshippers, including refugees who recently arrived in the country, was the subject of global press attention, and dredged up painful feelings for survivors of gun violence in Pittsburgh — and in Charleston, Oak Creek, Wisc., Las Vegas, Orlando, Fla., etc.
Perlman allowed that he and his fellow Jews in Pittsburgh "deeply identified with the loss of life" in the mosque shootings.
In the aftermath of the Pittsburgh massacre, there was an outpouring of solidarity with the Jewish community there. Many of us attended local memorial services for the victims.
"It was really overwhelming, amazing to find there were so many good people," Perlman commented. More than $6.5 million was raised "to go to three synagogues and the people who were affected." People made artworks and sent them to Pittsburgh. Perlman mentioned a local black woman here who baked sweet potato pies, with the help of Wendy Goldberg and Heilicher Minneapolis Jewish Day School students, and sent them to Pittsburgh.
And I asked Perlman if he had some rabbinic reflections ahead of Pesach, regarding the broken state of our world and what can be done.
For Passover, Perlman and his family will all be in Israel, where his in-laws rented a house. "We're going to be with our family in Jerusalem for the week."
He noted that Purim has themes that are explicitly about "anti-Semitism and dealing with hatred."
He added, "Passover is a story of liberation; it's very God-infused — God had this plan to bring the people out and liberate them from slavery…. The piece of learning from Pesach is God protects us in every generation, and we will move forward and continue to try, to not only redeem our people, but redeem the entire world from oppression.
"There are a lot of things going on around the world that are very violent," Perlman remarked. "Gun violence really has become a paramount concern in the entire world, and I think it's time to consider the weapons that we use for defense" and for hunting and sport "to make this a less violent world."
The work of tikkun olam, repairing the rent social fabric, "with this model of the Exodus" requires pushing harder for laws to stem gun violence. "Maybe we should repeal the Second Amendment, but I don't think that's going to happen," Perlman said.
And Perlman recently co-authored an opinion article with Eric Manning, senior paster of Mother Emanuel AME Church in Charleston, South Carolina, where a young right-wing extremist opened fire on a Bible study group, on June 17, 2015, killing nine congregants.
The article decried the recent "national emergency" declared by President Trump, which comes out of his benighted campaign promise to build a wall on the southern border.
"History is littered with examples of despotic overreach justified as 'national emergencies.' We have seen it in Jim Crow legislation and the war against African-Americans," Perlman and Manning wrote. "We have seen it in the rise of Hitler and the eradication of Jews. In both cases, the call to national emergency was to make the people living inside the borders 'pure' and to deem those outside second-class citizens, impure. With the black community, it led to mass lynchings and other forms of race-directed violence. With the Jews, it led to extermination on a massive scale."
The gunman in Pittsburgh specifically mentioned HIAS, the Hebrew Immigrant Aid Society, which has helped settle Jewish immigrants and now works on behalf of immigrants from other countries. "One of the congregations in the building invited a speaker from HIAS to talk about their work," Perlman recalled. "The Jews have become identified with opening the immigration door, at a time when the right wing" tries to limit immigration or uses "scare tactics" to stem migrants and refugees from coming here. Perlman said that "this is how persecution begins."
As we gather with friends and families for our seders, we will have an opportunity to reflect on the admonition in the Haggada that "in each generation, each person is obligated to see himself or herself (lirot et atzmo) as though he or she personally came forth from Egypt."
May all of our readers have a happy and meaningful Passover.
— Mordecai Specktor / editor[at] ajwnews [dot] com
(American Jewish World, April 2019)