In the middle of October, a truly confounding news story made the rounds. Apparently, NBC News received a recording of a discussion that included Gina Peddy, executive director of curriculum and instruction for the Carroll Independent School District in Southlake, Texas, a Dallas suburb.
Peddy, during a training session on which books teachers can have in classroom libraries, suggested that if books on the Shoah are included, then a book from an "opposing" perspective should be included, too.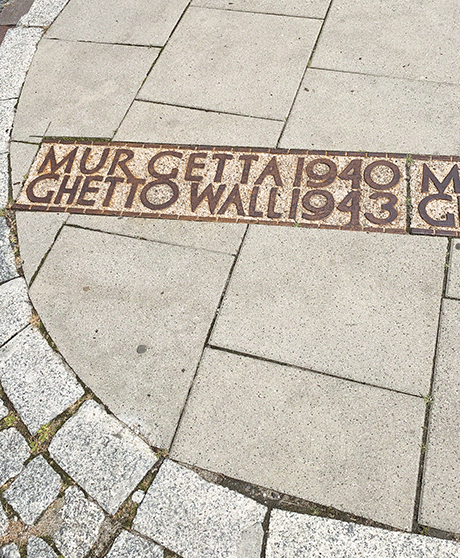 NBC News reported: "'Just try to remember the concepts of [House Bill] 3979,' Peddy said in the recording, referring to a new Texas law that requires teachers to present multiple perspectives when discussing 'widely debated and currently controversial' issues.
"'And make sure that if you have a book on the Holocaust,' Peddy continued, 'that you have one that has an opposing, that has other perspectives.'
"'How do you oppose the Holocaust?' one teacher said in response.
"'Believe me," Peddy said. 'That's come up.'"
The ridiculous notion that schools have to offer resources on Holocaust denial, the specious view that the Nazis did not kill six million European Jews, has emerged due to the efforts of right-wing ideologues to brand critical race theory (CRT) as a threat to everything that is beautiful and divinely ordained in America. Of course, many of those riding the anti-CRT hobby horse have no idea what is involved in the academic discipline that looks at historical events through the lens of how they contribute to systemic racism.
Residents of the Twin Cities received an object lesson last year, following the police murder of George Floyd, in how systemic racism, the festering racial inequities in society, can erupt in a paroxysm of rage and destruction. For decades it has been known that racial disparities between Minneapolis' Black and white residents, in areas of income, family wealth, housing, education and employment, have been persisting. When former Minneapolis cop Derek Chauvin pressed his knee on Floyd's neck for nine minutes and 29 seconds, it sparked a conflagration that made our city notorious around the world.
As Minneapolis Mayor Jacob Frey told the Jewish World when he was running for office, in 2017, "Minneapolis has been in the news for all the wrong reasons lately. … We've had a significant uptick in violent crime, and some of the worst police-community relations in a while, and we can change that."
Famous last words, as they say.
The right-wing CRT opponents charge that teaching about the existence of racism in society is racist. Minus a grounding in the literature of critical race theory, some say that discussing America's racist past in schools will make white children feel bad, ashamed to be white.
In the August edition of the Jewish World, Henry Abramson, in an op-ed, warned that the absurd situation that developed in Texas would be a consequence of distorting the teaching of history. His article was titled "Banning critical race theory will gut the teaching of Jewish history." (AJW readers get the news first — even before it happens.)
Abramson's article provided a portal into understanding what happened in the Southlake school district:
Anyone teaching the past by skipping over the unpleasant parts isn't teaching history. They are engaged in propaganda.
Jewish tradition understands this: Refusing to sugarcoat their own people's culpability, the Sages themselves teach that the destruction of the Temple by the Romans is a consequence of baseless hatred — among Jews.
Yet in nearly two dozen states, the movement to impose restrictions on the teaching of history is gaining momentum. Incited by a national hysteria over "critical race theory," advocates of these educational fatwas are borrowing a page from authoritarian governments like Vladimir Putin's Russia in a clumsy effort to avoid discussing the messy, controversial and painful moments in America's history.  
And as a professional historian, I can tell you that these bans will be terrible for anyone teaching or studying Jewish history.
Getting back to "opposing" views on the Holocaust, one wonders how citizens of other nations look at this country in which a sizable fraction of the polity now resides in a sort of alternate reality. According to a recent poll, three-quarters of self-identified Republicans erroneously believe that the 2020 presidential election, a free and fair exercise of the vote, was fraudulent. On social media, you can find interviews with Trump supporters who believe that the former occupant of the Oval Office is still in office. A faction on the right — opponents of mask and COVID-19 vaccine mandates, CRT, congressional investigations into the Jan. 6 insurrection at the U.S. Capitol, etc. — openly talks up secession and civil war. And the mainstream press is culpable in not explicitly exposing the insanity for what it is and providing a platform for noxious and dangerous viewpoints.
Many Americans are diligently working at social uplift, trying to inspire hope in children and bridge societal divides; but fear is a powerful motivator, and many politicians are stoking racial, religious and cultural divisions to enhance their power.
On the critical race theory front, Patricia J. Williams pointed out in a recent issue of The Nation: "As of this writing, there are eight states that have passed anti–critical race theory laws, and around 20 more have bills pending."
Williams, University Distinguished Professor of Law and Humanities at Northeastern University, went on to say that "school boards around the country have exploded in painful, community-destroying bouts of antagonism. The language of the laws is almost identical, having been drafted not at the local level but by a team coordinated and funded by an array of conservative think tanks, including the Manhattan Institute, the American Enterprise Institute, and the Heritage Foundation. That template starts off by mandating that there shall be no stereotyping by race or sex; no instruction that teaches that any one race or sex is inherently superior to another; no teaching that any individual is intrinsically racist, sexist, or oppressive; no teaching that anyone bears automatic responsibility for actions committed in the past by members of the same race. So far, so good. Indeed, my only concern is that this much is billed as 'anti–critical race theory.' By this rubric, such laws strongly—and wrongly—imply that critical race theory is nothing more than crude biological determinism."
In her article in the Nov. 1/8, 2021, issue of The Nation, Williams poses the question: "[W]hat are we really talking about when we talk about this newly corrupted fantasy of critical race theory? While the culture wars have plagued us for the past 30 years, the particular bitterness of this iteration began only last September with former president Donald Trump's now-rescinded executive order banning critical race theory and diversity training in all federal programs. It's worth looking back at the language of that order, which was jaw-dropping in its powerful linkage of critical race theory to both hate and contagion. As Trump wrote in a follow-up tweet: 'This is a sickness that cannot be allowed to continue. Please report any sightings so we can quickly extinguish!'"
Trump is gone but his malign influence persists. Patricia Williams concludes her article with an instruction to educators: "We cannot legislate feelings about race into silence. Outlawing shame, guilt, and discomfort is not only silly and impossible; it positions race the same way blasphemy laws position speaking ill of God or the king. Looking at the difficult parts of our lives as Americans is not sacrilege; we do not live in a sacred order whose holiness is sullied by impingements of the impure. All those who teach — not just those who teach about race — worry about immature or anxious students yelling, crying, and reporting one another as a form of dispute resolution. That much is hardly a new challenge; it comes with the job."
The editors and staff of the American Jewish World wish all our readers a happy Hanuka.
— Mordecai Specktor / editor [at] ajwnews [dot] com
(American Jewish World, November 2021)