By ADRIAN GLASS-MOORE / Assistant Editor
Judith Meisel, a Holocaust survivor and educator whose testimony was read at the recent trials of two former Nazi concentration camp guards, died Nov. 3 at age 91.
Meisel was an educator who gave talks across the U.S., her son Michael Cohen said in an interview with the Jewish World.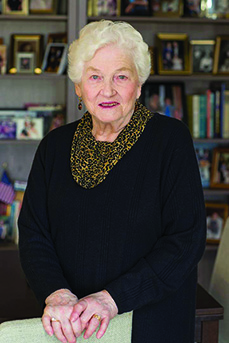 "She really used this story — her experience in the Holocaust — to talk not just about her personal experience of survival, but how important it is for people to make sure they treat people with sensitivity and tolerance," Cohen said.
Remembrance
Meisel was born Judy Beker in Josvainiai, Lithuania, in 1929, the youngest of three children. Her father died when she was young. In 1941, Germany invaded the country and the family was forced into a ghetto outside the city of Kovno.
In 1944, Judy, her mother Mina, her sister Rachel and her brother Abe were deported from the Kovno ghetto. Abe was taken to Dachau concentration camp, while Judy, Mina and Rachel were sent to Stutthof concentration camp in German Nazi-occupied territory that is today Poland.
Mina was murdered at the gas chamber there in late 1944.
With the Russians approaching, the Germans sent the Stutthof prisoners on a "death march" in 1945. When Allied forces bombed an area nearby, Judy and Rachel hid in a ditch and were able to escape in the confusion. They were helped by a Russian POW and made their way to Denmark posing as Lithuanian Catholics.
Judy and Rachel later learned that Abe had survived and was living in Toronto. Judy decided to join him there and aboard the boat crossing the Atlantic, she met her first husband, Gabe Cohen.
The couple moved to Rochester, N.Y., and then to Philadelphia. Judy attended Martin Luther King Jr.'s "I Have a Dream" speech and became active in the civil rights movement.
When a Black family that moved into the white neighborhood in Folcroft, Penn., was threatened by a white mob, Meisel decided she needed to do something.
She baked cookies and drove them over to the Baker family's house. She told them "she was a Holocaust survivor and that she would be there whenever, if they ever needed anything," Michael Cohen said. "That started a lifelong friendship with the Baker family."
One of the Bakers attended Judy's funeral service by Zoom, "which was really meaningful for our family," Michael Cohen said.
Judy lived in Santa Barbara, Calif., for many years after a divorce and remarriage to Fred Meisel.
She moved to St. Louis Park about six years ago to be closer to family, Michael Cohen said.
In 2017, Meisel was contacted by the FBI to see if she would be interested in talking with German authorities who were investigating former Stutthof guards.
Her grandson, Ben Cohen, a Brooklyn filmmaker, navigated the process with her.
"It was a chance for me to become very involved directly in her own pursuit of justice," Ben Cohen said. "And so I had my own set of experiences becoming close to the trials and through that bonding with her and developing a new relationship with her over the last few years that really centered on her testimony and ensuring that her testimony can be understood and learned and shared."
Her testimony was read in the trials of two former guards. One guard saw his case dismissed because of his poor health. A second guard was convicted in July 2020.
Ben Cohen shared the news of the conviction with her. "The fact that she was able to see Germany hold someone accountable for their participation in those crimes was something that really was quite remarkable for her and for our whole family too," he said.
To ensure that Meisel's story is heard, Ben Cohen created The Judy Project and judymeisel.com.
"Everything she did in her entire life was motivated by this desire to make the world a better place," he said.
Michael Cohen said Meisel believed that "even a single person can make a difference in what they do in their lives. And she's a testament to that: how one person can make a difference."
Meisel is survived by three children, six grandchildren and 10 great-grandchildren.