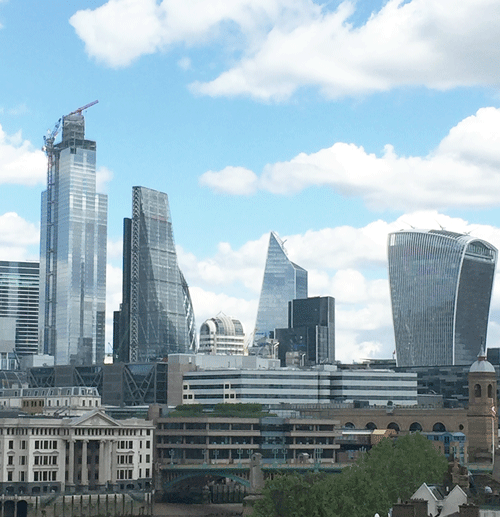 In May, my wife and I traveled to London and Copenhagen, with a side trip to Lund, Sweden.
The impetus for this round of foreign travel was the Bar Mitzva of my nephew, Oliver Specktor, which was celebrated May 11 at the Maidenhead Synagogue, in suburban London. Oliver is the son of my younger brother, Jonathan, a Mendota Heights native, and his wife and my sister-in-law, Alessia Kosagowsky, who's from Naples, Italy.
Editorial and Travel Story
We flew in and out of Copenhagen, Denmark, where our son Max is studying engineering at the Technical University of Denmark. We picked up Max, whom we hadn't seen in eight months, and flew on to London for the festivities.
Joining us in London were my brother Murray, sister Stacy Finkelstein, her son Eli, and our cousin, Amy Specktor Friedman. (Amy later took a tour of Highclere Castle, the magnificent country house that TV viewers know from the popular series Downton Abbey.) We were all together for a Friday night dinner with Jonathan and Alessia, their daughter Ariel, who celebrated her Bat Mitzva about three years ago, and Franca, Alessia's mother, who lives in Rome.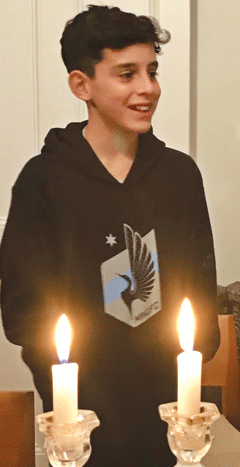 On Saturday morning, we walked from our Airbnb rental to Maidenhead Synagogue for Shabbat services. There were three members of the synagogue's volunteer security team at the gate to the small shul's parking lot. I wasn't surprised by the security regime; European synagogues and Jewish agencies have had security guards in place for the past 40 years.
As it happened, the British royal family got a new addition in the week before our arrival. Archie Harrison Mountbatten-Windsor was born to Meghan Markle, an American actress, and Prince Harry. The royal baby's name was the launching point for the Shabbat sermon by Rabbi Jonathan Romain.
Romain, an author and columnist in the British press, first noted that his shul is the only synagogue in the "Royal Borough of Windsor and Maidenhead. It means that we are the go-to shul for anyone living in Windsor Castle. And, of course, if any of the residents there have recently had a baby — especially a baby boy — then it's obvious who they'll turn to for a circumcision."
And in the event of a brit mila, a ritual circumcision, the royal parents might like a Hebrew name to go with it, which Romain said "would probably be Avraham Hayyim Mordechai… Vindsor."
He added, "But the curious thing is that, despite having 168 children at religion school right now, we don't have a single Archie or Harrison, though such is the influence of royal names on national choices that I suspect that, in 13 years time, at least one of our Bar Mitzva boys will carry that name."
The rabbi discussed the trends in baby names, modern and biblical, at some length. Then he zeroed in on the Bar Mitzva boy: "As for you, Oliver, well, you obviously don't have a Hebrew first name. In fact, it's Latin, and means 'man of peace,' deriving from the olive tree, which is a symbol of peace.
"Still, in one sense it does have Jewish associations, in that one of the rare English rulers from former centuries whom Jews held in high esteem was Oliver Cromwell, back in the 1650s; for it was he who ended the 400-year period in which Jews were officially banned from living in England, which had started in 1290, when Edward I expelled all Jews from the country. Oliver Cromwell, for a variety of reasons, decided it was time to let Jews back in, and we've been here ever since.
"So, Oliver is not a good Jewish name, but it is a good name for Jews."
Rabbi Romain then invoked our paternal grandfather, in his remarks to Oliver: "But of course, you do have a Hebrew name, the one by which you were called up: Binyamin. And in the tradition I mentioned earlier, it's not just any old name, but has resonances within your family, as it remembers your father's grandfather, Benjamin Specktor, your great-grandfather. And although you never met him, you owe a lot to Benjamin, because, he was born and bred in Russia and, like many Jews at that time, was forcibly conscripted into the Russia army and posted in Siberia. Had he stayed there, you may have been born there and be speaking Russian today."
And the rabbi noted that the reason Oliver was having his Bar Mitzva in England was another story, and "is part of why Jewish history is international history and crosses the world."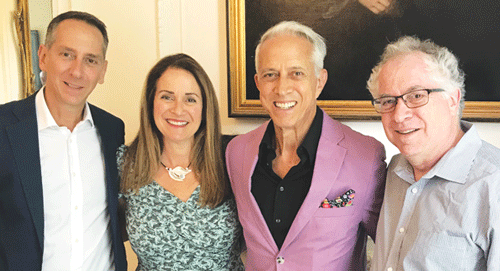 On the Sunday following Oliver's Bar Mitzva, eight of us took the train into London to see the sights. We took the Underground to Westminster, and crossed the Thames to South Bank, which has become a popular place. Our specific destination was the Tate Modern, an art museum in a massive building, a former electric power station.
I had wanted to see the Nan Goldin photography exhibit, "The Ballad of Sexual Dependency," which is on view through Oct. 27. Goldin is a native of suburban Washington, D.C., and she came to train her camera lens on her LGBT friends in New York City. It was a milieu that was decimated by the AIDS epidemic. The striking photos serve as a sort of artist's diary that records her life in this subculture.
I also saw the exhibit "Magical Realism: Art in Weimar Germany 1919-1933," which included works by a number of artists, including Otto Dix, George Grosz, Albert Birkle and Jeanne Mammen. On the way to the Nazis taking state power, there was a turbulent society that inspired some fascinating works of art. The yearlong exhibit runs through July 14.
After our weekend in London, we returned to Copenhagen, where Max showed us around. He has become fluent in Danish, and has created a life for himself in the country that ranks No. 2 in the most recent index of happiest countries in the world. Max and his brothers are dual citizens of the U.S. and Sweden; this opportunity presents itself because their mother, Maj-Britt Syse, is a citizen of Sweden. And this has some advantages, including in the area of higher education: Max's tuition at DTU is exactly zero. Zilch.
The one work-related item on my otherwise vacation was a visit to the Danish Jewish Museum. I had contacted the museum in advance and the friendly staff arranged an interview with the museum director, Janne Laursen.
On May 16, I took a bus to Copenhagen's Castle Island, the site of Christiansborg Palace, which houses the Danish parliament. The Danish Jewish Museum, the only Jewish museum in Denmark, is housed in a space belonging to the Danish Royal Library. I was met by a museum staffer who took me across the street to Laursen's office in the new Royal Library building, a slanting glass and steel edifice known as the "Black Diamond."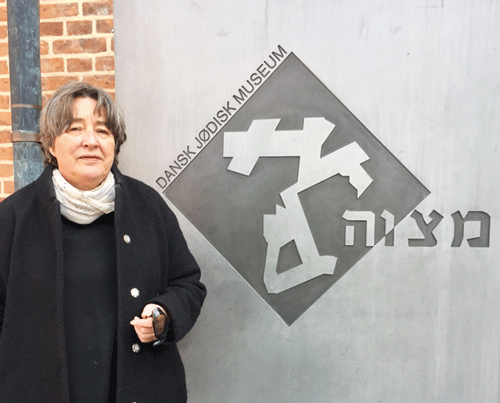 She has been with the museum for 18 years and facilitated the institution's 2004 opening in the building with an interior design by renowned architect Daniel Libeskind. "We opened in 2004, in the presence of Queen Margaret," recalled Laursen, who is from Faaborg on the island of Funen, west of Copenhagen. "That was a very, very wonderful day."
Laursen presented me with a handsome, beautifully illustrated book titled A Story of Immigration: Four Hundred Years of Jews in Denmark, which the Danish Jewish Museum published in 2018. Although not Jewish, Laursen is a fount of knowledge about Danish Jewry. She told me that Jews were first invited into the Danish kingdom by King Christian IV, who needed traders to spur the economy of Glückstadt, a city he established in Holstein.
"He was a very ambitious king," she remarked.
These first Jews invited to settle in Denmark were Sephardi Jews, from Spain and Portugal, who were well-established merchants with good trade connections. Later waves of Jewish immigration followed, including the most recent wave: Israelis who met young Danish volunteers on kibbutzim, and returned to Denmark with their boyfriends and girlfriends.
By the early 20th century, Danish Jews had successfully assimilated into society — "From 1860 to 1900, I think it was the golden age," Laursen commented. Jews became some of the most successful businessmen in Denmark. They also, in many cases, had their children baptized. Laursen mentioned that conversation at dinners with upper-class Danes sometimes turns to the topic of their Jewish forebears.
I was surprised to read in A Story of Immigration that Jews founded both the Tuborg brewery and Aalborg Taffel Akavit. (At lunch in a traditional smørrebrød, open-faced sandwich, restaurant in Copenhagen, I toasted my Danish coreligionists of yore with a glass of Aalborg aquavit.) The early Jews in Denmark excelled in trading furs, tobacco and liquor.
Of course, when people think of the Danish Jews, they recall the October 1943 boatlift to Sweden, which got the Jews out of Hitler's reach; however, the history of Danish Jewry is long and complex. (And I'll mention that my late mother-in-law was from a small town in Denmark, and I recall when she told me the date and precise time when German soldiers came to her town. Her family was forced to board a German soldier during the Nazi occupation of Denmark.)
Getting back to the Danish Jewish Museum, the institution is supported by the Danish government. The museum cooperates with other Danish museums and also participates in an organization of Jewish museums across Europe.
"We are a national museum covering the entire field, we have had 11 Jewish communities scattered around Denmark," Laursen commented.
She noted that Denmark has had 400 years of experience with Jewish immigration, which she likened to "America, where you go West." In both cases, America and Denmark, you don't really know if it's going to be a good experience for the Jews in their new homeland.
The Jews have had their ups and downs in Denmark, but I can imagine worse places to live. On your next visit to Copenhagen, check out the Danish Jewish Museum.
Mordecai Specktor / editor [at] ajwnews [dot] com