The Best Place on Earth: Stories, by Ayelet Tsabari, Random House, 272 pages, $26
Reviewed by NEAL GENDLER
It's easy to see why Ayelet Tsabari won the 2015 Sami Rohr Prize for Jewish Literature. The 11 spellbinding stories in The Best Place on Earth perfectly capture human complexity, behavior and emotion.
For example: "Natalie and I were 22 when we met," says Lior in the opening story, titled "Tikkun." "We fell in love like you do in your 20s, drowning into each other, blending until the boundaries of our selves blurred."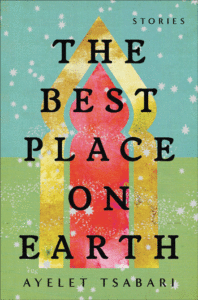 Like most of the stories, "Tikkun" is set in Israel, where Tsabari was born to parents of Yemeni descent. One story is set in India, others in Canada, where Tsabari teaches creative writing at the University of Toronto. Most are deeply affecting, leaving you staring and thinking, almost reluctant to turn to the next story.
In "Tikkun," Lior spots Natalie on a restaurant patio, seven years after she ended their carefree, hippie-like life of travel, marijuana and lovemaking. "She ripped the heart out of my chest and stomped on it with both feet," then disappeared, he says.
Still beautiful, visibly Orthodox, she's married and unhappily childless. They talk over coffee and leave. Twenty minutes later, the restaurant is ripped apart by a bomb. Natalie calls Lior and they meet again, with a surprising result.
Tsabari began writing in English just a decade ago, according to Kirkus Reviews. She seems to have mastered not only English structure but also the subtleties and rhythms that produce linguistic music and transport us into their scenes.
Another example: "A bus heavy with commuters waddles to a stop and I squeeze on, grateful for the air-conditioning." She describes a man in his early 20s: "Up close, he looked younger than she had first guessed; his narrow, freckled face had an unfinished quality, yet to settle into itself." And in a New Delhi roundabout, there are "vehicles swirling like debris around a drain."
In the title story, Naomi has thrown out her husband, Ami, for an infidelity, but returning home from work summons the loneliness of the suddenly single. "She found herself saving her daily activities and observations for Ami and then watching them go stale like leftover food in the fridge."
Several stories are not for the prudish. Most center on people who don't fit in, such as a sensitive adolescent Canadian girl sent to live with an aunt in Israel after her mother's death. And a man who left Israel at 15 with his divorced mother who returns to visit the retired soldier father mostly absent in his youth. His gentile girlfriend gets along with the father as the son never could. But the son has underrated the perceptiveness of his distant, macho father, who leads him to conquer a lifelong fear.
In "A Sign of Harmony," a woman flees Israel after the army, living nine months a year in India buying goods to sell during the other months in Britain, where she falls in love with Ian, a British-raised Indian. He comes to India to visit her. Orthodox-raised Maya is dark enough to look Indian, speaks some Hindi and knows India intimately. Ian feels like a stranger.
In "Brit Milah," a Yemeni Israeli visits a daughter in Canada and discovers that her four-month-old grandson is uncircumcised because his parents consider circumcision a mutilation. The nonreligious daughter with a doctoral degree doesn't cook her childhood foods, so who delights in making grandma a Yemini dinner? The wrong-half-Jewish son-in-law.
In "Casualties," Yael, a Mizrachi girl from a bad neighborhood, listlessly serves boring army time, funds her night life by selling forged sick passes, enjoys casual sex and thinks of dumping her needy boyfriend who phones from combat misery in Gaza.
"Invisible" describes its main characters: a haunted, reclusive newly discharged combat veteran and the Filipina caregiver whose grandmotherly patient has rented him a tiny backyard dwelling.
Only a perceptive Israeli could so perfectly capture the nuances of Israeli life, and only a sensitive, superbly talented writer could paint them so vividly in so few words.
***
Neal Gendler is a Minneapolis writer and editor.
(American Jewish World, 4.8.16)