By ERIN ELLIOTT BRYAN / Community News Editor
On a Season Four episode of the Web series Comedians in Cars Getting Coffee, creator and host Jerry Seinfeld tells comedian Robert Klein, "You're the person that made my life go the way it went. You're the guy."
"That's wild," Klein responds.
The episode, which premiered in July 2014, features an entertaining conversation between the two comedians at a diner in upstate New York. Klein tells story after story about working with legendary comedians, such as Rodney Dangerfield, and talks about his own influences, including Jonathan Winters and Jewish stand-up comedian Lenny Bruce.
Minneapolis-St. Paul International Film Festival
But it's Klein who has influenced such comedy powerhouses as Seinfeld, Jay Leno, Billy Crystal, Richard Lewis, Lucy Arnaz and Jon Stewart, among others. And they are all interviewed for the new documentary Robert Klein Still Can't Stop His Leg, produced and directed by Twin Cities native Marshall Fine.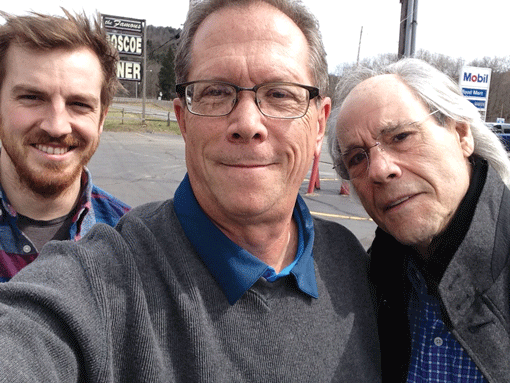 "They all have really flattering things to say about Robert," Fine told the AJW in a recent phone interview from his home in Westchester County, New York.
The film, produced for the Weinstein Company, premiered just a few weeks ago at South by Southwest in Austin, Texas, and will be screened on April 9, as part of the Minneapolis-St. Paul International Film Festival (MSPIFF), before heading to the Tribeca Film Festival in New York City. Fine will attend the local screening and participate in a Q&A session.
The title of the film refers to Klein's trademark schtick that he does at every show, when he plays the harmonica and his leg won't stop tapping to the music.
"It's one of his oldest routines," said Fine, who has been friends with Klein for more than 15 years. "Now it's like the signature that he ends all his shows with, playing a version of 'I Can't Stop My Leg.' I figured if you know Robert Klein then you know 'I Can't Stop My Leg.' And if you don't know Robert Klein, well, it's a title that will catch your attention."
Fine's partner on this project is producer and cinematographer Brennan Vance, who is the stepson of Fine's friend from St. Louis Park High School. Vance was living in Brooklyn when filming began, but now lives in Minneapolis.
"I've known [Vance] since he was six years old," Fine said.
Fine grew up in Richfield and St. Louis Park, and has always been interested in film. He said that he discovered early on he didn't have the talent for acting, but he did have a knack for writing. His first film review, of To Kill a Mockingbird, was published April 25, 1963, in the West Hy-Lite, his junior high school newspaper. He later wrote for the St. Louis Park High School newspaper, the Minnesota Daily and the Minneapolis Star.
He spent more than 30 years as a writer for newspapers and magazines, and now works as a freelancer. He has also authored three biographies, Bloody Sam: The Life and Films of Sam Peckinpah (1991), Harvey Keitel: The Art of Darkness (1998) and Accidental Genius: How John Cassavetes Invented the American Independent Film (2006).
In addition to Robert Klein Still Can't Stop His Leg, he created a short film, Flo Fox's Dicthology, and a feature length documentary about film critic Rex Reed titled Do You Sleep in the Nude?
Fine first met Klein when he was assigned to write an extended feature article about the comedian. The two spent a lot of time together as Klein put together material for one of his comedy specials.
"At the end of the '60s, the beginning of the '70s, there were three people who changed stand-up comedy: George Carlin, Richard Pryor and Robert Klein," Fine said. "I've always thought that [Klein] was an unrecognized giant in the field. He still does it, he's the only one of those three who's still alive, still performing, and yet I feel that there's a couple of generations who don't realize how important and influential he was."
The film shows Klein performing at three separate stand-up shows, but Fine says audiences will be surprised by Klein's broad career — his first HBO special aired in 1975, he released a number of hit comedy albums, and he has appeared in movies, on television and on Broadway (he was nominated for a Best Actor in a Musical Tony Award for They're Playing Our Song in 1979).
Regarding the documentary, Klein's only "marching orders" to Fine were to "make sure it's funny."
***
As part of the Minneapolis-St. Paul International Film Festival (MSPIFF), Robert Klein Still Can't Stop His Leg, a documentary by Marshall Fine, will be screened 7:40 p.m. Saturday, April 9 at the St. Anthony Main Theatre, 115 S.E. Main St., Minneapolis. A Q&A will follow.
MSPIFF runs through April 23 and includes several films of Jewish and Israeli interest (3-25-16 AJW). For information, visit: www.mspfilm.org.
(American Jewish World, 4.8.16)