By ELANA WARREN / Assistant Editor
Sir Nicholas Winton is known for just nine months of his life. Those nine months of work saved 669 children.
At age 29, he organized the Kindertransport that took those children, mainly Jews, out of Nazi-occupied Czechoslovakia before World War II began in 1939. As of 2015, there are over 6,000 people alive descended from those 669.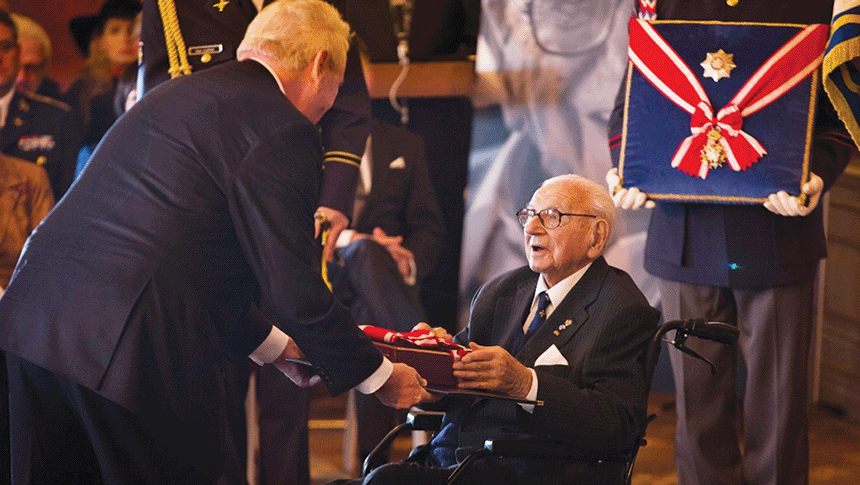 Nicholas Winton lived to be 106 years old, at his death in 2015. His son, Nick Winton, travels the world sharing his story.
He spoke at Beth El Synagogue in St. Louis Park on Nov. 9, the anniversary of Kristallnacht, to a full room of 600 people plus online viewers. One attendee that evening was one of Sir Winton's Kindertransport children, who asked to remain anonymous for privacy.
Sir Winton did not work alone, but he handled getting permission to bring unaccompanied minors into the UK as well as the UK's stipulations: He had to find foster homes and £50 ($3,022 today) for each child. He wrote to newspapers and magazines and successfully made arrangements for at least 919 children.
The Germans stopped the Kindertransport when the war started on Sept. 1, 1939. The 250 children set to leave that day — the largest Kindertransport group — were most likely sent to concentration camps.
With 669 children saved, Nick Winton said it's the 250 who didn't make it that his father thought about most.
Yet his humanitarian work did not stop with the Kindertransport. That was just one example of how Winton would see a need and take it upon himself to make change.
He had three children, the youngest of whom, Robin, had Down syndrome. At the time, 1956, children like Robin were sent to live in institutions for special care. Winton and his wife Grete raised him as part of their family in England, and Nicholas Winton started an organization to support others in raising special needs children.
He joined a Rotary Club with the mission "service above self" — the way he lived his life. He also spent 40 years supporting Extra Care homes for the elderly, with a focus on dementia.
Sir Nicholas Winton said, "If something is not fundamentally impossible, then there's a way of doing it." He lived the motto, and he also lived — he flew in an ultralight aircraft at age 99, and again at 100.
Nick Winton left his audience with a "secret" he learned from his father: You change the world each time you do or don't talk to someone, every time you interact with anyone. He said, "Each one of you, we can agree, changes the world."
Nicholas Winton's daughter Barbara Winton wrote her father's biography, If It's Not Impossible … The Life of Sir Nicholas Winton.
(American Jewish World, Dec. 2022)