By DORIS RUBENSTEIN
Steven Katz, artistic director of Legacy Theatre Company, is concerned that not only are there Holocaust deniers among non-Jews, but that the younger generation of Jews is largely ignorant of how and why such a tragedy happened.
His contribution to solving this problem is to mount the world premiere of Echoes of the Holocaust to observe Holocaust Remembrance Day later this month.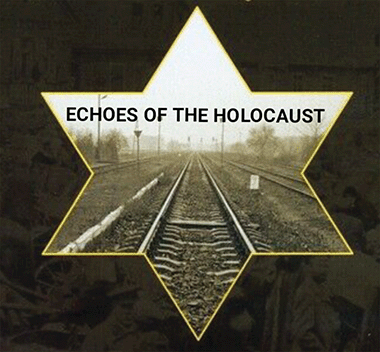 Katz describes Echoes as a powerful play that traces the compelling personal stories of 11 Holocaust survivors. These stories include poetry, historical footage and archival music telling the remarkable stories of survivors — in their own words or as told to their grandchildren — as they returned to their hometowns — and the living nightmare that they, family members and friends experienced in ghettos and concentration camps during the reign of Hitler.
Above all, Echoes of the Holocaust is a potent depiction of personal strength and courage, and a testament to the power of the human spirit.
"I'm a second generation of survivors to make change to stop antisemitism, hate and genocide," Katz said, "and if I'm able to carry out my grandparents' and parents' legacy and share their stories and share the horrors that they and others had to go through, I'm willing to do whatever it takes for it to get out there."
Katz didn't know about Echoes of the Holocaust when he set out on this educational and artistic mission. It took months of research to find a narrative that spoke to his vision. His "aha!" moment came while reading the book of the same title, edited by Rabbi Dr. Bernhard Rosenberg. When Rosenberg agreed to the book being transformed for the stage, Katz reached out to Dr. Harry Kantrovich, who adapted Claude Lanzmann's film documentary of the Holocaust, Shoah, for the stage.
Katz is not an actor or an established playwright (he has a degree in occupational and recreational therapy), although he did write a couple of plays during his St. Louis Park High School days, which he self-produced for venues as diverse as a mansion on Summit Avenue and the Calhoun Beach Club. Once out on his own, he formed his first theater company, K and S Theatre Company. The company got its own stage in 1966 in Minneapolis at 38th and Chicago in a converted bar. True to the counterculture of the day, K and S brought in off-off Broadway shows to perform in workshop. His other theatrical enterprises included producing performances to benefit AIDS charities such as The Aliveness Project and the Minnesota AIDS Project.
The predecessor to the Legacy Theatre Company was Legacy Musical Theatre. It produced musicals of the early 20th century that were largely forgotten. But the rise of antisemitism and other hate movements motivated Katz to drop the "Musical" part of the company and concentrate on educating and enlightening audiences about the dangers of these threats to humanity and democracy. The theater is also an outlet for his deep interest in Yiddish theater.
Echoes of the Holocaust has a large cast; out of the 22 actors, 15 are Jewish.
"It's really meaningful, and it's wonderful to tell the stories that I grew up hearing," cast member Rachel Orzoff said. "I don't know if my teen-aged daughter is hearing these stories. They're beautifully written and passionate without being maudlin."
International Holocaust Remembrance Day is Jan. 27, and there are numerous community activities planned to recognize the occasion. Echoes of the Holocaust extends the window of opportunity beyond the one day for those who want to share in this experience. Performances are 7 p.m. Thursday-Sunday, Jan. 26-29, at the Glanton Theater in Calvary Church, 2608 Blaisdell Ave. S. in Minneapolis. Tickets are $30 for the general public and $25 for those under 18 or over 65. Tickets can be purchased at the door or at echoes.ticketleap.com.