Each pane of glass is a separate painting and chapter in Bet Shalom's story
By DORIS RUBENSTEIN
Windows hold great symbolic meaning in Western civilization as well as serve practical purposes:  they shed light and keep out the cold; when opened, they allow fresh air to enter a dwelling and allow others to see what's inside.  The adage holds that the eyes are the "windows to the soul."  And, most recently, Windows allows many computers to function, allowing us to communicate.
On Oct. 5, Bet Shalom Congregation in Minnetonka dedicated a new set of windows. These windows are not meant to be opened or closed or looked into or out of. They are meant to be looked at.
Three years ago, when Bet Shalom member Karin Nemer was asked to join the shul's Art Committee, the group had not considered making art a part of the congregation's 30th anniversary celebration.  Nemer changed that, taking advantage of a series of happy accidents to create an enduring work of art — a pictorial journey through Bet Shalom's history — for her spiritual home.
Nemer's artistic training has been in Classical Realism, studying with Michael Frey, who is director of the Edina Art Center. Her primary works have been in portraits, landscapes, and still lifes, which have been shown regularly at the Edina Art Center and from 2007-2010 at her own gallery on Nicollet Mall in Minneapolis. The Bet Shalom windows are in the folk art tradition, which reflects the origin of the medium she used for this project.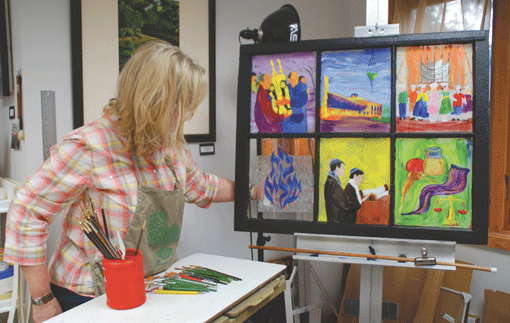 Several years ago, Nemer found a set of discarded windows in their frames placed at the curb of her neighbor's Golden Valley home, waiting for the recycling truck.  She was struck with a vision to capture all of the major Jewish holidays and life cycle events on them. After consulting with the Bet Shalom clergy, she decided to include depictions of various milestones in the Congregation's history as well, to mark the thirtieth anniversary, howbeit belated. Later, Nemer discovered that the windows dated to 1948 — the same year Israel became a state.
There are 36 panes of glass in six window frames, but Nemer didn't start out thinking that she'd do exactly 36 paintings until she learned that this matches the number of windows in the crown of the Bet Shalom sanctuary — symbolic of the Lamed Vav Tzadikim (36 righteous ones) who, according to Jewish mysticism, justify the purpose of humankind. "All of these little besherts kept falling into place," Nemer remarked.
Each pane of glass is a separate painting, each a chapter in the ongoing story of Bet Shalom.  Interspersed between paintings of historical highlights such as the arrival of Rabbi Norman Cohen, the construction of their current building, and the dedication of the Holocaust Memorial are others that show either Jewish life cycle events like brit milah and Bar/Bat Mitzva, holidays celebrated within the Bet Shalom walls, or congregational institutions such as Sisterhood and regular activities like kitchen duty.
Nemer's realistic/folk art style allows the viewer to see him or herself in each of the paintings.  She often uses translucent paints on the glass, which gives the viewer a sense of three dimensions when seeing the paintings against the gallery wall.
Lending even more visual interest to some of the paintings, thus transforming them into collages, are the glass mosaics applied dramatically by Nemer's friend and artistic collaborator, Barbara Steen. Light reflected on the golden glass tiles used to depict honey for the High Holidays pane gives the impression that we are actually seeing a running fluid, so rich you can almost taste it.  Crystalline tiles accurately portray the metallic face of the Aron Kodesh in the Bet Shalom sanctuary.
Steen, who has won numerous awards at local venues such as the Hopkins Center for the Arts and the Minnesota State Fair, has, like Nemer, stepped out of her bailiwick of jewelry and commissioned pieces (see www.barbarasteen.com) to take a minor role in this artistic endeavor.  Her contribution takes the paintings onto a slightly different, more artistically complex stage. They catch different shades of light, add texture, and bring additional life to the flat medium of the panes, yet complement them as a different form of the same medium: glass.
As a Jew-by-choice, Nemer is enthusiastic about the role played by Bet Shalom in changing her life.  As she tells it, "Going on a congregational trip to Israel with my husband (Rick Nemer, a founder of Bet Shalom) was a powerful experience for me.  It pushed me into making the decision to convert."  Creating the Bet Shalom windows is her thank-you gift to the congregation.
And it may be a gift that keeps on giving:  Nemer still has more windows waiting to take life as Bet Shalom's history continues.
(American Jewish World 10.11.13)