(Editor's note: We're pleased to publish this debut column by Adrian Glass-Moore, the Jewish World's assistant editor. Adrian, 27, is a native of San Francisco, Calif. He moved to the Midwest to work at the Fargo Forum newspaper, then migrated to Minneapolis. Adrian, who first contacted the AJW to get a free subscription through the Future Project, will be writing columns of topical interest geared to young Jews in Minnesota. If you have an idea for a future column, you can contact Adrian at: community [at] ajwnews [dot] com.)
Jews demanding reform of U.S. immigration policy say the government's mistreatment of immigrants is reminiscent of the way Jews have been targeted in the past.
And there's been some pushback about making analogies to the Holocaust.
"Our Jewish values compel us to learn from past atrocities and past tragedies and to recognize the signs when a group is being scapegoated, marginalized, pushed to the edges of society," said Rosa Druker, 25, of Minneapolis. "I feel that we are embodying those values by calling attention to what's happening in our country in the way that immigrants are being scapegoated and being abused."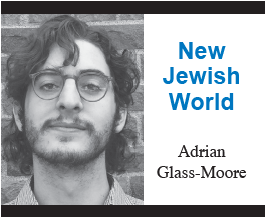 Druker was one of the organizers of a Twin Cities Never Again Action protest on July 30 in support of immigrant protections. About 200 to 300 people gathered outside the Bishop Henry Whipple Federal Building at Fort Snelling, blocking traffic, holding signs and singing Jewish songs.
The goal of the protest was "to disrupt business as usual" at the building, which houses the local headquarters of Immigration and Customs Enforcement (ICE) and deportation proceedings, said another organizer, Leah Soule, 26, of Minneapolis.
"Especially as Jews, many of us were motivated because we've learned these histories. We know what happens when you start rounding people up," she said.
Protesters left after saying a Shehecheyanu, the celebratory blessing. Twenty-seven people were cited for unlawful assembly.
Never Again Action is a nationwide movement with three demands, Soule said: "defunding ICE, closing the camps, and ensuring permanent protection for refugees, asylum seekers and immigrants."
Protests by local chapters of the movement have taken place in Boston, Washington, D.C., Chicago and elsewhere. At one such protest at an ICE detention center in Rhode Island on Aug. 14 , an ICE employee drove his pickup truck into a group of protesters who were blocking traffic.
Immigration detention centers have been described as "concentration camps," notably by U.S. Rep. Alexandria Ocasio-Cortez, D-N.Y., although some Jews reject this use of the term.
When the U.S. Holocaust Memorial Museum released a statement on June 24 rejecting "efforts to create analogies between the Holocaust and other events" more than 300 scholars responded in an open letter, published in the New York Review of Books, calling the museum's position "fundamentally ahistorical." The scholars added, "It makes learning from the past almost impossible."
Druker said, "Whether or not what is happening is a valid comparison, the fact that we're even having this conversation, to me says that this is not OK."
U.S. treatment of immigrants has shocked many, with reports of overcrowding, young children in cages for extended periods without beds, adequate food and proper sanitation, and children being separated from their parents.
After an August visit to immigration facilities in Texas, U.S. Rep. Josh Harder, D-Calif., reported: "A lot of kids are still in cages, and it's still overcrowded and inhumane. It's a humanitarian crisis of our own making and we can never ever let it happen again."
Very few immigrant detainees ever get a lawyer, and "there are no regulations or enforceable standards regarding detention conditions," according to the ACLU.
According to an NPR report in June, 2,342 children were separated from their parents since early May. A humane system would keep families intact in proper living conditions and provide legal representation to all those who need it.
Jewish history has shown the importance of not being a passive bystander. Druker said, "We ask ourselves, 'Who spoke up for the Jews of Germany and Europe? Who disrupted what at the time was just business as usual, something that people — good, normal people — went along with?'"
Many young Jews are speaking out against U.S. immigration policy, though Soule pointed out the movement is "intergenerational."
For example, Stacy Gurian-Sherman, 62, was one of the people cited for unlawful assembly at the July 30 protest at Fort Snelling.
"I've been asked if at 62 I'm too old for civil disobedience and arrest," Gurian-Sherman said in a Twin Cities Never Again Action press release after the protest. "It's not about how old I am but whether we'll all be too late. We as a Jewish community — young and old — in the tradition of l'dor va dor — one generation to another — say Never Again."
Druker expressed gratitude to other groups "like MIRAC [Minnesota Immigrant Rights Action Committee] and Unidos MN who have been working for immigrant rights for a long time, so in that sense I think that we are kind of piggybacking off of work that's already happening."
She said that now is a crucial time to speak up and people are realizing it.
"It does seem like a lot of people across generations and walks of life are feeling like this is a moment, and it's a moment for action, it's a moment to use our voices, it's a moment to use the energy that we have to disrupt what's happening," she said. "And so I think you'll see more of us."