Reviewed by NEAL GENDLER
If you're fond of short, strange, sad stories, you'll love Etgar Keret's new book.
The title comes from the first story, in which a widower is walking down the street with his small son, who spots a man poised as if to leap from the top of a four-story building.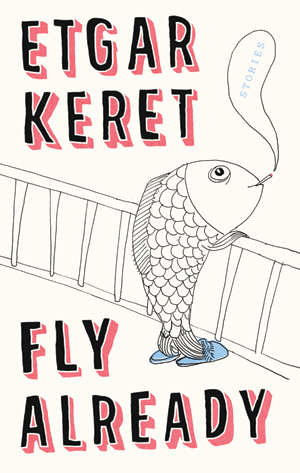 "Daddy, look!" the boy says. "He wants to fly." The boy asks, "Is he a superhero?"
The father, who has had troubles of his own, shouts to the man, "Don't do it!"
After several exchanges between the men, the boy shouts: "Come on, fly already!"
The widower scoops up his son, runs into the building and up to the roof to urge the man not to jump.
The ending has an unexpected twist, somewhat in the manner of another youngish Israeli writer, Nathan Englander.
In Fly Already, odd plots and unexpected endings abound.
In "Car Concentrate," a 46-year-old Lincoln High School cafeteria worker has a compressed metal block, red with a white stripe, in his scantily furnished living room. Eight men were needed to lift it into his truck because it is — or was — a 1968 Ford Mustang convertible.
It's quite a conversation piece, used to conceal his past and to gauge the likelihood of getting women visitors into bed.
We learn whose it was and why it's there, in an ending pretty much beyond imagining.
After that, the stories get weirder. How about young triplets who come home to find their father gone and a fluffy white rabbit in his armchair? They're convinced it's their father, just shape-shifted.
After mid-book, some stories are separated by emails between a Michael Warshavski, who wants to bring his mother to see a "Glitch at the Edge of the Galaxy" room, and its director, Sefi Moreh.
Moreh explains that on the date Warshavski requests, the room will be closed for Holocaust Memorial Day. That's the law, but Warshavski sees this as unreasonable, explaining why the visit needs to be that day. His hectoring, mildly insulting emails tax Moreh's patience. It's a subtle lesson in Israel's ethnic divide.
A chapter about a childless couple's visit to Yad Vashem trades weirdness for dissonance as the couple passes displays of Nazi horror while dealing with his bloody nose and their growing estrangement.
The longest, most normal and touching story is the next to last, "Pineapple Crush," in which an unambitious man works in a Tel Aviv afternoon day care for about $800 a month. Disliking the kids, work and boss, his main pleasures are shabbat dinner at his mother's — when his arrogant, rich brother isn't present — and biking to Frishman Beach each evening to smoke a joint and watch the sun set.
One evening, a well-dressed woman of 40 approaches gently, asking to share his smoke. She's obviously been crying but doesn't say why. They don't even exchange names.
He follows her on his bike, seeing her enter a swanky building with a doorman. After that, he refers to her in his head by the building's name, Akirov.
She keeps returning, and after a while hires him to supply marijuana. A batch purportedly so powerful that "if you smoke enough of it, you can fall in love with a pineapple" meets its reputation and, very stoned, Akirov tells him it's their last meeting and why she's leaving her work, her husband and Israel.
This fairly believable story is one of many suffused with disappointment and loneliness, but Fly Already is more interesting than sad. You never know what's coming.
Although some of Keret's stories are set in a United States he seems to know, apparently he writes in Hebrew; five people are listed as translators, among them acclaimed novelist Englander.
But fair warning: If your nose is blue, don't even open this book!
***
Neal Gendler is a Minneapolis writer and editor.