By DORIS RUBENSTEIN
Unique. Or at least unique to Minnesota: That's Daniel Volovets. Can you think of anyone else around here who's Jewish and a virtuoso classical/flamenco/jazz guitarist, composer-arranger and a practicing psychiatrist?
I attended Dr. Volovets' recent concert with his new partner in performance, the talented Filipina vocalist and multi-instrumentalist Jireh Calo, at the Cedar Cultural Center and was blown away by their program.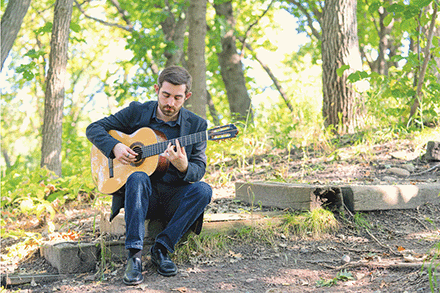 So, what is so special about Volovets and his music that I dare to label him as unique? Though born and raised mostly in St. Louis Park, Volovets was deeply connected to the cultures of his Ukrainian/Russian/Jewish parents Leonard and Nataliya who came here (separately) in the 1970s and 1980s. They home-schooled their son until he was 16, when he started the PSEO program at the University of Minnesota.
Being home-schooled also was a plus when Volovets' parents recognized his interest and talent for the guitar. Starting at the age of seven, the young prodigy studied with renowned Russian classical guitarist Anatoly Shapiro and then continued developing his talent with classical and flamenco guitarist Tony Hauser and legendary flamenco guitarist Humberto "El Payo" Wilkes.
Volovets observed that "growing up 'between cultures,' so to speak, also encouraged me to have a deeper appreciation for not only similarities and differences of other cultures, but to question common assumptions like regarding cultures as monoliths."
That home-schooling experience exposed Volovets to many diverse musical influences. With his mother providing vocals, he recorded an album of Russian romances called Echoes of Love. His jazz influences are not particularly from his parents' own background. At the Cedar, I recognized the style immediately, having been a fan of Sergio Mendes and other Brazilian popular performers in the 1960s and '70s. High on his list of stylistic heroes is Antonio Carlos Jobim, whose best-known works include "Girl from Ipanema" and "Corcovado."
For his performances and compositions/arrangements for flamenco guitar, Volovets cites Paco de Lucia as his first exposure to flamenco. "I've pretty much committed the entirety of his recorded catalog to memory. This helped me examine what it means to thoughtfully and respectfully combine traditional and folklore elements of a genre with more modern influences."
In addition to performing his own compositions and arrangements of works by others, Volovets is a sought-after accompanist. He learned much of what it takes to be successful in this capacity from jazz pianist Bill Evans. He recalled, "I spent weeks, months poring over his albums and taking in his unparalleled approach to musical communication within an ensemble context. … Taking the time to reflect on [his work] gave me greater perspective on what it means to be a good accompanist — that accompaniment vs. solo is not a binary, but rather a delicate balancing act that requires sensitivity, humility and grace."
Volovets has performed not just as a solo jazz artist. He has been seen and heard locally at the Minnesota Opera (as part of its most recent production of Carmen), the Cedar Cultural Center, the Minnesota Guitar Society, Zorongo Flamenco and many other spots as a solo artist and in collaboration with other local organizations.
A true Renaissance man, Volovets has the other side of his life: He is an inpatient psychiatrist at Hennepin Healthcare. Does he see a connection between music and psychiatry?
"I don't think that my medical training qualifies me to speak about the connection between music and the brain more than my experience as a guitarist and my own relationship with music. I can attest to the catharsis and healing I experience when I compose or create arrangements, to the connection people from across cultures experience when the universal language of sound and music speaks to them, and to the magic that happens during musical collaborations where communication no longer needs to be in words but happens on a much deeper, intuitive, unspoken level. While there are neurobiological correlations to these things, the part of me that is a musician finds those discussions to be reductive and disconnected from the reality of the lived experience. All I can say is that I can't imagine my life without music," he confessed.
It will always be a treat to hear Dr. Volovets perform in person. And in between his live gigs, you can sample his talents for free on YouTube, on the Daniel Volovets channel.
(American Jewish World, June 2023)