"A man sought in connection with two arsons at Minneapolis synagogues has been arrested and is set to appear in federal court. … The fires rattled Minnesota's Jewish community. At a news conference Tuesday, a dozen community leaders decried what many fear were attacks motivated by antisemitism."
Okay, I altered a newspaper report. Recent local press reports have focused on arson attacks on two mosques in South Minneapolis. In the italicized paragraph above, I changed the word "mosques" to "synagogues," "Muslim" to "Jewish" and "Islamophobia" to "antisemitism."
When Jews hear about an attack on a Muslim house of worship, we should read it as an attack on one of our shuls. You can bet that a person with a festering animus against Muslims is also a Jew hater. As my late friend the poet Roy McBride would point out: "Prejudice is an equal opportunity employer."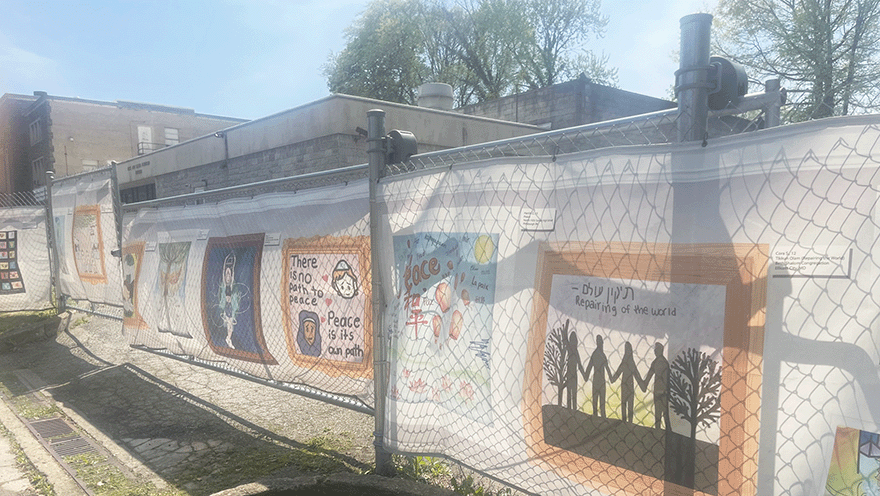 If you haven't kept abreast of the news over the past week, Jackie Rahm Little, a 36-year-old white man, was arrested April 29 in Mankato. He faces state and federal arson charges after allegedly setting fires at two mosques, including one in which 40 children were present in a day care center, according to the Star Tribune.
Prosecutors also say that Little vandalized the local office of U.S. Rep. Ilhan Omar and a Minneapolis police car used by a Somali-American officer.
Minneapolis Police Chief Brian O'Hara issued a statement on April 30 and noted, regarding the depredations at local mosques: "Based on our investigation, there is no other known, active threat to our Muslim neighbors. Houses of worship should be safe places. This level of blatant hatred will not be tolerated in our great city."
Likewise, Steve Hunegs, JCRC executive director, said in a statement: "The Jewish Community Relations Council of Minnesota and the Dakotas applauds the arrest of the man suspected of attempting to set fires at two Minneapolis mosques. We thank the Minneapolis and Plymouth Police Departments and all the local, state, and federal agencies that participated in the investigation.
"We also applaud Bahikoro Kouyate, the volunteer security guard who discovered the fire at Masjid Al Rahma — which was mostly occupied with children at the time of the arson. Mr. Kouyate swiftly evacuated the building attempting and called 911.
"We stand in solidarity with our Muslim neighbors and will continue to offer our resources and support for all houses of worship who, sadly, must remain vigilant against malicious actors."
Apparently, Little, the alleged perpetrator of the arson attacks, has suffered from mental illness and has a longtime fixation on fire, according to his mother. However, the vast majority of people struggling with mental illness do not attack mosques and target Muslims. What set Little off in this particular direction?
I'll venture a guess that he imbibed something percolating in society. Specifically, he bought into the demonization of Muslims, which has been a prominent feature of our society since the 9/11 attacks. Going back further in time, Muslims and Arabs have been the go-to villains in popular culture productions, in TV shows and movies.
And demagogic politicians in this country have latched onto the demonization of Muslims. A case in point: Donald Trump began his presidency in 2017 by announcing a ban on Muslims traveling to the United States. Trump said that he would restrict travel to the U.S. from seven Muslim-majority nations — Iran, Iraq, Libya, Somalia, Sudan, Syria and Yemen. The courts struck down his original "Muslim ban," which was later reworked and became kosher, so to speak.
And Trump, a declared 2024 presidential contender leading the GOP pack, has decided to trot out the Muslim ban one more time. This has not been widely reported: In late April at his white power rally in New Hampshire, Trump declared, according to a report in The Independent (United Kingdom): "I will restore my travel ban to keep radical Islamic terrorists out of our country. You saw what happened. Four years … You saw that right? We were very tough on that. We don't want our buildings blown up."
It's no surprise that Trump, twice impeached during his presidency and now facing 34 felony counts in New York, resorts to this kind of crude bigotry. I attended his October 2019 hatefest at the Target Center in Minneapolis, in which a hunk of his tirade was devoted to attacking U.S. Rep. Ilhan Omar. Even worse, Trump commiserated with the mainly white and Christian rallygoers that they have had to suffer from an influx of Somali immigrants in their communities. As I recall, the JCRC at the time denounced this egregious rhetorical bigotry by the president.
Thinking about the arson attacks on local mosques, I recalled watching the HBO documentary film A Tree of Life: The Pittsburgh Synagogue Shooting. The carnage at Tree of Life synagogue, on Oct. 27, 2018, shocked decent people across the country. There was a vast outpouring of sympathy, solidarity and donations to the Jewish community in Pittsburgh's Squirrel Hill neighborhood.
While watching the film, I wept during the portrayals of the murdered victims, especially for Cecil and David Rosenthal, two developmentally disabled brothers in their 50s who were cruelly gunned down. And tears came to my eyes again when the film showed the outpouring of love and support from Muslims in Pittsburgh, who raised enough money to pay for the funerals of the 11 murdered Jewish congregants. In the documentary, Wasi Mohamed, then the executive director of the Islamic Center of Pittsburgh, commented: "I think people were a bit surprised to see the Muslim community of all communities step up and help the Jewish community, and I think that it's because of misconceptions about both of our communities that people were so surprised. But our religions are similar, our traditions are similar, our values are similar."
As I've noted in editorials from time to time, we're all in this together. If haters target a mosque today, tomorrow the fire will be directed at a synagogue.
Mordecai Specktor / editor [at] ajwnews [dot] com
(American Jewish World, May 2023)