Author Robert Edsel hopes the film based on his book will recognize the contribution of the Monuments Men and help to return Nazi-looted art that is still missing
By PENNY SCHWARTZ
BOSTON (JTA) — There's nothing like a star-studded Hollywood movie to shine a light on a little-known piece of history.
That's the hope of Robert Edsel, who wrote the book that inspired The Monuments Men, the George Clooney-Matt Damon film that opens Friday in theaters across the country.
The all-star cast also includes Bill Murray, John Goodman, Jean Dujardin, Bob Balaban, Hugh Bonneville and Cate Blanchett.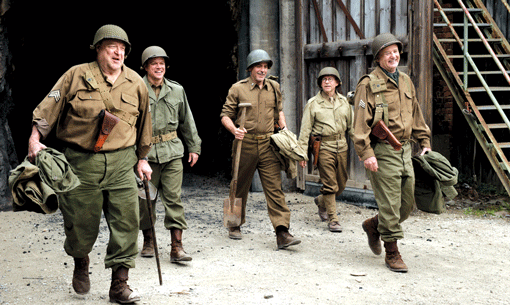 Clooney, who directed the film, teamed to write and produce it with Grant Heslov, bringing together the duo who produced last year's Oscar winner for best picture, Argo.
The action-packed World War II adventure film is a fictionalized version of Edsel's book of the same name. The book tells the compelling and surprising story of a special Allied military unit known as the Monuments Men sent into battle zones to protect historic buildings, churches and monuments across Europe.
Later, the unit of 345 members from 13 countries — many were art historians, archivists and architects — rescued more than 5 million pieces of Nazi-looted paintings, sculptures and rare manuscripts. Among them were some of the world's most treasured cultural objects, including works by Leonardo da Vinci, Michelangelo, Rembrandt and Vincent Van Gogh.
In a phone conversation with JTA, Edsel says the visibility of a major feature film offers a chance to honor the legacy of the long-forgotten heroism of the Monuments Men, provide a path to reclaim art that is still missing, and galvanize the public's concern to prevent cultural destruction in war zones today and in the future.
Edsel suggests that while he is not Jewish, he sees in the Monuments Men a story that will resonate with young Jews, a different entry point to teach about Jewish culture and the Holocaust.
The movie provides historical context to events that reverberate in headlines today, from the discovery of a trove of Nazi-looted art in Germany to the destruction of ancient artifacts in Egypt and war-torn Syria.
Clooney says that making a film about saving art isn't just about paintings hanging on a museum wall.
"It's about the fabric of our culture," he said at a recent news conference in Hollywood.
In the film, Clooney plays Frank Stokes, based on the real-life figure of George Stout, an art historian at Harvard's Fogg Museum whose proposal to protect cultural property during the war led President Franklin Roosevelt to establish the unit. Gen. Dwight Eisenhower is credited with empowering the unit to carry out its mission.
It was a watershed moment in the preservation of cultural history, Edsel and others say.
Through the Monuments Men Foundation he established in 2007, Edsel is backing a bill in Congress that would award the Monuments Men the Congressional Gold Medal.
"It's a race against time," said Edsel, who would like to see the bill adopted while there are living members of the Monuments Men.
Harry Ettlinger, whose Jewish family fled Germany in 1938 when he was young, is among the only five Monuments Men still alive. Ettlinger was drafted into the U.S. Army in 1944 at age 18, and eventually was assigned to the Monuments Men unit for his fluency in German.
"It makes me feel good that I did something of value for the rest of he world," Ettlinger, 87, told JTA in phone conversation from his home in Rockaway, N.J.
In the movie, the British actor Dimitri Leonidas plays Sam Epstein, a character based on Ettlinger. Following a recent private screening, Ettlinger gave the film a thumbs up.
In November 2012, Ettlinger accepted an award from the American Jewish Historical Society on behalf of all the Monuments Men. The society also awarded its legacy award in memory of Col. Seymour Pomrenze, an archivist who served 34 years of active and reserve service in the Army, for his unique leadership role in the Monuments Men recovering and restituting millions of Jewish books and artifacts and nearly 1,000 Torah scrolls confiscated by the Nazis. Pomrenze died in 2011.
In many ways, Pomrenze's work is a parallel story to the saving of looted art, says Lisa Leff, an associate professor of history at American University in Washington, D.C., and a specialist on the fate of Jewish archives in France during and after World War II.
But while the Monuments Men's mission was to return the art to its original countries, much of what Pomrenze rescued became "heirless," as the original Jewish owners and entire Jewish communities perished in the war.
An organization of Jewish scholars was established to deal with the books and manuscripts and other property, which was disbursed to Jewish institutions in Israel and the United States.
While the film is not an explicitly Jewish story, Leff imagines it will garner significant attention from a Jewish audience because so much of what was stolen was owned by Jewish collectors or created by Jewish artists.
Edsel says he hopes that a toll-free hotline set up by the Monuments Men Foundation will lead to the return of some of the art that is still missing. He hopes, too, that increased prominence of the Monuments Men story will inspire similar efforts today.
"Looking forward," Edsel said, "we want to put their legacy to use so that the U.S. and other countries re-establish the high bar set by General Eisenhower during the war."
The film's trailer is below: