At the indoor Ice House complex in Hackensack, Israel's Winter Olympians train at the highest level
By HILLEL KUTTLER
HACKENSACK, N.J. (JTA) — Evgeni Krasnapolsky and Andrea Davidovich glide around the ice, shadowing one another to the accompaniment of Nino Rota's "Love Theme from Romeo and Juliet."
At a rink in this New York City suburb, the figure-skating pair are refining their long program a few weeks before the Winter Olympics in Sochi, Russia, that open Friday.
Krasnapolsky, 25, and Davidovich, 16, are practicing their choreographed hand holding, lifts and throws at the indoor Ice House complex, which has become the epicenter of Israel's Winter Olympics team, or at least its figure-skating component.
Winter Olympics
The pair, who began working together less than a year ago, will represent Israel at the Sochi games along with fellow figure skater Alexei Bychenko, 25, who also trains here year-round. The figure skating competition will be held Feb. 11-12.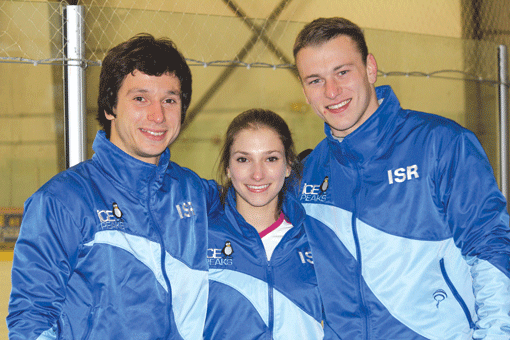 Rounding out the Israeli contingent are alpine skier Virgile Vandeput, 24, based in Belgium, and short-track speed skater Vladislav Bykanov, 19, based in the Netherlands. All are first-time Olympians.
Krasnapolsky and Davidovich are coached by Galit Chait, a three-time Israeli Olympian in ice dancing, and Gennadi Krasnitski. Overseeing the New Jersey operations is Chait's Moldova-born father, Boris Chait, the president of the Israel Ice Skating Federation despite living in the United States since 1975.
He's not the only American playing a major role on the Israeli Winter Olympics scene. New York native Stanley Rubinstein, who immigrated to Israel in 1971 and resides in Caesarea, founded the Israel Ski Federation and serves on its board.
Chait, the owner of a computer consultancy, is cultivating a crop of skaters he predicts will represent Israel at the 2018 Winter Olympics in Pyeongchang, South Korea, and beyond.
The Chaits offer some names to keep an eye on: Artem Tsoglin, Netta Schreiber, Polina Shlepen, Daniel Samohin, Kimberly Berkovich, Ronald Zilberberg, Allison Reed and Vasili Rogov.
"I hope that we continue to grow and produce athletes who… are at the top of the world in international competitions," says Galit Chait, who is coaching seven 2014 Olympians.
A nonprofit organization founded by Boris Chait, the International Sports Program, houses and trains the 11 skaters here who are Israeli citizens, along with nine others based in California, New York, Russia and Ukraine. The athletes train abroad because of Israel's paucity of ice rinks and high-quality coaching.
Funding for the program comes from private donations along with the Israel Ice Skating Federation, the Olympic Committee of Israel and the International Skating Union, he says.
Greater funding for training, regardless of locale, would serve Israel's interests beyond sport because every athlete "is an ambassador" for the country, Chait says from a gallery while observing Bychenko and Tsoglin, a 15-year-old from Kiryat Shemona in northern Israel.
The New Jersey operation has provided some encouraging achievements. At the European Championships last month in Budapest, the Krasnapolsky-Davidovich duo finished seventh and Bychenko was 10th. In December, in Croatia, the pair placed first and Bychenko was fourth at the Golden Spin of Zagreb. Israel has yet to medal in a Winter Olympics.
The achievements come at a cost: The upkeep for each athlete training here runs about $100,000 annually, covering room and board, ice time, coaches, costumes, choreographers, travel to competitions — "including, including, including," Chait adds, gesturing with a rolling hand.
The arrangement means that "athletes don't have to worry about their next meal," Chait says. "All they have to do is train hard on and off the ice and do their schoolwork," if they are that age. Davidovich and Tsoglin are enrolled in an online high school.
Ten of the 11 Hackensack skaters live in a tidy, refurbished white house less than a mile from the Ice House, overseen by a den mother named Nadia. Davidovich lives with her family a 40-minute drive away.
Absent the New Jersey infrastructure, "we would not be able to get to the Olympics," Bychenko says in one of the home's two kitchens while gulping a mid-afternoon yogurt.
"It was a hard decision because my family is there," adds Bychenko, who arrived from Kiev three years ago. "If I were skating in Ukraine, I would not have gotten to the level I am at now."
Krasnapolsky, also from Kiev, was raised in Kiryat Shemona — near Metulla, home of the Canada Center ice rink — and has known Chait "since I started skating." He calls Chait's wife, Irene, "my second mom."
Sitting beside Krasnapolsky, Davidovich nods. She and her partner believe they are progressing nicely, tweaking their routines along the way. Earlier in the week they added a more difficult triple-throw to their short program (to Joshua Bell's "Fantasy for Violin and Orchestra").
On the ice an hour earlier, Galit Chait had held up her iPad as she consulted with the pair, slowing down a video clip to point out errors she had observed with the naked eye.
"We were a little bit off in the parallel spin," Davidovich explains.
Before their on-ice session, Davidovich and Krasnapolsky had spent 40 minutes in the Ice House workout room practicing lifts, throws and twists in their stockinged feet, each landing occurring inside a marked white box. They rehearse this way twice daily, plus do cross-training and ballet each twice weekly.
Soon after the pair settled on their long program's music last June, Davidovich's mother, Marina, took them to Manhattan to attend the American Ballet Theatre's performance of "Romeo and Juliet." The show yielded ideas to incorporate in their performance.
Soon they won't have many more leisure opportunities. A month after Sochi, they'll be off to Japan for the World Figure Skating Championships.
That means lots more training at Israel's home away from home in the Garden State, where the next Olympic yield is being tended.