MINNESOTA JCC
The Twin Cities Jewish Humor Festival is thrilled to announce this year's line-up – a virtual event for the entire community. With something for everyone, this year's virtual festival includes local and national comics who represent and reflect the diversity of Jewish culture and provide a Jewish humor lens on the world.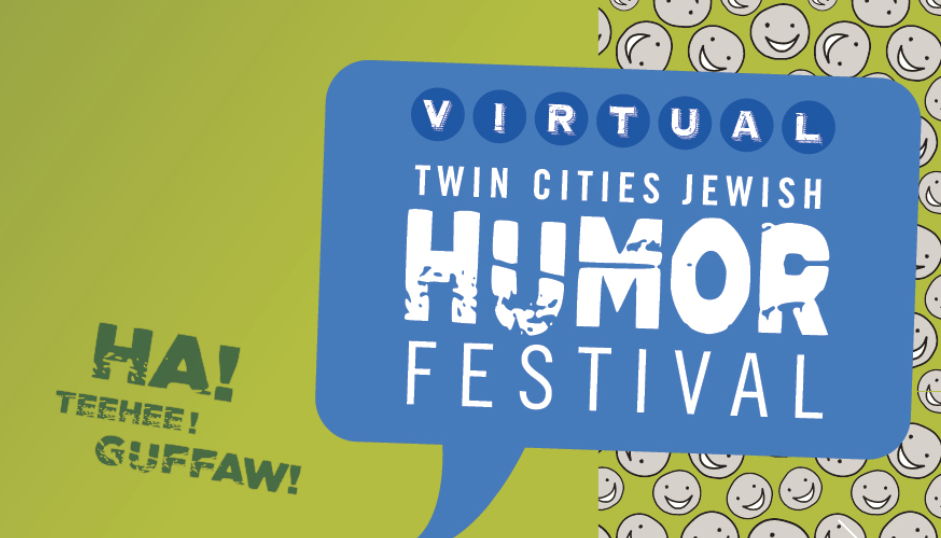 Each year, the Festival brings together thousands of people to enjoy laughter in the middle of a Minnesota winter. This year's event, while totally virtual, continues this tradition. The event includes three distinct experiences, plus a satire workshop for teens.
"This year's Humor Fest feels more important than ever," said Robyn Awend, JCC Director of Cultural Arts. "This past year has proven that, creating space for laughter, healing, conversation and joy – whether in-person or virtually – is what keeps us all connected."
Festival events will take place virtually. All Fest Pass – $18*. For tickets, visit: tcjhumorfest.org.
*does not include Teen Workshop ($5)
2021 SCHEDULE:
OPENING NIGHT!
What War Zone? Standup Comedy from Israel
Thursday, January 28 • 7 PM
LIVE Virtual Event
Join host Jonathan Gershberg as he welcomes comedian Benji Lovitt, LIVE from Israel. Benji presents a hilarious picture of Israel by deconstructing cultural differences and the immigrant experience in Israel. Benji's energy and enthusiasm will make you laugh out loud as he sheds light on Jewish holidays, cultural differences, and of course, humor during a global pandemic. Q & A to follow. Recommended for 18+
Jonathan Gershberg is a writer, comedian and producer based in Minneapolis, MN. In 2015, he created Minnesota Tonight, a local late night comedy show filmed at Brave New Workshop.
Presented in partnership with Israel Center of the Minneapolis Jewish Federation
QUEER COMEDY NIGHT
Featuring Dana Eagle with guests: Lisa Geduldig, Liz Stone & Geulah Finman
Thursday, January 28 – Sunday, January 31
WATCH AT YOUR CONVENIENCE
Virtual Event
Dana Eagle has been seen on NBC's Last Comic Standing, The Late, Late Show, Comedy Central, and Comics Unleashed. She has taken several trips overseas to perform for the troops in Iraq. In 2017, Dana's book How To Be Depressed: A Guide, hit the shelf and in 2018 it was released in four languages.
Lisa Geduldig is a San Francisco-based comedian and comedy producer. Her annual show Kung Loa Kosher Comedy (Jewish comedy on Christmas in a Chinese restaurant) has been a tradition in San Francisco since 1993. She currently produces Lockdown Comedy on Zoom.
Liz Stone is a co-producer of Live Comedy on Zoom and is a regular at the San Francisco Punchline, Cobbs Comedy Club, The Laugh Factory, Rooster T. Feathers, and Laughs Unlimited.
Geulah Finman is a tall, dark and handsome queerdo. Her upbringing in a Hassidic-Jewish home lends to a refreshing, nuanced and hilarious (mis)conception of the world. She is native to Detroit and recently moved to San Francisco where she performs and produces shows across The Bay Area. She draws her audiences in with an exuberant and over jocular tone, cutting deep on issues like gender dynamics, religion, and income inequality.
Emcee: Coral Best is a Bay Area native who got her start in comedy talking about her invisible disability of having an ostomy bag, or what she likes to call her "gift bag from hell." After recovering from her major medical crisis, she marched straight to a stage, found her calling in comedy, and has never looked back!
Recommended for 18+
Presented in partnership with J-Pride a program of Jewish Family and Children's Service of Minneapolis
A NIGHT OF JEWISH STORYTELLING
Thursday, January 28 – Sunday, January 31
WATCH AT YOUR CONVENIENCE
Virtual Event
Back by popular demand, this event features a star-studded cast of local talent, sharing a wide array of personal stories that will inspire every facet of Jewish humor. Join us for this event that will have you laughing, crying, and saying OY VEY GEVALT!
Featuring: Avi Aharoni, Galit Breen, Elise Cole, Suzanne Fenton, Jonathan Gershberg, Jessi Kingston, Anthony & Haley Sisler-Neuman, and Judy Victor.
Emcee: Kim Kivens is a nice Jewish girl who was born in New Jersey and raised in Minnesota, an actor seen on local professional stages and a voice-over talent heard on multimedia. Her favorite roles are wife to Joe and mother to Lily. Recommended for 18+
PLUS, A PROGRAM FOR TEENS!
WORKSHOP:
HUMOR IN HARD TIMES: WRITING SATIRE WITH ANTHONY SISLER-NEUMAN
Sunday, January 31 at 2 PM / LIVE Virtual Event • $5
Everyone needs a little humor to help us through the hard times. In this workshop, we will learn how to form a strong comedic point of view on topical news (2020 has PLENTY!) You will brainstorm, draft, and rewrite short pieces in the style of satire/parody (think Saturday Night Live or TikTok.) Since satire is the comedy of outrage, students will be asked to free write and work on pieces about topics that are meaningful to them.
Suggested age 12+
FOR TICKETS VISIT TCJHUMORFEST.ORG.
Disclaimer: Tickets purchased in advance include a service fee
Twin Cities Jewish Humor Festival is part of the Minnesota JCC's Arts & Culture season. The Minnesota JCC is dedicated to engaging the community in the exploration of Jewish identity and culture through film, performance, theater, visual arts, literature and Jewish learning. We strive to promote and enrich Jewish life and values for the entire Twin Cities community.
For more information, visit tcjhumorfest.org or contact Robyn Awend, Twin Cities Cultural Arts director, at rawend@sabesjcc.org or 952.381.3416.