The year 2021 has started with a bang. The previous year, with its pandemic, police killings of George Floyd and other unarmed people of color, and destructive urban uprisings, was really something; but 2021 is no slouch, so far.
The signal event of the new calendar year was the Jan. 6 storming of the U.S. Capitol by the MAGA mob, which ended with a cop murdered and four others dead, as members of Congress fled for their lives.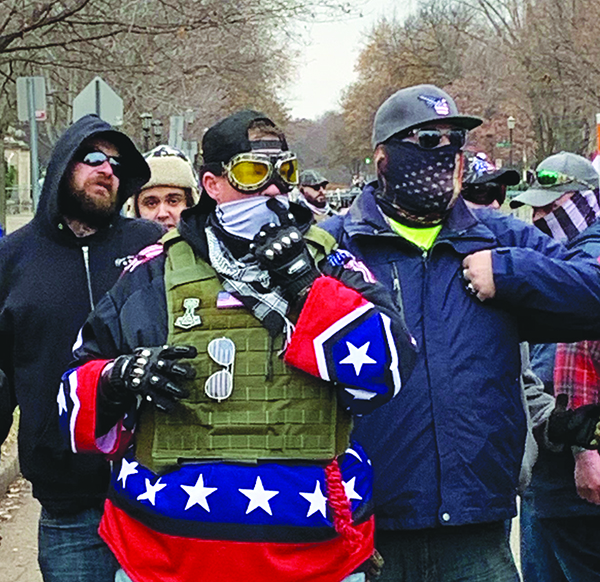 Of course, former Pres. Trump, in the aftermath of the 2020 presidential election, began inciting his supporters, spreading the big lie that the results were "rigged." Through Twitter and campaign-style rallies, Trump repeated false claims that an election victory was stolen from him.
"We won in a landslide," he told his supporters gathered in Washington, D.C., on Jan. 6, as Congress was certifying the Electoral College votes. "This was a landslide. They said it's not American to challenge the election. This [was] the most corrupt election in the history, maybe of the world."
On Jan. 6, Trump directed his angry supporters to save the nation: "We fight like hell. And if you don't fight like hell, you're not going to have a country anymore…. So we're going to, we're going to walk down Pennsylvania Avenue. I love Pennsylvania Avenue. And we're going to the Capitol, and we're going to try and give… our Republicans, the weak ones because the strong ones don't need any of our help. We're going to try and give them the kind of pride and boldness that they need to take back our country. So let's walk down Pennsylvania Avenue."
The Trump-directed mob overwhelmed a force of Capitol Police and broke into the building; and then Trump was impeached, again. This time it was a single charge: incitement of insurrection. It's been a wild 2021, and we haven't even gotten to Trump's second impeachment trial.
Given that 45 Republican members of the Senate have gone on record with their view that the impeachment trial is "unconstitutional," it's likely that Trump will evade justice again, as far as the upcoming Senate trial.
Beyond the impeachment trial, Democratic leaders in Congress have called for investigations into the Jan. 6 breach of the U.S. Capitol by protesters. There were warnings of violence by the FBI and other law enforcement agencies in the run-up to the deadly siege.
For example, the Department of Homeland Security issued a report titled "Homeland Threat Assessment," in Oct. 2020, which warned: "Ideologically motivated lone offenders and small groups pose the most likely terrorist threat to the Homeland, with Domestic Violent Extremists [DVEs] presenting the most persistent and lethal threat…. Some DVEs and other violent actors might target events related to the 2020 Presidential campaigns, the election itself, election results, or the post-election period."
The report specified that among the DVEs, "racially and ethnically motivated violent extremists — specifically white supremacist extremists (WSEs) — will remain the most persistent and lethal threat in the Homeland."
Members of Congress will be investigating how such a catastrophic security breach occurred on Jan. 6, and will look into the alleged complicity of some Republican members of Congress in the mob violence. They also should look into the role of cops, former and active members of the military, and elected officials who were directly involved in the storming of the Capitol, which was intended to disrupt the presidential transition.
As it happened, on Jan. 6, I was reading Talia Lavin's new book, Culture Warlords: My Journey into the Dar Web of White Supremacy (Hachette). Lavin took a deep dive into the slimy recesses of the internet, where racists and bigots convene and share their hate.
"Every day for nearly a year, I immersed myself in chat groups and websites and forums where photos of lynchings were passed around like funny memes," she writes. "Where 'KILL JEWS' was a slogan and murderers were called 'saints.' On the anniversary of the Pittsburgh synagogue shooting, I watched them celebrate Robert Bowers, the murderer of eleven Jews at prayer, like a hero and a friend. I listened to strangers incite violence and praise murder and talk about washing the world with blood to make it white and pure."
And so on. Lavin, a talented Jewish writer, concocted online personas that allowed her entrée into racist and anti-Semitic chat groups on sites like Telegram. She provides historical background on this country's virulent anti-Semites of the 20th century — Burton J. Hendrick, Edward A. Ross, Henry Ford, et al. — and elucidates the various splinter groups in the constellation of haters, such as the incels ("involuntarily celibate" misogynists), and the tension between Christian and pagan right-wing extremists.
The internet is the common denominator — white supremacists from the U.S. and around the world connect and encourage one another — "the internet allows white supremacy to become an internationally linked movement," says Lavin, who, posing as the "AryanQueen," outed a young, violent Ukrainian neo-Nazi.
And I'll mention that antifa, the movement of antifascists vilified by Trump and his cohort, have played an important role in identifying violent right-wing extremists. If someone is a violent racist, for example, they should know that their actions will have consequences, such as being outed to an employer.
Lavin, who considers herself an anti-fascist — "I've met antifascists, and I've met fascists, and I know which I prefer" — says that anti-fascism is about "community protection." She explains that anti-fascism "is a responsive ideology — a way to counter the rise of fascist movements…. Anti-fascism is a way of looking at the complex relationship between extremists, their opponents, and the state that doesn't necessarily mesh with a comfortable liberal worldview. But more than anything, it's a way to keep ourselves — and our more vulnerable friends and neighbors — safe in a world where hate wants to swallow us whole."
It's a relief that Trump is out of office. However, we face myriad social problems, and the Democratic politicians must feel public pressure to deliver the goods for their constituents — especially for the Black voters in the big cities of swing states — Milwaukee, Detroit, Philadelphia and Atlanta — that played a major role in the 2020 power shift.
Mordecai Specktor / editor [at] ajwnews [dot] com