On Oct. 25, Minnesotans, along with others across the nation, commemorated the death of Sen. Paul Wellstone in a plane crash 20 years ago. Wellstone, his wife, Sheila, daughter, Marcia, three aides and two pilots perished when their twin-turboprop plane went down in the woods near Eveleth, Minnesota.
I recently learned that Wellstone was not the first senator from Minnesota to perish in an airplane crash.
On Aug. 31, 1940, a Pennsylvania Central Airlines plane carrying Sen. Ernest Lundeen, along with 20 other passengers and four crew members, went down in a heavy rainstorm near Lovettsville, Virginia. News accounts at the time reported that it was the worst disaster in U.S. commercial aviation history.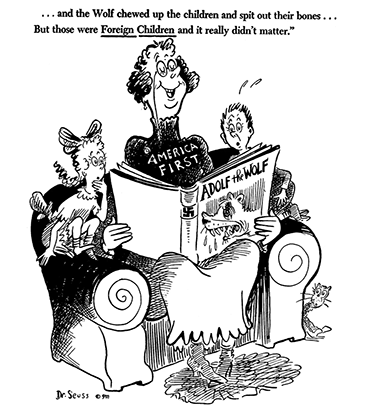 Lundeen, a member of the Minnesota Farmer-Labor Party, happened to be in emotional turmoil on the day of his death, according to the story told by MSNBC news anchor Rachel Maddow in her new podcast titled Ultra.
Lundeen's secretary arrived at the senator's office on that fateful morning and found Lundeen slumped over on his desk: "He's got his head down on his desk, his head is buried in his arms," Maddow narrates. "He doesn't appear to be sick, though. What he appears to be is emotionally distraught. He's crying.
"His secretary asks him what's wrong, he won't explain. He's got tears streaming down his face, but all he'll say to her is, 'I can't talk about it,' and, 'I've gone too far to turn back.' She doesn't know what this means. She doesn't know what has made him so upset."
And then Lundeen perished in the plane crash.
Maddow's podcast tells the story of Lundeen and some of his congressional colleagues working hand-in-glove with a top spy of the Hitler government to spread Nazi propaganda in the United States.
In an interview early last month with Rolling Stone, Maddow said, regarding the Ultra podcast series, which has dropped five episodes at this writing, "In the broadest sense it is about sedition — which is timely with the Oath Keepers sedition trial in D.C. starting."
She continued, "It is also about authoritarianism and fascism in the United States. Those words and concepts are fraught. It is hard for us to conceive that they apply to our generation. It's easier to see when it happens in another country. Americans can recognize, 'Oh, yeah, Putin is an autocrat.' People can see the Italian party whose logo is based on the eternal flame on Mussolini's mausoleum [and recognize] that it coming back to power is probably not good."
Ultra, according to Maddow — who worked with podcast co-writers Mike Yarvitz and Kelsey Desiderio — is a dive into an ugly chapter of our nation's history, "the story of sedition and fighting against authoritarianism and fascism in the United States, but 80 years ago. It's not a perfect allegory for any one thing. But there are a lot of things that resonate."
Of course, after former Pres. Trump incited a mob of his supporters to lay siege to the U.S. Capitol, this story of Hitler supporters — members of the Christian Front, Silver Shirts, America First Committee, etc. — trying to subvert the U.S. government and install a fascist regime in power does indeed resonate.
Lundeen allowed George Sylvester Viereck, an agent of the Hitler government, to use his Senate office to mail out thousands of copies of speeches sympathetic to the Third Reich. This could be done through the "franking privilege," which allows members of Congress to send mail at no cost. Viereck, in collaboration with officials at the embassy of Germany, also drafted speeches for Lundeen to read on the floor of the Senate.
On the House side, a congressman named Hamilton Fish III, from a prominent family in New York, conspired with Viereck to advance a U.S. government policy of isolationism as Hitler was preparing to send his forces into neighboring European countries. In August 1939, Fish visited Europe as president of the U.S. delegation to the Interparliamentary Union Congress conference in Oslo, Norway. A bitter political enemy of Pres. Franklin D. Roosevelt, who happened to live in the congressional district represented by Fish, the congressman argued for better relations with the Nazi regime. In fact, he traveled to Oslo on the private plane of Joachim Ribbentrop, Hitler's minister of foreign affairs.
As Maddow relates in her podcast, the nefarious machinations of Lundeen and Fish and a number of their congressional colleagues, in cahoots with the America First Committee, were revealed to the public by an investigative reporter for the Washington Post named Dillard Stokes. Eventually, William Power Maloney, a Justice Department prosecutor, identified those involved in the seditious conspiracy, including Viereck, the Nazi agent, and indictments came down.
History doesn't repeat itself, but it rhymes, as they say. And we're living through a time of misinformation and political divisiveness that compares in some ways with the isolationist and antisemitic mood that pervaded the 1930s in America. Trumpism — "semi-fascism," in the words of Pres. Joe Biden — threatens to undermine the system of U.S. elections. A faction of Trump's supporters calls for civil war and the secession of red states from the union.
You can compare the contemporary political scene to what transpired 100 years ago, when xenophobic politicians passed federal legislation to stop immigration to the U.S. from Asian and Eastern European countries. One upshot of the Immigration Act of 1924 (The Johnson-Reed Act) was that the gates of this country were shut to European Jews trying to flee the Nazi cataclysm. (This period is surveyed in the first episode of the PBS series The U.S. and the Holocaust, which was directed and produced by Ken Burns, Lynn Novick and Sarah Botstein. The excellent three-part series can still be watched on streaming services.)
Much of this history is grim and upsetting. However, we should keep in mind the warning of the philosopher George Santayana, who said, "Those who cannot remember the past are condemned to repeat it."
In the run-up to the Nov. 8 elections, we need to keep our eye on the ball, so to speak. If we don't take the necessary steps to preserve our democracy at this time, the future will be bleak. There is necessary work for each of us. To quote Pirkei Avot: "It is not incumbent upon you to complete the work, but neither are you free to desist from it."
Mordecai Specktor / editor [at] ajwnews [dot] com
(American Jewish World, November 2022)