The 2015 festival features more than a dozen shows with Jewish themes or performers
By DORIS RUBENSTEIN
Many years ago, there was a substantial debate on "how Jewish was Star Trek?" Fast forward in time and space, and the question today is: "How Jewish is the 2015 Minnesota Fringe Festival?"
With more than a dozen performances having some Jewish connection, I'd say, "Plenty!"
When Eric Pasternack isn't leyning (chanting) Torah at Beth Jacob Congregation, he can usually be found lending his tenor voice to the Gilbert and Sullivan Very Light Opera Company's chorus. As part of the Fringe Festival, GSVLOC will present a production of Trial by Jury at the Rarig Center. The play involves a broken marriage engagement that motivates the ingénue to sue her former fiancé in court, but the verdict is far from what she expected.
Performances of Trial by Jury will take place July 30–Aug. 2, Aug. 6 and Aug. 9 at the University of Minnesota's Rarig Center Proscenium, 330 21st Ave. S., Minneapolis.
Pasternack's wife, Jo, is also a chorus member and has served in numerous backstage roles over the couple's career with GSVLOC. During their years in Dallas, they were instrumental in founding the Texas G&S Company. But Jo Pasternack says that she enjoys the local group more.


"We have great cast parties after each performance," she said. "It's a very heimish [warm and friendly] group."
Members of our tribe take other essential roles in this production: Marina Liadova is the music director and conductor. She has led the St. Paul JCC Orchestra and other noted local groups. Rhea Sullivan and Tanya Brody also participate in the production.
While Brian Schiller is not a Twin Cities resident, he moved here temporarily in 2007 to film a documentary about a Burnsville man with a rare neurological disorder. Such a serious topic is unusual for a man who generally makes his living by doing stand-up comedy.
He was obliged to leave the project early to care for his ailing father, which is the genesis of his Fringe show, My Shrink Says I Need This. Performances will take place July 31, Aug. 2, Aug. 5 and Aug. 8-9 at HUGE Improv Theater, 3037 S Lyndale Ave., Minneapolis.
This one-man show is part of a long journey for Schiller. Inspired by Jerry Seinfeld's early performances on the Late Show with David Letterman, the Queens, N.Y., native eventually ended up writing for the Emmy-winning HBO show Dennis Miller Live. Schiller is glad to be coming back to the Twin Cities.
"It's a sophisticated arts community with a rich acceptance of standup," he observed.
Belly dancer Elizabeth Greenberg came both to her art form and the Twin Cities as a consequence of attending Grinnell College in Iowa. While at Grinnell, the Chevy Chase, Md., native joined the Belly Dancing Club on a whim. Upon graduating, she followed the suggestion of her many Minnesotan classmates to check out the Twin Cities as "a really neat place to live."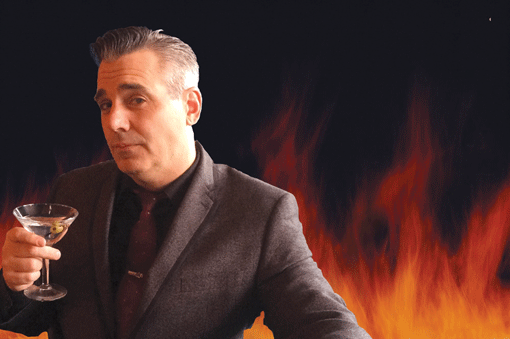 Here, she discovered the Smiling Lune Belly Dance Company, which assures its audience that this is not your mama's belly dance.
Indeed, Greenberg has attempted to bring this art form into a Jewish context. At Mount Zion Temple, she worked with the youth program to create a dance based on Jewish women's studies on Rosh Hodesh, the first day of every month in the Hebrew calendar, marked by the birth of a new moon. In the dance, a group of Jewish women decide to resist doing something that is socially acceptable but morally wrong.
"I feel like there is a lot of that in American interpretations of belly dance, because there's a focus on solidarity with women and learning to use your body instead of being uncomfortable with it as we're conditioned to be," Greenberg said.In Smiling Lune's shows, The Forgotten Angle, she will dance both with the group and as a featured performer in "Queen of Wands." Performances will take place July 31 and Aug. 1, Aug. 4, Aug. 7 and Aug. 9 at Mixed Blood Theatre, 1501 S. Fourth St., Minneapolis.
Ari Hoptman's day job as a lecturer in the University of Minnesota's Department of German, Scandinavian and Dutch doesn't keep him from being whom Minnesota Public Radio has characterized as a "great local actor," who one reviewer said "takes a dry pleasure in unusual couplings in his humor." Perhaps it's Hoptman's deep understanding of language that have made him successful as an actor, stand-up comic and now a playwright.
Two of his original plays are on the bill for the Fringe:
The Consolation: Adolf Eichmann admitted his guilt in the Holocaust when he was arrested after 15 years on the lam. But his captors found that he was not at all the fanatical Nazi they were expecting or even "wanting." Hoptman's play shows how Eichmann and his judges were forced to examine how an average person can justify doing terrible things.
The Consolation will be performed Aug. 1-2, Aug. 5 and Aug. 7-8 at the U of M's Rarig Center Arena.
Hope You Guess My Name: Satan is out buying fresh souls and giving people anything they could ever want. His customers seem quite satisfied at first, but before long everyone's fortunes, including his own, take unexpected turns.


Smiling Lune's shows, The Forgotten Angle, will challenge American interpretations of belly dance.
Hope You Guess My Name will be performed Aug. 1-2, Aug. 4-5 and Aug. 8 at Theatre in the Round, 245 Cedar Ave., Minneapolis.
According to Hoptman, he started writing plays "when I got enough comedy routines together, I made them into a show. The first was at the Bryant-Lake Bowl."
With such a Renaissance résumé, Hoptman will admit that given the choice, he'd still teach, act and write. Why?
"I enjoy them all for different reasons," he said. "They add balance to each other. Acting is the most fun."
***
The 2015 Minnesota Fringe Festival runs July 30–Aug. 9. For tickets and a complete schedule of events, visit: www.fringefestival.org.
(American Jewish World, 7.3.15)