Music business luminary Steven Greenberg is the album's executive producer
By MORDECAI SPECKTOR
The Potash Twins, trumpeter Adeev and trombonist Ezra, have been in the Twin Cities recording a new album at Essential Sessions Studios in St. Paul.
The Jewish musicians have been gaining national acclaim, and cultivating friendships with stellar musicians like Wynton Marsalis, Chris Botti and Jon Batiste (who will be the bandleader for The Late Show with Stephen Colbert).
Steven Greenberg, of St. Louis Park, is the album's executive producer. He told the AJW this week that the recording, which will be released in the fall, features original songs and a talented crew of mainly young local musicians, including bassist Ian Allison and drummer Petar Janjic. Veteran keyboard player Tommy Barbarella (Prince, Art Garfunkel, Ziggy Marley) also played on the sessions.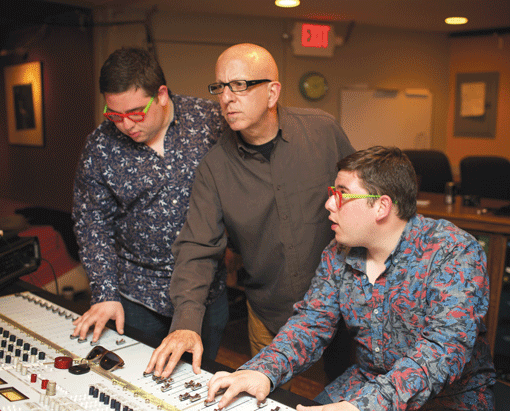 Guitarist Cory Wong is the album's producer. Wong recently played the Dakota with former Rolling Stones sideman Tim Ries — and Stones drummer Charlie Watts sat in for one song.
Greenberg came into the project at the behest of Amy Zaroff, who is managing the Potash Twins. He met with the 21-year-old identical twins and then listened to a demo recording.
"I haven't been in the studio for years," allowed Greenberg, who said that after repeatedly listening to the music, he "kind of fell in love with it."
The Potash Twins are snappy dressers and "they're charming," Greenberg added.
(In the interest of full disclosure, Greenberg is a partner in Minnesota Jewish Media, LLC, the parent company of the American Jewish World.)
Greenberg also said that during a visit last weekend to Herzl Camp for Shabbat, Adeev and Ezra Potash played a song during the festivities following Birkat HaMazon. At Herzl, the musical duo is called the "Potashim."
A press release about the Potash Twins also mentioned that Greenberg is marking 35 years since his song "Funkytown" hit No. 1 on the pop charts.
The song, which was recorded under the band name Lipps, Inc., has maintained a high profile over the decades, being licensed for films, TV shows and commercials, and sporting events.
(American Jewish World 7.3.15)
Here is a clip of the Potash Twins describing their "twintuition" at TEDxOmaha: