Mrs. Mindelle Feller, a leader in the  Chabad-Lubavitch community, dies at age 75
by MAX SPARBER
Community News Editor
Mindelle Feller, one of the first Chabad-Lubavitch emissaries in the United States and a leader in the Jewish community of the Upper Midwest area for more than 56 years, died Dec. 6, 2017. She was 75 years old.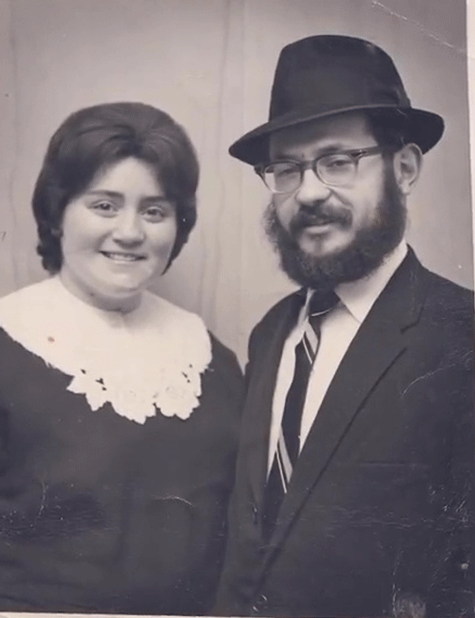 Her husband, Rabbi Moshe Feller, spoke of her in an interview with American Jewish World. "We met some 57 years ago," he said. "Her brother introduced me. He was a rabbinic student. She had been to Minneapolis before, she came here for a wedding. She met my mother at the wedding, and my mother was very impressed with her. She said, "That's the girl for you.'"
Rabbi Feller spoke of his wife's education, which was extensive. She graduated from Bais Yaakov, in Brooklyn, N.Y., and cum laude Phi Beta Kappa from Hunter College with a degree in mathematics.
Originally, Rabbi Feller had thought they might move to Mexico, where he had previously worked as a "roving rabbi." But the Lubavitcher Rebbe had different plans for them: "Rebbe sent me back to where I was raised," Rabbi Feller explained. He was a native of Minnesota, and he moved back to the state in 1961 to found Chabad-Lubavitch of Minnesota in 1961. The couple had been married for a month.
The Fellers started by traveling rural Minnesota, where there were Jews but little organizational support for them. "We went to small towns," Rabbi Feller said. "I would give adult education, we would travel together. My wife taught Sunday school in Austin and Albert Lea and Mankato."
By 1963, they founded a Gan Israel day camp, perhaps the first in history. "We started a program called Live and Learn. There was a big country home in Lake Elmo, 10 acres. We had Sabbath retreats. We invited B'nai B'rith, BBYO, Conservative youth, Reform youth — come and spend Shabbat with us.
"Then we started something here that became international: The Bais Chana Women's Institute." The organization works to provide an environment for Jewish girls and women, ages 15 and up and from all backgrounds, to explore Jewish teachings and tradition, according to Wikipedia, and Rabbi Feller originated the program with Mrs. Feller and Manis Friedman.
Much of her life would be spent looking after the religious experience of women, including their education, reflecting Mrs. Feller's own educational accomplishments, which extended to working as a research assistant to Guggenheim fellow Paul C. Rosenbloom, who was then working at the University of Minnesota.
One of Mrs. Feller's longtime friends, Bluma Schneider, spoke to American Jewish World about her memories of Mrs. Feller. Schneider graduated from the University of Minnesota in the early '70s, and she explained that she was "looking for some meaning in my life. It was a time when everybody was searching for meaning."
Schneider's brother was a member of Temple Israel, and told her about the Fellers, who were friends with Temple Israel's Rabbi Max Shapiro. "The Fellers were doing Shabbatons, welcoming students and offering classes. "
Mrs. Feller would be an ongoing fixture in Schneider's life. "She was my mentor, my sister and my friend," Schneider wrote after her friend's death in a letter she shared with AJW.
"She literally drove me on my maiden voyage to New York while I was still wearing jeans," Schneider wrote. "She prepared me for my wedding, which was in Lubavitch House and prepared me for making a real kosher Pesach!"
"I feel that I had a special relationship with her," Schneider told AJW. "But everybody felt that way!"
"She was so insightful, unassuming, unpretentious," Schneider continued, saying that the characteristic that most came across was "just really her concern and love that she had for everybody."
"In cold little Minnesota, they warmed up so many souls," she concluded.