Nearly 70,000 Americans died from drug overdoses in 2018, evidence of a devastating addiction crisis and a related crisis in mental health. Here in the Twin Cities, the annual Jewish-organized Conference on Mental Health is putting forth solutions.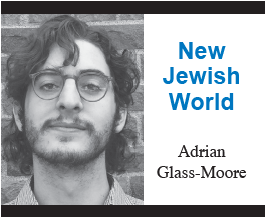 The conference was founded in 2001 in response to the police killing of Minneapolis resident Barbara Schneider, an activist with bipolar disorder who was involved in Jewish life. The keynote speaker this year, Sam Miltich, is a musician raised in northern Minnesota who experienced a "self-described major psychotic break" in his 20s. After being diagnosed with schizophrenia, Miltich didn't let it end his career. He opted to help others who face similar challenges, creating a performance called The Improvised Life that tells his own story and points out the contributions to music by artists who had mental illness.
The conference will be held at its usual location, Temple Israel, 2323 Fremont Ave. S., Minneapolis, at 10 a.m. Sunday, Oct. 20. It's free and open to people of all religions.
Organized jointly by Jewish Family Service of St. Paul (JFS) and Jewish Family and Children's Service of Minneapolis (JFCS), the daylong conference includes 22 workshops on everything from postpartum depression, dementia, bullying, addiction, suicide and eating disorders.
Becky Sulkin, Jewish Community Addiction Services Coordinator at JFCS, is leading a workshop about the benefits of "peer recovery support" for people recovering from addiction. There are other addiction-related workshops: "Addiction and Mental Health: Connecting the Dots" and "Addiction Is a Family Disease."
Sulkin said peer recovery means "being supported by somebody who has been there, who has the shared and lived experience of addiction."
How is this concept different from a support group such as, say, Alcoholics Anonymous? "I'm looking even more at one-on-one, or small group interactions," Sulkin said.
She likens it to mentoring. "I also manage our youth mentoring program and we saw a lot of similarities between this peer support and recovery coaching, and mentoring." Mentoring can help someone overcome the difficulty of "navigating the system."
Another difficulty for addicts — and for people dealing with mental illness — is the stigma. An article in the August issue of the Jewish Week newspaper in New York City described the intense stigma around opioid addiction among Russian-speaking Jews.
"I've heard of so many stories where people just wouldn't get help because they were too ashamed to say it; the families are too ashamed to say it," a former heroin user told the newspaper. A support group caters to Russian-speaking Jews who have become victims of "the opioid crisis that has blindsided them, stealing away their sons and daughters."
JFCS provided the Jewish World with some results from an addiction/recovery survey it completed in 2018: "Only 12 of 58 respondents cited stigma, embarrassment/shame, and/or lack of understanding and concerns about confidentiality within the Jewish community as barriers to moving forward in recovery. However, nearly 57 percent said that stigma and/or confidentiality concerns prevent them from attending recovery/support meetings."
So is there more of a stigma among Jews than there is among other groups? "It's really hard for me to say," Sulkin said. "I personally can't say that I've necessarily encountered any specific stigma about it within the Jewish community that isn't present in the broader community. However, that was, I think, a big takeaway of our survey, that there is a very big perceived stigma within the Jewish community."
JFCS Community Services Director Amy Weiss said stigma around addiction affects everyone, not just Jews. A major goal of the mental health conference is "reducing the stigma," she said. The more it's talked about, the better.
"More and more news stories are talking about mental health challenges overall, and anytime that we can talk about mental health challenges — because everybody is impacted by mental health — then we can help break down the stigma and reduce the barriers for people to get help," Weiss said. "Because it's when people are afraid to tell anybody that they're not reaching out and getting the help that they need."
The mental health conference plays an important role by educating people about addiction and mental illness. More needs to be done. Therapy, provided by good therapists, should be readily and easily accessible, free of charge, to anyone who wants it. Drug addiction should be treated as what it is: a health issue and not a criminal issue. And when dealing with someone who's experiencing a mental health crisis, the situation ought to be de-escalated rather than met with lethal force.
These issues should be looked at as a whole. It's similar to the way JFCS sees its clients. "We try to look at the person holistically," Weiss said.
***
The American Jewish World is a media sponsor of the 19th Annual Conference on Mental Health.