By DORIS RUBENSTEIN
About the only good thing to be said for Jewish life in the Pale of Settlement under Russian rule is that it created a strong, cohesive and vibrant culture with foundations in Torah, tradition and mysticism. For the three Jewish artists featured in the current exhibition at The Museum of Russian Art in Minneapolis (TMORA), the latter is the strong thread that ties the three Russian-born artists together.
The exhibition titled Mystical Imprints: Marc Chagall, Ben-Zion, and Ben Shahn is on view at the museum in South Minneapolis through March 22, 2020.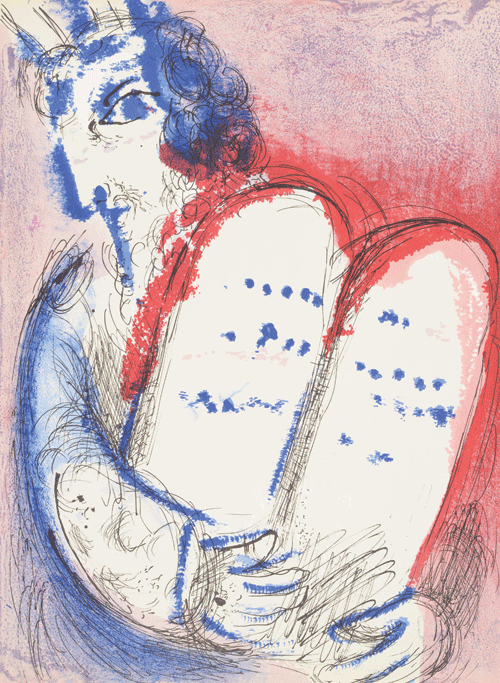 Known best for its archive of ancient illuminated Christian manuscripts and its contemporary illuminated Bible, the Hill Museum and Manuscript Library at St. John's University in Collegeville, Minn., surprisingly has one of America's most extensive collections of the etchings and lithographs of three of the 20th century's most highly acclaimed Jewish artists, all born in the Pale of Settlement during the czarist period.
The Jewish community owes a collective thank-you note to Katherine Goertz, a registrar at the Hill Museum, who organized the exhibition and arranged for its residence at TMORA.
How did St. John's — a Catholic institution — come to house such an impressive archive of Russian-Jewish art? Goertz explained that the collection was assembled by an architect and designer named Frank Kacmarcik. As a young man studying in Paris in the 1930s, he met many Jewish artists who had fled czarist Russia, and started collecting their work. Kacmarcik was also a lay monk who spent his final years at St. John's Abbey and willed his extensive collection to the Hill Museum and Library.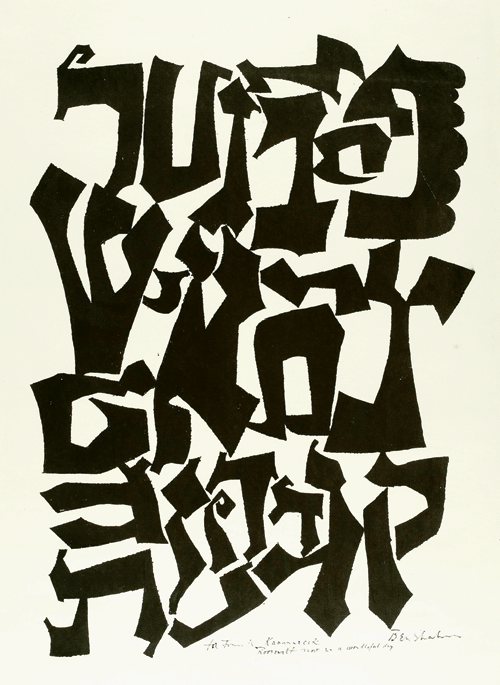 The most celebrated of the three is Marc Chagall, born Moshe Zacharovich Shagal in Belorussia in 1887. He left for Paris in 1923 to develop his own artistic style. While the Cubists dominated Paris at that time, Chagall marched to the beat of his own drum and developed artworks in varied media, largely drawing on his Jewish background for inspiration. Mystical Imprints draws from two of his biblical series: The first is a set of etchings in black and white drawn between 1931 and 1956, and another set of color lithographs done in 1956.
While all of these works depict scenes from the Tanach (Hebrew Bible) and are representational, they still evoke Chagall's interpretation of the mystical with images that blend together or soar above a focal point to suggest the divine involvement in the lives of those depicted within the picture's frame. Chagall died in France in 1985.
Ben Shahn was born in Lithuania but moved to Brooklyn with his family after his father had been persecuted for anti-czarist activities. Like his father, Shahn was drawn to revolutionary causes and their leaders. His work for the WPA during the Depression allowed him to glorify the labor of common people. But he also drew heavily upon his Jewish heritage for a sizeable part of his total portfolio. In particular, he was captivated by the Kabbala's mystic connections between numbers and letters. In his book Love and Joy about Letters, he elucidates the emotional and spiritual potency of the Zohar, whose connections are often expressed in his art. A first edition of that book and its slipcover are displayed as part of the exhibition, as is one of Shahn's most familiar Jewish books, an illustrated Haggada. A highlight of the show is Shahn's original lithograph of the Hebrew "Alphabet of Creation," which he came to use as his artistic "chop" or signature. Shahn died in New York in 1969.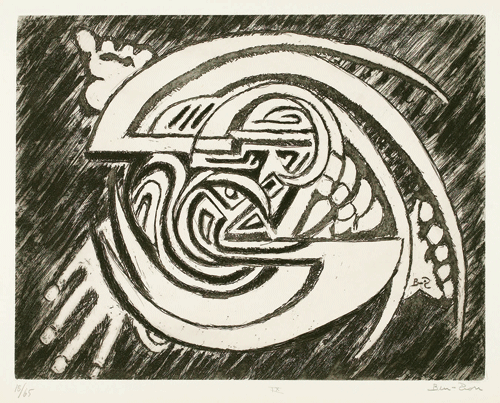 Ben-Zion was born in 1897 in the Ukraine and came to New York City in 1920. Unlike his contemporaries in this exhibition, he was largely self-taught as an artist. He was immersed in a community of Jewish immigrant artists and was deeply affected by the Holocaust. Mystical Imprints takes us on a trip through both time and Ben-Zion's artistic and spiritual development through three series of etchings. The first, Prophets, is more abstract than those that follow, and each etching represents a single moment in the books of those prophets: the moment when Jonah was spit out of the great fish; Elijah's vision of the flaming chariot. Unnamed Prophets depicts the lives of prophets who have no books, whose prophesies were not fulfilled; these are more representational. It is the third of the series — the largest — that packs the greatest emotional impact and is most transcendent in its message: 36 etchings of the Lamed Vavniks, the 36 righteous people who unknowingly carry the redemption of the world within them. Each one is depicted as a simple person who could be found in nearly every shtetl or in the Tanach: a shepherd, scholar, potter; even a prisoner and a ne'er-do-well. Ben-Zion died in New York in 1997.
The breadth of Mystical Imprints cannot be understated. Visitors to TMORA should allow at least 90 minutes in order to completely appreciate and contemplate the exhibition's content. It's worth your time.
***
Mystical Imprints: Marc Chagall, Ben-Zion, and Ben Shahn is on view through March 22, 2020 at The Museum of Russian Art, 5500 Stevens Ave. (corner of Diamond Lake Road and 35W). For information, call 612-821-9045 or go to: tmora.org.