Carrying on a Minnesota Jewish tradition of civic engagement, Tom Goldstein is running for St. Paul mayor and Jacob Frey is in the Minneapolis mayoral race
By MORDECAI SPECKTOR
In the 1960s, Minneapolis had its first and only Jewish mayor. Arthur Naftalin (1915-2005) served as the Mill City's mayor from 1961 to 1969.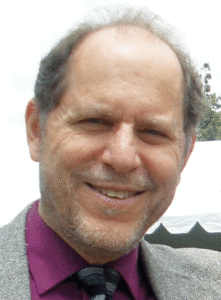 And St. Paul has had two Jewish mayors. Lawrence "Larry" Cohen (1933-2016) was mayor from 1972 to 1976. And Norm Coleman served as the capital city's mayor from 1994 to 2002. (Coleman was elected as a DFL partisan, then switched to the Republican Party in 1996, and was reelected in 1997.)
If lightning strikes on Nov. 7, Election Day, the Twin Cities could have two Jewish mayors serving at the same time.
In the Minneapolis mayoral race, Jacob Frey, 36, a DFLer elected to the City Council in 2013, is making waves with his well-funded campaign. He's one of 15 candidates challenging the incumbent mayor, Betsy Hodges.
The race in St. Paul is not quite so crowded. The incumbent, Chris Coleman, is running for governor in 2018; and 10 candidates are vying for mayor, including Tom Goldstein, 60, a former St. Paul School Board member who is known for his activism against public subsidies for sports stadiums.
Both Frey and Goldstein talked with the Jewish World last week about their campaigns.
"I'm not trying to be the third Jewish mayor of St. Paul," Goldstein commented in the midst of a phone interview. "I'm trying to be the best candidate."
A former proprietor of a sports memorabilia shop and the publisher of the esteemed baseball journal Elysian Fields Quarterly, Goldstein is a native of the Washington, D.C., area. He came to Minnesota to attend Carleton College and settled in for the long haul.
"It's the fact that I'm running an issues-oriented campaign that's most important to me," he told the Jewish World.
Among the issues he mentioned are rebuilding the city's infrastructure, providing increased financial support for education and affordable housing, and "doing something very specific about job creation so that we're bringing firms and entrepreneurs to St. Paul and actually creating jobs."
Goldstein, who worked on the Bernie Sanders presidential campaign, also talks up "universal broadband" access in St. Paul, and advocates a high-tech corridor along the University Avenue route of the Green Line light rail.
"We have to take care of our streets and not forsake the neighborhoods," he added "There's been so much disinvestment in the last 15 years, because our politicians have been so focused on giving out subsidies for developments that we have over $20 million per year that goes to pay off bonds for tax increment financing and doesn't go into the city treasury."
Goldstein says that elected officials are "constantly looking for funds — unless someone wants to build a stadium or some kind of glitzy development, then we can find that money. But when it comes to modernizing a rec center or promoting community development or providing start-up funds for a business, we don't have those resources. I think our priorities are skewed."
Of particular Jewish interest, Goldstein has criticized granting naming rights for the new pro soccer stadium in St. Paul to Allianz Life Insurance Co. of North America.
The parent company of Allianz was embroiled in a scandal for not paying off insurance policies taken out by Jews who died in the Holocaust. Goldstein pointed out that the issue came up when Allianz was looking to buy naming rights for the NFL stadium in East Rutherford, N.J., which is used by the Giants and the Jets.
The Associated Press reported that negotiations stopped in 2008, "after the deal was criticized by Jewish groups and Holocaust survivors. The company said then it had atoned for its past history and should not be judged by its World War II record. The venue later was named MetLife Stadium."
Allianz Field, the future home of Minnesota United, is scheduled to open in 2019.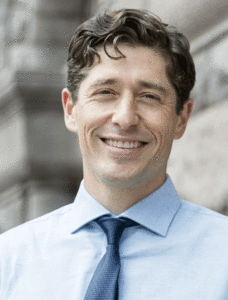 Crossing the river, Mayor Betsy Hodges, who was elected in 2013, is facing a pack of DFL challengers, including Jacob Frey, a native of suburban Washington, D.C., who ran in the Twin Cities Marathon and became enamored with Minneapolis. After graduating from law school at Villanova University, Frey, who pursued a career as a professional long-distance runner, took a job with the Faegre and Benson law firm (now Faegre Baker Daniels), and later at Halunen Law.
Representing the Third Ward on the City Council, Frey also is on the board of the Jewish Community Relations Council of Minnesota and the Dakotas. He said that he has attended both Temple Israel and Shir Tikvah, Reform shuls in Minneapolis.
"The Jewish community was so welcoming here in Minneapolis," he commented. "When I moved out here, it was heartwarming to be welcomed by a loving and warm community of Jews. And those relations have just grown deeper."
And Frey mentioned that the Jewish community also welcomed his wife, Sarah Clarke, who is planning on converting to Judaism.
Asked why he wants to be mayor of Minneapolis, Frey responded, "Minneapolis has been in the news for all the wrong reasons lately and we need a fresh start. I want to make sure every bit of potential in this city is realized. We've had a significant uptick in violent crime, and some of the worst police-community relations in a while, and we can change that."
Frey also mentioned "a dearth" of affordable housing in Minneapolis, and the need for job creation.
Regarding the incumbent mayor, Frey said that he and Hodges differ on "a few" issues. "We're all Democrats, and the mayor is not an ideological position — it's one of leadership. While I respect the mayor, no, I don't feel she's led when things have been tough and controversial."
A recent Star Tribune profile of Frey quoted former state legislator Phyllis Kahn: "If you want one word that most fits [Frey], I think 'ambitious' is the word. That's not really negative, and no, it's not really positive either. But my guess is people who are ambitious get more done over time."
"I think Minneapolis could use some ambition," Frey responded, when asked about Kahn's assessment. "I'm ambitious to get things done, and I always thought that was a positive thing."
On his campaign website, Frey has posted his "five-point vision for Minneapolis," which includes the previously mentioned issues of affordable housing, jobs and dealing with "both crime and police misconduct." There's also a point about putting Minneapolis on track "to be one of the greenest cities in America."
Asked how his vision statement relates to the marked racial disparities in Minneapolis — the large gaps between whites and people of color in unemployment, income and homeownership, etc. — Frey said, "Every facet in my platform incorporates a lens of racial equity. Affordable housing — we know that communities of color are disproportionately deprived housing… we've lost 10,000 units of affordable housing in just the last 15 years, and it's not like things were rosy in 2002."
Frey emphasized that it's not just a matter of rhetoric or philosophy, but rather "putting our money where our mouth is. Everybody deserves to live in a great city, and that is very quickly not becoming the case."
Minneapolis, and the greater Twin Cities, have been roiled over recent years by the police killings of unarmed black men —notably, the cases of Jamar Clark, in north Minneapolis, and Philando Castile, in Falcon Heights.
"I believe in police accountability, and we know that communities of color, specifically, black men, are not always treated fairly by our police," said Frey, who advocates for "more extensive implicit bias training." He also mentioned that police need better training in how to exhaust all alternatives before resorting to deadly force.
"I believe there should be a rebuttable presumption of misconduct, if the officer fails to turn on the body camera and something bad happens," he added. "A lot of times, race comes into play in all these issues."
The Minneapolis DFL failed to endorse a candidate for mayor this year. Frey came in second; Ray Dehn, a state legislator from north Minneapolis, came in first, and Hodges was third in the voting.
It's an educated guess who will win the Minneapolis mayor's race. It's not outlandish to think that Minneapolis could end up with its second Jewish mayor.
(American Jewish World, 10.20.17)