By DORIS RUBENSTEIN
Playwright Jason Odell Williams didn't think he'd be doing rewrites of Church and State while the play was in rehearsal.  But that's what he was obliged to do for the production opening Oct. 21 at the Minnesota Jewish Theatre Company in St. Paul.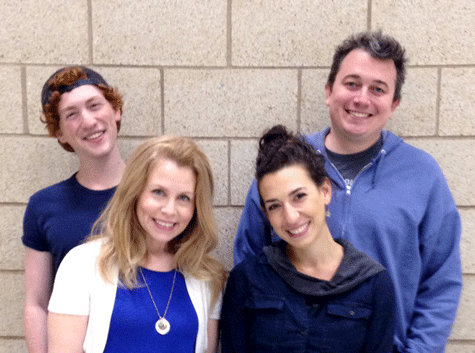 Permeated with rage and anguish over mass shootings in Virginia, and especially the massacre of children and teachers at Sandy Hook School in Newtown, Conn., angry and frustrated at Congress's failure to address the issue of gun control, Williams put pen to paper. The eventual result was this new play.  And then came Las Vegas.
With such a tragic and serious topic, how, then, can it be a comedy?
Williams replies, ""The topics of this play — religion, guns and politics — seem heavy. But a heavy drama about heavy topics doesn't interest me. What interests me is a play that gets to the heart of the people around these issues. And when you write about people, you can't help but let them be funny!"
In the play, a "Romney Conservative" (in the playwright's words), North Carolina senator named Charles Whitmore, who is a fundamentalist-conservative, comes to a personal crisis of conscience in an election that is neck-and-neck at the wire.
What has caused this crisis?  The funeral of 29 school kids gunned down by a lone shooter at the school where his own sons are students. The honorable senator has always been a strong supporter of the Second Amendment. He impulsively tweets from the heart and the story's plot unfolds from here.
Rabbi Harold Kushner's famous book Why Bad Things Happen to Good People might have served the senator well at this point. As a man who's running a campaign with the slogan "Jesus is my Running Mate" (chosen by his wife Sara), he is a loss for a good answer when confronted with the question intrinsic to Kushner's book.  Whom can he turn to?
Enter stage left his campaign manager, Alex Klein, a liberal Jewish woman. Why a liberal?  Because Whitmore knows that Alex has run numerous successful campaigns and he wants to win. In addition, he wants a devil's advocate to help him remodel his platform to stand on as he appeals to a broader audience in this close race. And why a woman?
"Just because I wanted it," says the playwright.  "It's more interesting — especially during the discussion between Whitmore's wife and Alex. I am cognizant to make sure that not all of my characters are white males."
So, why would a Jewish woman like Alex hitch her star to a member of her political opposition?  Is it simply for the money and the thrill of victory? She's clearly not among the 22 percent of Jews who reliably vote Republican. Could it be that Alex sees better than the senator does that he has the potential for real and sincere change on some issues?
Sara and Alex are yin and yang in Church and State. How do such strong female characters issue from the pen of a man named Jason? He is quick to respond that while the play's ideas and words are initially his own, he credits his producer/director/actress wife Charlotte Cohn as being both his partner and muse in developing the final script.
Act One is over; the script (so thinks the playwright) is finalized and the play opens to widespread critical acclaim.
Act Two is now set in the Twin Cities, the stage at St. Paul's Highland Park Community Center.  Director Michael Kissin and his Church and State cast are bent over their scripts for a first reading. The director and his cast have just casually addressed the issue of gun control in conversation.
Then, the tragedy occurs in Las Vegas. "The Las Vegas massacre has changed the way we approach the play since it's even more current and topical," Kissin says.
The MJTC will be hosting discussions following the performance of the show on Oct. 22, 26, 29 and Nov. 2 which are open to the public.  Can advocates of both sides of this issue be attracted and feel welcome at both the show and in a civil conversation on the topic of guns?
Kissin says, "We want to do the play that invites all points of view into it. Matt/Charley (actor Matthew Rein) has done a lot of research into the point of view of gun-rights advocates to better play the character."
The question remains: Will the words Las Vegas be included in the MJTC production? You'll have to see for yourself to find out.
Church and State runs Oct. 21 – Nov. 12 at the Highland Park Community Center, 1978 Ford Pkwy., St. Paul. For information visit mnjewishtheatre.org.
(American Jewish World, 10.20.17)