Max Raabe and the 12-piece Palast Orchester bring the music of a bygone era in Germany to the Dakota Jazz Club on April 7
By MORDECAI SPECKTOR
Singer Max Raabe stands erect before the microphone, garbed in a tuxedo and tails with his blonde hair slicked back, and croons songs that were the rage of Berlin during the 1920s and '30s, the time of the Weimar Republic.
Raabe and the 12-piece Palast Orchester deliver meticulous recreations of tunes written by German songwriters, including Bertolt Brecht and Kurt Weill, and their counterparts in America, like Irving Berlin and Cole Porter. As part of a United States tour in April, the group will perform two shows April 7 at the Dakota Jazz Club in Minneapolis.
During a phone interview with the AJW this week from his home in Berlin, Raabe, 50, noted that the Minneapolis gig — originally scheduled for Orchestra Hall — will be the group's only appearance in a small club on their U.S. tour. Raabe said that two days before playing Minneapolis, his ensemble will perform at the Chicago Symphony Center. So Minneapolis music fans will have a rare opportunity to see Raabe and Palast Orchester in a sort of cabaret setting. "This is unusual for us," he says.
The two-CD set, Heute Nacht oder nie (Tonight or Never) (SPV Recordings), a live record of Raabe and Palast Orchester's 2007 Carnegie Hall concert, provides a listener with a good idea of the group's current repertoire, according to Raabe.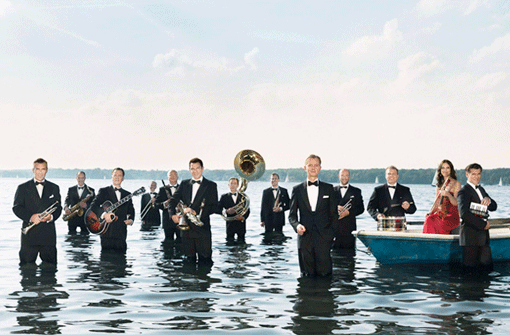 And he mentions that the group, which he founded in 1986, will be performing some new additions to their Weimar era repertoire this time out. The new songs include "I Won't Dance," a 1934 song composed by the great Jerome Kern, with lyrics by Oscar Hammerstein II and Otto Harbach; and "You Do Something to Me," a Cole Porter number.
These are not "new songs," per se, says Raabe, about the tunes that were popular some 80 years ago. But he and Michael Enders, who plays trumpet and is the band's musical director, continually search for old records and through musical archives. "We discover nice arrangements from that time," Raabe comments.
Trained as an operatic baritone, Raabe usually sings in a higher register, replicating the vocals of the long past era. He mentions that Americans recognize this music from the soundtrack of old cartoons, like Tom and Jerry, so it has wide appeal.
The Palast Orchester is a tight, well-rehearsed group of talented musicians. The most alluring musician in the group is Cecilia Crisafulli, an Italian violinist. "She is the paradise bird amid the penguins," agrees Raabe, about the lovely, colorfully begowned musician, the only woman in a sea of tuxedoed men on the bandstand.
Of particular interest to Jewish World readers, Raabe is forthright in explaining that the group's repertoire features many songs written by German and Austrian Jews.
The recent Minneapolis Jewish Film Festival at the Sabes JCC screened Max Raabe in Israel, a documentary directed by Brigitte Bertele and Julia Willman, about the group's 2010 tour in the Jewish state. In the film, Raabe and the other musicians admit to great trepidation prior to visiting Israel. They are aware that a German repertoire, and the German language itself, carries emotionally fraught associations with the Shoah. At the same time, the film includes the reminiscences of elderly Yekkes, Jews from Germany, who fondly recall Berlin — and some of them admit that they still regard it as home, even though they have spent nearly all of their lives in Israel.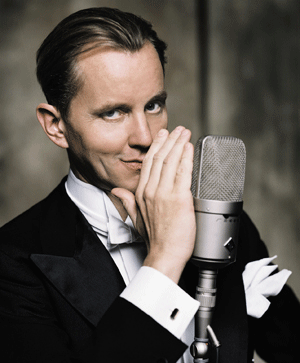 Raabe, in the documentary, talks about the contributions of Jewish composers and lyricists, "our favorites like Werner Richard Heymann, Walter Jurmann, and writers like Fritz Rotter… and it's they who ensure our success; and we are well aware of this, and we confirm it at every opportunity. Especially in Israel."
Talking with the AJW, Raabe recalls that as a teenager he had numerous favorite composers. "I always had my favorite names," he says, about the old German tunesmiths. "After a while, after 1933, you can't find these names. These names were nearly forgotten." Many talented artists got out of Germany, or were murdered in the death camps.
The Nazi regime banned popular Jewish works, branding them as "degenerate art." Such was the fate of the Comedian Harmonists, a wildly popular singing group of that era, which had three Jewish members. Another of the Harmonists was married to a Jewish woman. By 1934, with Nazi censors banning certain songs, the group disbanded and several of the members fled Germany. In 1975, a four-hour documentary about the Comedian Harmonists aired over two nights on German television. Raabe points out that this revived the memory of the singing group for new generations of his compatriots.
"This is a part of our history in Germany," says Raabe, about the deadly swathe cut by the Nazis. In addition to the concentration camps and the mass murder, he concludes, "we lost half of our culture."
The artistic accomplishments of the Weimar Republic are widely known today in Germany. "It is a big important thing," Raabe attests. Perhaps not all Germans recognize the artistry of the period, but "you can find idiots everywhere," he says.
Apart from the Palast Orchester, Raabe has recorded two albums recently with popular German producer, singer and composer Annette Humpe. In 2012, Raabe's album of originals songs penned with Humpe, Küssen kann man nicht allein (One Cannot Kiss Alone) became his most successful production, reaching platinum status in German sales.
And on You Tube, you can find a video of Raabe and Palast Orchester's rendition of Britney Spears' "Oops! … I Did It Again," performed in the group's characteristic period style. They also have performed the Tom Jones tune "Sex Bomb." These novelty tunes are an effort to throw their German fans a screwball, so to speak, from time to time.
Raabe assures me that the group won't be performing any contemporary pop hits in Minneapolis. But he is surprised to learn that Prince is from Minneapolis, when I suggest that perhaps he could croon one of the purple royal's hits here.
As it turns out, Raabe remembers that many years ago Palast Orchester performed Prince's song "Kiss." Then he breaks into song: "You don't have to be rich to be my girl, you don't have to be cool to rule my world…"
***
Max Raabe and Palast Orchester will perform two shows, 6 and 8:30 p.m. Sunday, April 7 at the Dakota Jazz Club and Restaurant, 1010 Nicollet Ave., downtown Minneapolis. For tickets, call 612-332-1010, or go to: dakotacooks.com.
(American Jewish World, 3.29.13)
 VIDEO: Max Raabe and Palast Orchester perform "Cheek to Cheek":


VIDEO: Max Raabe and Palast Orchester perform "Dream a Little Dream of Me":