Reviewed by NEAL GENDLER
When asked to review Mark Oppenheimer's book about the killings at Pittsburgh's Tree of Life synagogue, I was reluctant, fearing the book would be depressing, cliché-ridden and redundant to the massive news coverage.
Quite the opposite.
"This book is about how Squirrel Hill people behaved in the aftermath," says Oppenheimer. It's an emotionally engaging, quotation-filled, easy-reading and thorough account of the unusual Squirrel Hill neighborhood, its residents, the Oct. 27, 2018 attack, the victims and the reactions.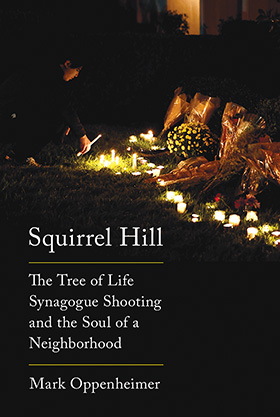 It's also about American Jews' reactions, including increased synagogue security, about shrinking synagogue affiliation, particularly in Tree of Life's Conservative movement, and about the two other congregations meeting in its oversized building: New Light and Dor Hadash.
Despite knowing no one in Pittsburgh and never having been in Pennsylvania, I was fascinated.
"Squirrel Hill had been the heart of Jewish Pittsburgh since the Great War," says Oppenheimer, a former New York Times religion columnist now directing the Yale Journalism Initiative. In 1945, when his father was born, "Squirrel Hill was a little Jewish Eden," with Jewish-owned shops and restaurants.
Squirrel Hill, population 26,500 (with a kosher Dunkin' Donuts), is distinguished by Jews remaining when Jews in other central cities decamped to suburbs. It and adjacent Shadyside are estimated to be 37.5 percent Jewish. Squirrel Hill is notably religious, for Christians and for Jews from across the spectrum. The book's map shows six synagogues; Google Maps lists 20, some in homes.
"The gunman who at Tree of Life perpetrated the greatest antisemitic attack in American history surely did not know that he was attacking the oldest, most stable, most internally diverse Jewish neighborhood in the United States," Oppenheimer says.
Housing prices range widely, and "the normal boundaries between Jewish denominations don't seem to apply here," even within married couples, he says.
"In the days after the shooting, I wondered how the people of this unusual neighborhood, my ancestral neighborhood, were doing. Given its closeness, surely the whole neighborhood felt the weight of the tragedy. I'd grown up elsewhere, but I knew that Squirrel Hill was a place of friendliness and basic midwestern decency, with a strong civic spirit that had carried it through difficult times before," including the closing of the area's steel mills.
The shooting was unique in American Jewish history, and so was the area, "a neighborhood of joiners." The author wondered if high congregational affiliation would aid people's recovery.
There's no basis for comparison, but it's evident that the neighborhood came together in grief and support — not only Jews but gentiles.
The attack killed 11, wounded two other congregants — one severely — and injured six police officers, two critically. The way that Oppenheimer introduces the dead — among them beloved physician Jerry Rabinowitz and two well liked, special-needs brothers — is brilliant.
Eleven congregants got out alive, including New Light's Rabbi Jonathan Perlman, who once worked a year at the Minneapolis-area Jewish Community Center.
Another Minnesotan appears in Squirrel Hill: Rose McGee, of Golden Valley, then 67, the Black founder of Sweet Potato Comfort Pie.
She "borrowed a kosher kitchen of a Jewish day school to ensure that her pies would be kosher, then shipped them to Pittsburgh for a Shabbat evening event, on Feb. 8, with Tree of Life and Dor Hadash at their new home at [Reform] Rodef Shalom," a congregation, at the edge of Squirrel Hill.
"She flew in to distribute them that night, then had a pie event the next morning for New Light, meeting at Beth Shalom," Oppenheimer says. She considered ethnic cuisine more meaningful than a check.
"Why sweet potato pie?" she said. "Because I consider it to be the sacred dessert of Black culture." Taking her pies into another culture is "what relationship-building is all about."
And there's the phenomenon of Shay Khatiri, an Iranian expatriate grad student at Johns Hopkins, working and friends with Jews, Oppenheimer says. He began a GoFundMe site for Tree of Life. Publicized on Twitter by CNN's Jake Tapper, "it raised $1 million by Oct. 31, the day three of the victims were buried."
Eventually, its total was $1.265 million. Other donations brought the amount raised to $5.45 million, and the Jewish Federation of Greater Pittsburgh raised another $6 million.
A seven-member federation committee apportioned different amounts to congregants present but unharmed, wounded congregants and police officers, families of the dead and the building's three congregations.
Squirrel Hill is easily digestible, with five dozen photos and 18 chapters divided by topics such as the attack, those inside, the gentiles, the funerals, the history, the money and the building. It's an engaging immersion for those of us reading from afar.
The dead were handled by Jewish burial societies, one community and one Orthodox. After the funeral of Rabinowitz, first to be buried, a line of black-hat Orthodox Jews appeared, ready to walk behind the hearse to the cemetery.
Jewish Community Center Rabbi Ron Symons, a member of the community burial society, obtained on-the-spot police permission. It wasn't in his Reform tradition, "but as they started walking, my feet just started going with them," he said.
It was less than a mile to the cemetery, and "the entire community stopped," Symons said. "Shopkeepers and customers emerged from stores and saluted. It was beautiful, … one of the most spiritual things I ever did."
***
Neal Gendler is a Minneapolis writer and editor.
(American Jewish World, Oct. 2021)