By DORIS RUBENSTEIN
St. Paulite Geoff George's film and its complimentary exhibits are his labors of love for a grandfather he never really knew. Celebrated 20th-century cartoonist Rube Goldberg died when George was only nine years old, but that has not stopped him and his family members from creating a legacy for him that has inspired STEM teachers and students around the world.
The phrase "Rube Goldberg contraption" has found its way into the lexicon of American speech. It describes machines that perform simple tasks through exhaustively complex means that Goldberg created in his classic comic panels that appeared in hundreds of newspapers in the first half of the twentieth century.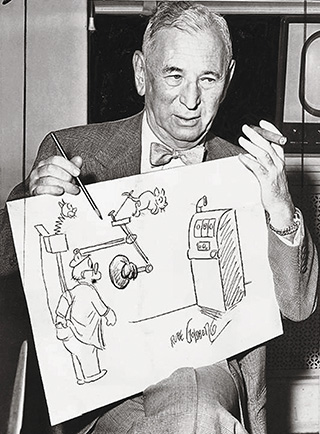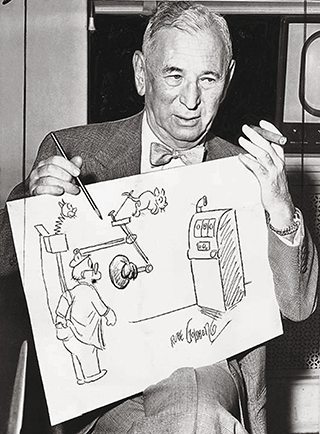 George's film, The Two Lives of Rube Goldberg, will have its premiere at the Minnesota JCC's Virtual Twin Cities Jewish Film Festival 2 p.m. Sunday, Oct. 17. Expanding historically on Goldberg's life and work, the JCC's Sabes Center in St. Louis Park will host an exhibit, Simplicity Made Complex: The Life and Legacy of Rube Goldberg. In addition, a kinetic sculpture inspired by Rube Goldberg's famous machines, by local artist Robin Schwartzman, will be on display in the Tychman-Shapiro Gallery.
Concurrently, at the JCC's Capp Center in St. Paul, the exhibit Complexity Made Simple: The Political Cartoons of Rube Goldberg will take an inverse view of Goldberg's work, focusing on his political cartooning and ability to distill a complex geopolitical landscape into a single image, a pursuit for which he was awarded the Pulitzer Prize for Editorial Cartooning in 1948. Artwork by another member of the Rube Goldberg family, Thomas George, also will be on exhibit in the hallway exhibit areas of both JCCs.
The official repository of Rube Goldberg's cartoons is at the University of California-Berkeley. Toward the end of his life, he took up sculpture. Some of his sculptures are in the local exhibits, but many have become part of the permanent collections of major museums across the country. His cartoons were recognized as an important part of American culture when the Smithsonian Institution presented a retrospective of Goldberg's work in Washington, D.C., in the late 1960s. Goldberg was one of the founders of the National Cartoonists Society and served as its first president. The annual Reuben Award was designed by Rube Goldberg himself.
Geoff George didn't follow in his zayde's cartooning footsteps but found his own path in another art form: film. Raised in New Jersey, George earned a degree in film from the Rochester Institute of Technology. Here in Minnesota, he is a freelance maker of industrial films and television commercials for over 20 years.
The Two Lives of Rube Goldberg reveals the Goldberg/George family's patriarch first by describing his life as a cartoonist and artist. His "rebirth" is shown in the second part of the film.
During Rube Goldberg's life, winners of Purdue University's Rube Goldberg Machine Contests became occasional features of late-night television programs. The contest went on hiatus for many years; but in 1980, Purdue University revived the competition and the concept took wing. One of Goldberg's sons, recognizing how such contests could memorialize Goldberg's name and inspiration, started a company to set rules and standards for competitions consistent with Rube's own artistic goals. The company is now run by Geoff George's cousin Jennifer George.
"Rube Goldberg has been reborn as an educator," Geoff George explains. "The collaborative nature of the Machine Contest teaches kids to be creative designers and innovative problem solvers by working together as a team.
As a Minnesotan, he is proud to point out that the team that has won the most Rube Goldberg Awards is from tiny (pop. 2,779) Chatfield, Minn. The high school's display case is full of Rube Goldberg trophies. The prize also includes a check for $1,000. Another local big winner is Shakopee Middle School. And, as a Jew, Goldberg would be proud to know that Technion, in Haifa, Israel, annually creates a Rube Goldberg machine that performs essential functions for various Jewish holidays.
Rube Goldberg machine contests are now held worldwide and feature prominently in the film. Videos of contraptions are easily available on the internet and can provide viewers with hours of fascinating entertainment.
"Of all the grandkids, I knew Rube the least. I never understood what the big deal was," George admits. Still, he is deeply committed to building and expanding Goldberg's artistic and intellectual legacy. "The ironic thing is that none of his contraptions were ever actually built in his lifetime. That's the legacy: having Rube Goldberg contraptions built by young people today."
The Twin Cities Jewish Film Festival will be held virtually Oct. 16-31. With the streaming of The Two Lives of Rube Goldberg will be a Q&A with Geoff George and shorts featuring Rube Goldberg machines.
For information on the festival, go to: minnesotajcc.org.
(American Jewish World, Oct. 2021)