A nonviolent revolutionary who inspired generations of political activists to speak out and confront injustice
By MORDECAI SPECKTOR
Marv Davidov, the most prominent face of the local peace movement, began his decades-long career as an activist for peace and social justice in 1961. He was part of a group of six young Minnesotans (including three Jews) who took part in the first Freedom Rides, which sought to integrate public facilities in the South.
Davidov was arrested at a blacks-only lunch counter in Jackson, Miss., and imprisoned for 40 days at the notorious Parchman Farm prison. The experience of what Davidov called "blessed human solidarity" in the Mississippi state prison set him on a life course dedicated to struggling against social injustice in the United States and around the world.
In recent years Davidov himself struggled with kidney failure and other illnesses. He died on Saturday, Jan. 14, at the age of 80.
Davidov was originally from Detroit, Mich. His early years, and his recruitment by the late Zev Aelony into the civil rights movement, are chronicled in the 2009 memoir, You Can't Do That: Marv Davidov, Non-violent Revolutionary (Nodin Press), written with Carol Masters (12-25-09 AJW).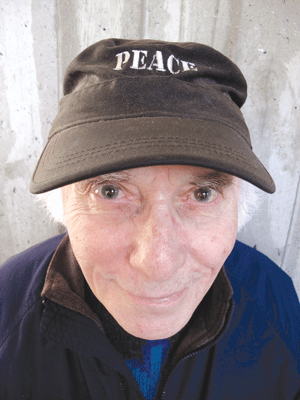 Davidov recounted that his radicalization came about during his stint in the army. He was drafted in 1953, during his senior year at Macalester College. He said that the brutality he witnessed — specifically, the organized beating of a soldier who jumped ship on the way to Korea — led him to question his previously held moral beliefs.
During the Vietnam War, Davidov was a founder of the Honeywell Project, which protested against the Minneapolis-based corporation's manufacture of cluster bombs, which killed and maimed both combatants and civilians in Southeast Asia.
In 1981, a reorganized Honeywell Project renewed the campaign to get Honeywell to convert its munitions business to peaceful production. The ascendant nuclear disarmament movement contributed to the popularity of the Honeywell Project's second phase, which also focused on the corporation's work on guidance systems for nuclear weapons.
A 1983 civil disobedience action at Honeywell's South Minneapolis headquarters resulted in 577 arrests over 12 hours. The local press coverage focused on one of the arrestees, Erica Bouza, the wife of then Minneapolis police chief Tony Bouza.
Honeywell eventually spun off its weapons division, as Alliant Techsystems (ATK). And Davidov and others continued their vigils and trespass actions at ATK sites in suburban Minneapolis.
In recent years Davidov was an adjunct instructor at the University of St. Thomas, where he team taught a course in justice and peace studies with Jack Nelson-Pallmeyer.
On his blog, titled "A Parallel Universe," Chuck Turchick remembered Marv Davidov. "Marv was so Jewish," wrote Turchick, a longtime peace and social justice activist from Minneapolis. Davidov "was alienated from the established Jewish community," Turchick noted, and expressed regret that he never approached any local congregation about honoring Davidov.
"Marv was the best Jew I have ever met," Turchick concluded. "The world is a better place, and for those of us who knew him, we are better people because of him."
Although Davidov had little connection with organized Jewish life in the Twin Cities, as Turchick mentioned, his life reflected the ethical call of Judaism's prophetic tradition.
Davidov's lifelong campaign against war, which he tied to corporate greed and racism, was framed long ago by the prophet Isaiah (2:4), who declared the divine intention that nations "shall beat their swords into plowshares, and their spears into pruning hooks; nation shall not lift up sword against nation, neither shall they learn war any more."
Davidov is survived by his brother, Jerry, a retired firefighter in Minneapolis.
(American Jewish World, 1.20.12)