By EARL SCHWARTZ
In the hundred years since its publication, Martin Buber's Ich und Du (I and Thou) has turned up in remarkable places. From Albert Camus' "I do not mind being called religious in Buber's sense of the term, an I-Thou relationship," to Martin Luther King Jr.'s observation in Letter from a Birmingham Jail that racial segregation substitutes "an 'I-it' relationship for an 'I-thou' relationship … relegating persons to the status of things," to the Swedish translation Dag Hammarskjöld was preparing in his last days while working on a cease-fire in Congo, readers from around the world, struggling with the most difficult questions, have turned to I and Thou for the right words.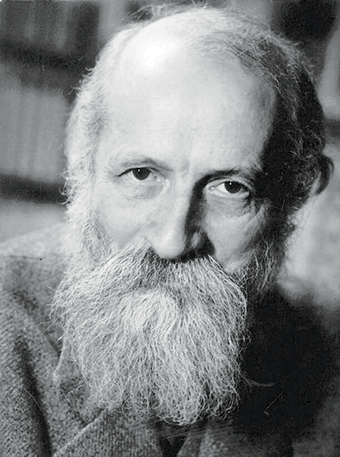 The book signaled a turn in Buber's life as well. In earlier writings he affirmed the possibility of mystical release from the constraints of mundane circumstance. Leading up to World War I, he had gone so far as to anticipate the mounting spirit of self-sacrifice as an opening to higher consciousness, but he soon refocused his thinking on just those everyday realities that "transcending" experiences obscure. In the wake of this deep change in perspective, he asserted in I and Thou that it is "the sickness of our age" that we have come to see ourselves as bound by fate-like causal chains, relegating ourselves and others "to the status of things." But rather than seeking release, we must ready ourselves for dialogue, knowing that the "you" we meet in another person is a reflection of the Eternal You. For many a reader "of our age," it has proven a timely, and a timeless, message.
In my mid-teens, in the 1960s, curious about I and Thou, I bought a copy of Ronald Gregor Smith's English translation. I thought the austere cover lent an air of gravity to the book, and also, perhaps, to someone carrying a copy. Intent upon reading beyond the expectations of those around me, I gave it a try, but after a vain attempt at the first page, I laid it aside; a closed book on an open shelf in my room.
Around this time, Rabbi Moshe Sachs shared with B'nai Abraham Congregation in St. Louis Park a letter he had received from Buber many years earlier. The letter stemmed from Sachs' work on a doctorate in education. For his thesis he planned to compare the educational philosophies of Abraham Joshua Heschel, Mordecai Kaplan and Buber, so he wrote to Buber to ask about books that had influenced his intellectual development. The research reflected Sachs' assumption, as he later told me, that every serious thinker's worldview was in some way a response to those who constituted that person's intellectual background.
Buber replied with an aerogram dated March 27, 1955. Written in ornate longhand, its informal warmth suggests much more than an academic response to an academic question. Buber begins with the personal aside, "I have been ill for months and am not yet re-established," and then continues, "but I want you to know that, with the exception of the Bible, some Hasidic literature etc., I have not been very much influenced by books. Of course, I have read many books, and nearly all the books impress one as something "mediate" [immediate?], and ["but"?] what moves me to the depths and influences me are rather living persons, meeting them, communicating with their life."
Sachs later told me that Buber's answer was "a rejection of my question because, for him, it is people not books with whom one relates," though he mused, "I regret that I never was privileged to ask him the same question again, face to face."
That Buber's response invited further conversation is also suggested by the letter's ironic conclusion. Having pointed out that his life was focused on encounters, not books, he nevertheless ends by noting that "I have written on the subject a little essay, called "Books and Men" contained in my volume "Hinweise" (Zurich 1953). You may obtain it through my translator Maurice Friedman" — followed by Friedman's address. "Sincerely yours, Martin Buber."
"I have not been very much influenced by books." And yet, he wrote them, and recommended one to his correspondent. The irony brings to mind a comment Plato ascribes to Socrates in his dialogue Phaedrus: "You know, Phaedrus, writing has this strange quality of really being quite like painting … if you ask them a question, they maintain a most dignified silence." Writings can't explain themselves or defend themselves. When a text is misunderstood or abused, he concludes, "it always needs its parent to help it."  And yet, Plato put the thought into writing.
Books, no matter how sacred and stirring, are woven of words shorn of the other's presence.  One way Buber acknowledged this deficit was to urge that when reading biblical texts, one listen for the spoken words they once were, along with interpretive indicators more apparent to the ear than the eye. Reflecting on his own experience of reading a biblical passage out loud in Hebrew, and coming to feel that he had heard something more than text, he concluded: "The book lay in front of me, but the book was dissolved within the voice."
So too does I and Thou, a book that begins with "the two primary words one can speak…."
Three brief personal stories about the book follow.
***
Eva Jospe, a student of Buber's at the University of Frankfurt, went on to write extensively about his work and was the English translator of the "Early Addresses" included in his On Judaism. Her son Raphael, my teacher and academic adviser at the University of Minnesota in the early 1970s, would co-edit an anthology of her writings on Buber.
On a visit to the Twin Cities in those years, Jospe gave a lecture that I attended. Following the talk I approached to express my appreciation, and during our brief conversation I happened to refer to Buber as a socialist. Given his "Three Theses of a Religious Socialism" and Pathways in Utopia, it seemed to me an apt description, but she replied, "Buber, a socialist? Buber was no socialist. He was an anarchist!" I was intrigued, but mostly flustered and confused, and so the conversation ended.
Nonetheless, her comment stayed with me. It could be taken as alluding to Buber's manner and habits, including his non-halachic approach to Jewish life. I doubt, however, that it was simply a jibe, or reassignment to another ideological category, but stemmed instead from her understanding of his general aversion to political and religious systems. Buber's socialism was rooted in the everyday. It didn't depend on a theory, or rapturous absorption into a movement, but on the continuous reaffirmation of community and fellowship; "anarchic" not as a positive value or objective, but as free social space, where bonds of mutuality can flourish; a socialism with its "ism" pruned back.
Around the time I purchased my copy of I and Thou, Rabbi Sachs introduced me to a premise of this perspective. While chatting, I clumsily misused the term "existentialist" (validating Plato's misgivings about books), and Sachs gently asked if I'd like to know what "existentialist" meant. Caught in an existential bind, I said that I would, and he replied, "To be an existentialist is to always start from where one really is" — not from where one would like to be, or thinks one ought to be, or where others may think one ought to be, but from where one really is. Simple, and so difficult.
For socialists committed to theory-based orthodoxies, the "social" without the "ism" was at best an anarchic "utopian" vision, not a plan. But for Buber, as for Sachs, it's starting from where you aren't that's truly utopian — that is to say, "nowhere."
***
"I take him who listens to me by the hand and lead him to the window. I open the window and point to what is outside. I have no teaching, but I carry on a conversation."
Being but a book, I and Thou "always needs its parent to help it," and as Buber's own experience broadened and deepened, his maturing presence contributed to its enduring influence. But it's one thing to give others the words they are seeking, another to be the person they long for.
As is clear from Haim Gordon's The Other Martin Buber, a collection of conversations with people who lived, worked and learned with Buber, his words raised expectations that he wasn't always able to meet. If in his younger years he allowed himself to be sought out as an oracle, as he grew older his sense of self shifted. The Martin Buber who pointed out the window was interested in "carrying on a conversation" with living persons, meeting them and communicating with their life, but sometimes the responsibilities of presence overwhelmed him. Sometimes that wasn't where he really was.
We meet one another across in-betweens that can come apart, or from which we may turn away. Buber's parents separated when he was still a small child, and he would come to observe that all he had learned about "genuine meeting" led back to when he was told by his sitter that his mother was never coming back. His interpretation of Psalm 73, with its climactic conclusion, beginning "and I am always with You," which he chose as his epitaph, reflects this understanding. The "I" is the psalmist, not God. It is the psalmist who now realizes that awareness of another's presence, human and Eternal, will ebb and flow, though "I am always with you." Such is the "exalted melancholy" of being human.
***
My copy of I and Thou lay on the shelf in my room. One day, during a lull in our conversation, my friend Stan began to search the room for objects of interest, as teenagers are wont to do. If you can't access a friend's thoughts, you can at least sift through their stuff. Stan came across the book, picked it up, turned to the first page, and without prompting began to read out loud:
To man the world is twofold, in accordance with his twofold attitude.
The attitude of man is twofold, in accordance with the twofold nature of the two primary words which he speaks.
The book lay in front of me, but the book was dissolved within the voice. As I heard the words spoken between us, I heard them anew. Coming from my friend, without pretext or preparation, I heard "primary words." No magic, no mystery, just a moment of meeting, with simultaneous translation by Martin Buber. A hundred years ago he had written on the subject a little essay.
***
Earl Schwartz is assistant religion professor at Hamline University.