Reviewed by NEAL GENDLER
It seems unlikely that a former owner of a classy New Orleans brothel, a teenage seamstress and a Vassar-educated wife of a prosperous retailer would have anything in common in 1924 Brooklyn.
But in fiction, anything is possible.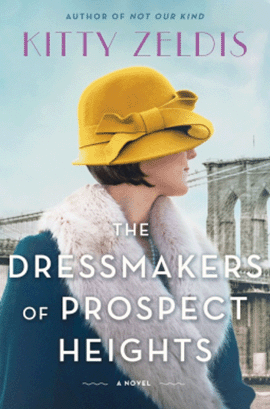 The Dressmakers of Prospect Heights, by Kitty Zeldis, is a plainly written book that at first had me wondering if it was just a romance novel between hard covers. But Zeldis' engaging tale cleverly winds the three together in unpredictable if improbable ways — and who's to call it impossible?
Dresses by Beatrice and Alice, a small shop on a Brooklyn street, is the brainchild of Beatrice Jones, a former New Orleans madam who quit after the city made prostitution illegal in 1917. Orphaned Alice is the sister of one of Bea's working girls who brings a 10-year-old Alice to Bea's, saying men would pay extra for a girl so young. Bea takes Alice in but refuses to have her with any men until she makes her own decision when she's 18.
Alice, who can sew excellently, moves with Bea to Brooklyn, where Bea finds an empty three-story brownstone and opens the shop. Both provide ideas for what to make and how it should look — preferably different from anything available elsewhere — and often from second-hand clothing or materials.
Walking past the shop one day, Vassar College grad Catherine Berrill stops in out of curiosity. She sees dresses of unusual designs and color combinations without price tags. As she looks, she notices that Bea — a tall, olive-tinted woman whose perfect English sounds vaguely European — is trying not to let Catherine notice she's staring at her.
Catherine buys a green dress and leaves, a bit unnerved and "quite certain that she would never set foot in that shop again."
She's happily married to upbeat Stephen, son of a stationery shop owner. Her mother, Meredith Delman, thinks "a shopkeeper" is beneath her, and worse, he's a Catholic. "At least he's not an Italian," Meredith says. "Or, God forbid, a Jew."
This is 1924, a time of very open prejudice and narrow mindedness. Zeldis adds the delightful period flashback of Stephen "adjusting the garters of his socks" and uses the quaint term "marital relations."
We learn that only child Catherine longs to have a baby, but one doesn't seem to want to be conceived.
We don't learn much about talented Alice except that she refuses to go to school.
We quickly learn the source of Bea's accent. The shop closes only on Sundays, when it's hard to buy raw materials. An acquaintance suggests a different section of Brooklyn, where Bea finds business bustling in several languages. Needing warmer coats, they buy used furs from Ned Rappaport, whom Bea surprises with a sentence in the European Jewish language.
Bea was born Yvegenia in Russia to an unusually prosperous Jewish family and was educated in math, geography, English and French by a British tutor. She came to America in 1898 after a series of tragedies, both parents dead.
Arriving in New Orleans where she is to meet a relative, she learns he's died. At 17, she's alone and needs work. As Beatrice Carr, she's hired as a live-in caregiver for a wealthy family's youngest son.
Bea came to New York for a reason: A private detective has tracked down the daughter that she had no way to raise and gave for adoption — and a substantial payment — to a well-off childless couple.
In Brooklyn, Bea and Alice are doing well. About one third of the way into the book, we get a big jolt that I won't reveal and the book changes direction. It would seem to end Bea's story with 231 pages left to go. But Zeldis has more twists in her typewriter.
For one thing, a newspaper reporter reveals Bea's past, and amid a demonstration outside by Jew-hating, blue-nosed biddies, she's faced with swift eviction and goes upstairs to the living quarters to pack.
"She didn't know where she'd go, but her instinct for flight was well honed."
This is nowhere near the end of these women's often-fraught contacts nor of Zeldis' creation of ways to connect them, and by this time, her inventive storytelling has pulled us in.
Kitty Zeldis is the pen name for the Israel-born author of nine novels and more than 35 books for children. She is the fiction editor of Lilith Magazine. Zeldis and her family live in Brooklyn.
***
Neal Gendler is a Minneapolis writer and editor.