By MORDECAI SPECKTOR
The Manhattan Transfer, the perdurable and still swingin' vocal ensemble, returns for four shows, Feb. 10-11, at the Dakota, the intimate listening room on Nicollet Mall.
It's hard to briefly sum up the history of the popular group, which was originally launched by Tim Hauser, in 1969. Hauser, Alan Paul, Janis Siegel and Laurel Masse made up the group's singing lineup by 1972. Cheryl Bentyne joined the group in 1979, after Laurel Masse left.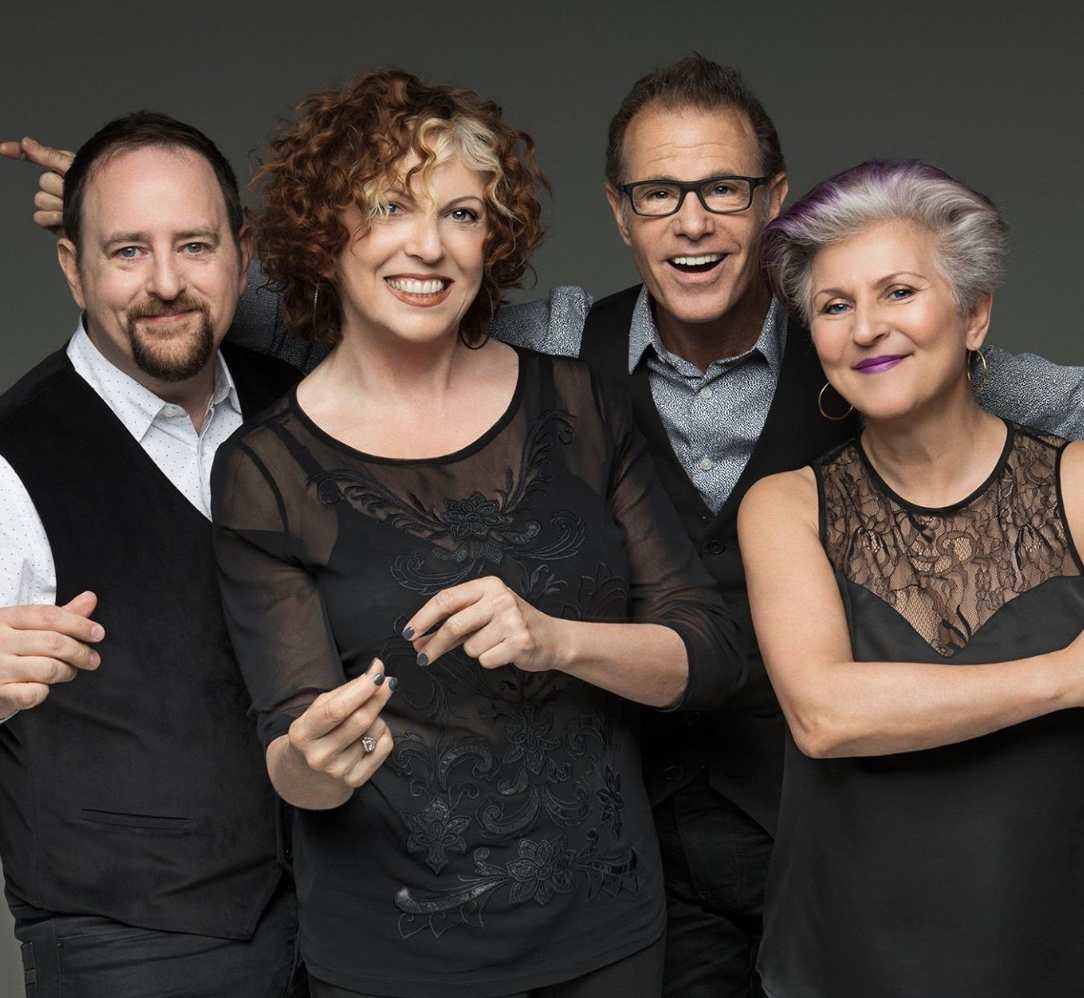 The group's recording debut came in 1975, with a self-titled album that established TMT's vibe: insistent rhythms and sensuous harmonies on pop, R&B, rock and jazz tunes. The group excels at vocalese, a style of music in which singers put words to jazz tunes, and improvise vocally to the instrumental solos.
TMT's second album, Coming Out, produced by Richard Perry in 1976, included "Chanson d'Amour," which became an international hit, charting across Europe and reaching No. 1 on the UK and Ireland singles charts.
The group continues to enjoy success, recording and touring around the world, selling out clubs and concert halls — and wining a number of Grammy Awards along the way. In 1985, TMT's album Vocalese made history as the single greatest Grammy nominated album in history in one year with 12 nominations.
In December, TMT was touring in Europe, so a phone interview couldn't be arranged; however, Janis Siegel promptly responded to the Jewish World's questions sent via email.
When I interviewed jazz pianist Fred Hersch, prior to his October show at the Dakota (with stellar guitarist Julian Lage), he mentioned playing with Siegel some 30 years ago at the club's first venue, in St. Paul's Bandana Square. I wondered if she remembered that gig.
"I remember it vividly," Siegel responded. "Fred and I were probably promoting our first record together, Short Stories, which was on Atlantic Records. Those were heady days. It was my first time meeting [Dakota proprietor] Lowell Pickett, and I'm very happy to continue singing at his club and happy it's still so vital. I remember really digging Minneapolis-St. Paul and feeling the particular hip sensibility of the town."
Asked about any Minnesota connections, family or friends — one of the standard AJW interview questions posed to celebrities — Siegel mentioned her "Voicestra sister, singer Judi Vinar," who lives in the Twin Cities metro area, and "singer friend Debby Duncan. Over the years, much of TMT's wonderful crew has resided in Minneapolis. Our dear friend Bobby McFerrin lived in Minneapolis for a while, I remember."
McFerrin — best known for his hit "Don't Worry, Be Happy" — was the creative chair of the St. Paul Chamber Orchestra. And Siegel mentioned her friend Judi, from the a capella group Voicestra, which was led by McFerrin.
She added, "TMT has fans that keep coming back over the years whenever we are in town, and for that we are grateful."
I asked Siegel about TMT's European tour. The group was performing in Scandinavian cities when she responded.
"We adore performing in Europe — the venues are top-notch and the audiences incredibly responsive and musically intelligent," she commented. "This particular tour includes Sweden, Norway, Denmark, Switzerland and Italy; then we go back in January to play in Germany, Italy and Switzerland."
Hopefully, the group has time to see some of the sights in between shows.
And I wondered if Siegel recalled memorable moments from her early, early days — she's been singing since the age of 12, and worked in New York's fabled Brill Building with some legendary performers and producers.
Siegel replied that she recalled some of the scenes long ago, "and I wish now that I had paid more attention. But back then these meetings, these situations, recording sessions were just business as usual and I was really pretty focused on just being a teenage girl: school, family, social life and such. It didn't register that I was in an iconic building meeting people like producer Richard Perry, George Goldner of Red Bird Records, Vinnie Poncia and even Tiny Tim! I remember recording our first single, "The Hideaway," around one mike with a live orchestra."
TMT's publicity release notes that Siegel counts performing "Birdland" at the Grammy Awards, in 1979, as one of her personal highlights, along with singing twice at the White House, and performing at Bill Clinton's presidential inauguration, in 1993, with Little Jimmy Scott.
She also mentioned her great good fortune in working with musical giants like producer "Ahmet Ertegun [co-founder of Atlantic Records], [renowned producer] Arif Mardin; artists who are no longer here, like Laura Nyro. We caught the tail end of an era."
The Manhattan Transfer also has performed with Tony Bennett, Smokey Robinson, Bette Midler, Phil Collins, B.B. King, Chaka Khan, James Taylor and Frankie Valli of The Four Seasons.
Back to our correspondence, I asked Siegel about her preference, as far as playing a music room like the Dakota versus a big concert hall,  and she said, "The Manhattan Transfer has been performing at the Dakota for many years and we love the intimacy of the room — and the food! We perform at many different kinds and sizes of venues and they each have their charms. Personally, I like the closeness of the audience, nowhere to hide!"
As far as repertoire, I wondered if TMT will play some of their hits — "Birdland," "The Boy from New York City," etc., and Siegel said, "It is very likely, also songs from our latest record, The Junction."
I've listened to The Junction, and it displays TMT's varied talents, including writing or co-writing five songs on the album, in full bloom. The opening track "Cantaloop (Flip Out!)" is a wonderful vocalese rendition of Herbie Hancock's "Cantaloupe Island." The title track is a bass-thumping, funky tune.
Finally, I asked Siegel if there was anything she'd like to mention, ahead of TMT's return to Minneapolis, and she had an emphatic response: "We love PRINCE!!"
***
The Manhattan Transfer will perform shows 7 and 9 p.m. Monday, Feb. 10 and Tuesday, Feb. 11 at the Dakota, 1010 Nicollet Mall, Minneapolis. For tickets, go to: dakotacooks.com