Reviewed by NEAL GENDLER
If you wonder how Israelis can differ so greatly, argue so loudly and yet unite against danger, Aharon Appelfeld's new novel provides an illustration.
In To the Edge of Sorrow, narrator Edmund, 17, joins 43 once comfortable Jews now comprising a physically hardened, disciplined partisan band hiding from and occasionally fighting Germans, Ukrainian Nazis and local helpers.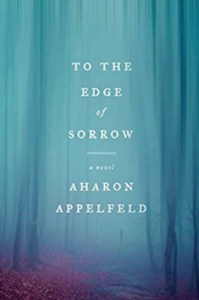 "Daylight is a problem, but the night belongs to us," Edmund says. At night, they travel, set ambushes and raid farms for food and clothes, pharmacies for medicines. The 44 are on their own, lacking Soviet sponsorship and supplies. None is religious. Off duty, they debate philosophy and ideas.
"Yes, our lives hang by a thread, but we aren't miserable," he says. "Even a small success makes us happy."
One of Israel's most acclaimed writers, Appelfeld died in 2018, and this likely last novel draws again on his teenage escape from Nazi captivity, hiding in forests and finding refuge cooking for the Soviet Army.
His typically spare prose creates an engrossing empathy for the partisans' determination, anxieties and privations. Translator Stuart Schoffman leaves an affectionate nod to our immigrant elders with: "There's still what to be glad about."
Edmund, who obeyed his parents' demand he flee the crowded deportation train platform, is haunted by guilt awake and in dreams.
"The enemy knows it is dealing with damaged, resolute people," he says. "It unleashes its well-trained fighters, assisted by gendarmes and local farmers/informants. We will not be easily defeated."
Charismatic leader Kamil "is an artist in the warfare of the few against the many," Edmund says. Kamil requires daily exercise, inspects weapons, and "will not let depression get a foothold. That's a luxury, he argues." His taciturn deputy, Felix, is a superb tactician, "an expert in stressful situations," Edmund says.
A boy about two, found outside a ghetto, seems to take in everything but does not speak. Fast-learning youth Michael is tutored in high-school subjects. Grandma Tsirl, 93, an almost too-perfect font of folk wisdom and tolerance, "is connected to worlds we have no access to," those of ancestors and Jewish prayer, ritual and rules, Edmund says.
Well organized, the band has fighters and sustainers — people who cook, mend, manage supplies and treat the sick or wounded. A blind man knits warm garments. Tsila transforms irregular, sometimes meager supplies into tasty dinners.
When Kamil learns of trains carrying Jews to their deaths, he decides to derail them and rescue the survivors. Successes multiply the need for food and medicine. Fighters kidnap a physician, forcing him to operate on Jews he hates.
Late in the story, Weintraub, an older derailment survivor, tells Edmund: "I never imagined that Jewish fighters could be so disciplined. It is common knowledge that Jews are anarchists by nature, avoiding rules and public order. I'm astonished that everything here has been handled in exemplary fashion."
Sounds like Israelis compared with their air force.
Early longing to read ends when raiders find an abandoned Jewish home, stripped bare but for its books. Each raider takes at least 10.
"It's strange what a bundle of books can do," Edmund says. "Having these books has changed our lives."
Kamil changes them further, introducing study — Martin Buber, Jewish texts, Torah, Hebrew — drawing objection from Communists and Bundists who want Yiddish and call Hebrew "the language of the religious rituals that clouded the minds of the masses."
Kamil says: "It is impossible to be a Jew without the original Hebrew language." He argues that "our war is not merely to survive. If we do not come out of these forests as complete Jews, we will not have learned a thing."
Edmund says that Kamil "wants to instill in us the feeling that it is impossible to fight a determined enemy without love of the tribe, its God and its beliefs."
***
Neal Gendler is a Minneapolis editor and writer.