Sole provider of blood and emergency medical services in Israel, MDA seeks funds for new blood bank
(Editor's note: This article in the print edition of the American Jewish World mistakenly identified Dr. Eilat Shinar as the "director of MDA." She is actually the director of MDA blood services. We regret the error.)
By JOEL RIPPEL
Since 1950, Magen David Adom (MDA) has been mandated by the government of Israel to be the sole provider of the blood needs of Israel's 7.8 million people.
According to Dr. Eilat Shinar, who has been the director of MDA blood services since 1997, fulfilling that mandate is a constant challenge.
Adding to the challenge of meeting the daily blood quota and providing the daily emergency medical services and first aid needs of the entire population and the Israel Defense Force, is the urgent need for a new blood center.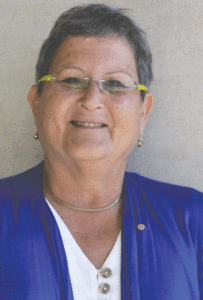 "There are three major reasons why we need a new blood center," Shinar told the AJW during a visit to Minneapolis earlier this month. "The first is that the current blood center [which is in the Dan Region} was built in the early 1980s when were collecting about 175,000 units a year for the Israeli population, which was about four million at the time."
Israeli's population expected to grow to 10 million over the next 20 years, the demand for blood units will increase.
"Today we collect close to 300,000 units and when we look at the future, we'll need about a half a million blood units a year," said Shinar. "So, we'll need a bigger facility to include the new methods to make blood safer."
The other two reasons for a new blood center are just as pressing.
"One is earthquakes," said Shinar. "Israel is an earthquake-prone area [Israel is located on two active faults] and the building is not up to [current earthquake] code. It is not up to standards. It would not withstand a major earthquake.
"And the second is that the building was built when the frontiers of the wars of Israel were far away – Lebanon, Egypt, Sinai. In the last year we've learned that it's the middle of the country that is the front – Haifa, even Tel-Aviv. So we cannot afford the only blood center to be in a non-secure place. So we need to (build) this very quickly, as quickly as possible."
The new blood center, which will be underground, is going to be constructed in Ramle. It is expected to cost $80 million.
Several days before visiting Minneapolis, Dr. Shinar attended a banquet in Los Angeles, which was hosted by the American Friends of Magen David Adom (AFMDA). The banquet raised a record $3.8 million for MDA.
"We are not government funded," said Shinar, who worked at the Hadassah Medical Center before joining MDA. "Thank God for the Friends [of MDA] communities all over the world, especially America, for supporting us."
During her visit to AJW's offices in St. Louis Park, Shinar was accompanied by Sandra Rosen, the Midwest regional director of the AFMDA.
While in the United States, Shinar also visited Chicago and attended the annual meeting of the American Association of Blood Banks in Denver. That convention was attended by transfusion medicine experts from all over the world.
For more information, visit MDA's web site at www.mdais.com or AFMDA's web site at www.afmda.org.
(American Jewish World, 10.25.13)