Israeli filmmaker Noemi Schory has devoted her career to documenting the history of the Jewish state and investigating the truth of film images
By MORDECAI SPECKTOR
A Film Unfinished, directed by Yael Hersonski, investigates a 1942 Nazi-produced film about the Warsaw Ghetto, which, as the documentary's title indicates, never was completed. The award-winning 2010 documentary focuses on a 60-minute reel of film that was found in an East German archive after the end of World War II. The reel was marked only "Ghetto."
The Nazi footage shows ghetto inmates surviving in abject poverty, while others appear to enjoy a fine lifestyle, wining and dining. But the film involves staged scenes that were shot per the agenda of the Nazi regime, including the elegant restaurant scenes and a luxurious funeral procession. In A Film Unfinished, ghetto survivors recall seeing the film being shot. German soldiers fired shots into the air to panic the ghetto denizens for one scene, a survivor recalled.
Finding the truth in archival film images has been one of Noemi Schory's pursuits over her career as film director and producer. She produced A Film Unfinished — which was nominated for an Emmy after being broadcast on PBS — and has produced numerous other shorts and feature length documentaries, including 103 short films for the Yad Vashem Holocaust Museum in Jerusalem.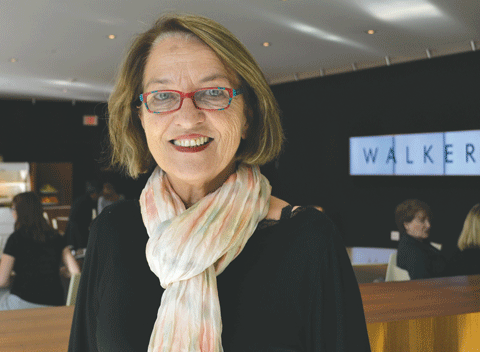 Schory is the Schusterman Visiting Artist at the University of Minnesota, and will be featured in a Nov. 3 event at the Sabes JCC. The Rimon Artist Salon and Culture Blvd III event is titled "A Lens on History: An Afternoon with Documentary Filmmaker Noemi Schory."
Schory will discuss questions around documentary filmmaking with Emmy award-winning independent filmmaker Emily Goldberg.
During an interview with AJW at the Walker Art Center's Garden Café, Schory said the event will discuss "dealing with historical material" in film, her work with Yad Vashem and A Film Unfinished.
Schory mentioned that Yad Vashem recently restored Block 27, the Shoah museum at Auschwitz-Birkenau, the notorious death camp. The renovated museum was opened in June, and Schory made 12 short films, under the title of The Human Spirit, which are part of the exhibit.
Schory has worked with Yehudit Shendar, the curator of the Yad Vashem Art Museum, who is the former director of Hebrew studies at the University of Minnesota.
An inquisitive intellectual, some years ago Schory conceived of producing a "dramatic mini-series about the period of the Mandate" in Palestine (1917-1948), the time from the Balfour Declaration to the Israeli War of Independence.
"It's such a dramatic period," Schory points out. "So much of what's going on [in Israel] now is in that period… the whole issue of a bi-national state or a Jewish state, the Arab revolt, the whole conflict — and the British in the middle of it, who kind of half-promised to this side, half-promised to that side."
It's a complex, violent and somewhat unknown period of history; however, the project never came to fruition. Instead, Schory produced the film Four Friends, about the reunion of four women, two Arabs and two Jews, who attended a Jerusalem boarding school together as roommates. It's a fascinating window into Israeli history, from both sides of the Israeli-Palestinian divide.
Toward the end of the film, Sharona, a Jewish woman, vists Neve Shalom/Wahat al-Salam (Oasis of Peace), a village comprised of both Jewish and Arab Israelis. Her grandfather was a founder of the visionary community, which is still in existence. At this point in the 1999 film, David Broza, the Israeli superstar singer appears — he's Sharona's son.
Schory loaned me a copy of Four Friends, and a copy of an earlier documentary she directed, Born in Berlin — Three Women, about the titular women who have different types of Jewish affiliations and personal histories affected by the rise of the Nazis in their homeland.
The stories are captivating. One of the women, Cornelia Edvardson, was raised Catholic, although her father, Hermann Heller, came from a Jewish family. She wanted to join the Hitler Youth, and even "handed Hitler a flower," according to Schory. Later, her mother was coerced by the Gestapo and admitted that Cordelia was Jewish — "Sophie's Choice at its worst," Schory noted — and the girl was sent to Theresianstadt and Auschwitz.
"This Catholic girl," commented Schory.
After the war, Edvardson moved to Sweden and became the Jerusalem correspondent for Svenska Dagbladet, reporting extensively on the Israeli-Palestinian conflict. She died in October 2012.
As a film producer, Schory takes an active role, directing the director, in the case of A Film Unfinished. "I brought her to this story, actually," she says, regarding her relationship with Yael Hersonski. "We worked together — it was her first film, 34, she was when she made it."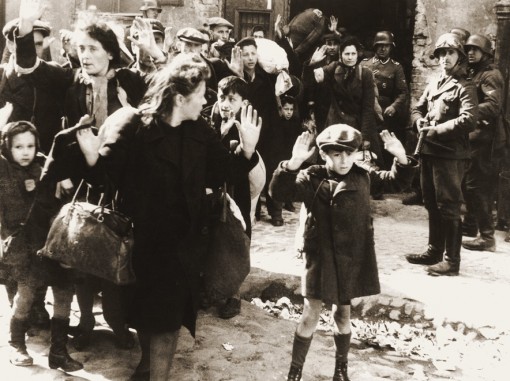 After talking for more than an hour, Schory mentioned that "every single frame" that survives from the Shoah, "including that little boy [with his hands raised in the Warsaw Ghetto], it was all shot by the perpetrators, it was all done for propaganda purposes." The visual record was not created to preserve the memory of the victims of the Holocaust.
By slowing down the footage, as is done in A Film Unfinished, "by making sure that we see that the people are looking into the camera, that they are asking for the approval of the camera," the viewer is made to feel uncomfortable, and to realize that what is depicted is not "natural."
***
Noemi Schory will be featured in a dialogue with Emily Goldberg 3 p.m. Sunday, Nov. 3 at the Sabes JCC, 4330 Cedar Lake Rd. S., St. Louis Park. Tickets are $12, $10 for JCC members, $6 for students and seniors. For tickets, go to: jewishminneapolis.org/cultureblvd.aspx.
This is part of the Rimon Artist Salon Series and Culture Blvd III. The event is co-sponsored by the Israel Center of the Minneapolis Jewish Federation, Sabes JCC, Rimon, Jewish Community Relations Council of Minnesota and the Dakotas, Schusterman Family Foundation, and the Department of Jewish Studies at the University of Minnesota. The American Jewish World is a media sponsor.
(American Jewish World, 10.25.13)