Ivan and Adam Rafowitz, father and son, release an album of smooth jazz tunes
By MORDECAI SPECKTOR
The new, self-released debut album, Dually Noted, by suburban Minneapolis musicians Ivan and Adam Rafowitz, a father and son duo, delivers 11 songs in a smooth jazz vein.
The CD includes songs written and arranged by the elder Rafowitz, who also plays keyboards, except for two covers, "Get Lucky," the Daft Punk smash hit, and Bill Withers' "Ain't No Sunshine," from 1971.
The album credits for Dually Noted cite "E-Von" (Ivan) and "The Time Minister." The CD was recorded at Bobby Schnitzer's studio in Edina. The drum beats are all electronic.
Adam, a senior at Berklee College of Music in Boston, plays electric and acoustic guitars, and rocks out on solos. When not recording with his father, Adam plays with an octet of Berklee students called Sound Struggle, a more hard-hitting unit.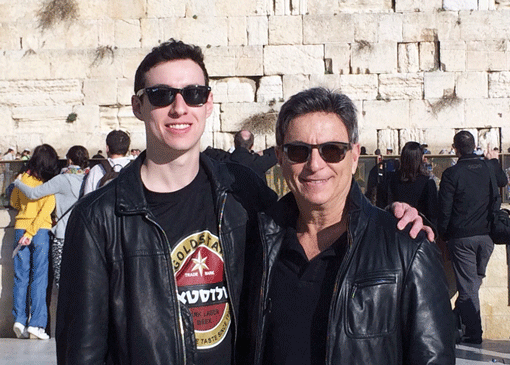 The final track on Dually Noted is titled "129552 'That Was My Name.'" Ivan told the AJW that the song is a tribute to his father, Sam Rafowitz, a Shoah survivor from Poland. Rafowitz was the subject of a 2011 documentary, Sam Rafowitz: Remaking a Life, which was written and directed by Maxine W. Davis (9-2-11 AJW).
"My whole deal is writing good hooks and melodies, and having a good beat, something you can move to," Ivan Rafowitz commented.
A veteran of the Twin Cities music scene (Allison Bristow, Ivan and the Terribles, Pyramid), Rafowitz also was the musical director of Lipps, Inc., which is known for the 1980 global dance hit "Funkytown." The song was written by Steven Greenberg, of St. Louis Park.
(Full disclosure: Ivan Rafowitz is a partner and board member of Minnesota Jewish Media, LLC, the parent company of the American Jewish World.)
Rafowitz said that the new album is getting airplay on a Los Angeles jazz radio station. Locally, Patty Peterson, of the renowned musical Peterson family, has been playing tracks on her KBEM 88.5 FM ("Jazz 88") show.
Although Rafowitz said that he's not commercially motivated, Dually Noted can be downloaded on iTunes and CD Baby, and streamed on Spotify and Soundcloud.
Ivan would like to put a band together next spring, hopefully, with Adam on board, and play some local rooms. And a second album is in the works, with the Rafowitzes. This one will have horns, too, Ivan said.
(American Jewish World, 10.10.14)