Students Supporting Israel was initially denied a charter by the student government, but the college administration overturned that decision
By ERIN ELLIOTT BRYAN / Community News Editor
On Sept. 17, representatives from Students Supporting Israel (SSI) appeared before the Augsburg College Day Student Government (ADSG) seeking to be recognized as a chartered student organization.
Student groups do not require formal approval to organize, assemble or express their opinions, according to Augsburg's Web site. But the benefits of being a chartered organization include being listed on the Campus Activities and Organizations Web site, and the option to participate in the fall and spring Student Involvement fairs.
Chartered organizations may also apply for funding from student activity fees, hold fundraising activities on campus and purchase materials using the college's tax-exempt status, among other advantages.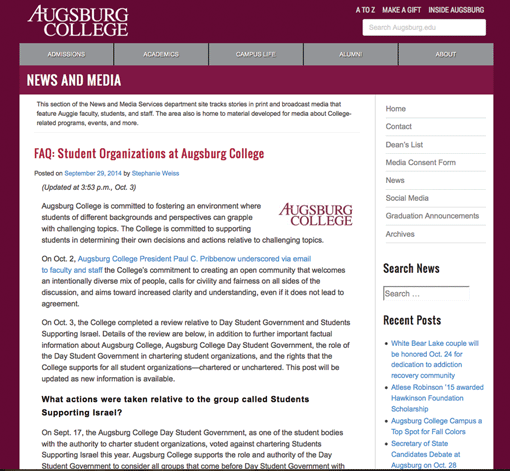 During the meeting of the student government, also referred to as the Senate, members of its Chartering and Commissioning Committee posed questions to the representatives of Students Supporting Israel. Some of the questions asked, according to the Senate's meeting minutes — which are available on Augsburg's Web site — included "How can you suggest supporting such an unjust cause?" "By supporting this group, aren't we going against human rights?" and "How will you deal with a situation where a member of your organization will engage in extremist views?"
Another Senate member stated: "A student group coming with support of one side in a conflict is not seeking peace. Their constitution says they support the government and its actions. The government has been involved in massive destruction."
To that statement, an SSI representative responded, "This group is Students Supporting Israel, not Students supporting the Palestinian-Israeli conflict."
After a period of further discussion, in which SSI representatives said the group would sponsor "culture awareness nights, educational sessions, speakers," the Day Student Government voted 6-3 to deny a charter to SSI.
According to Ron Feingold, of Students Supporting Israel at the University of Minnesota, which worked with SSI at Augsburg, the student government objected to a portion of the group's constitution.
"The 'problematic wording' in our constitution was that 'we support the Israeli government' and the student government at Augsburg put emphasis on the saying that the actions of the Israeli government are destructive and unjust," Feingold told the AJW in an e-mail. "We find this reasoning to be discriminatory and we will stand by our current wording in the constitution."
In a Sept. 26 opinion article in the Echo, the Augsburg College student newspaper, SSI board members wrote that "we met all aspects of the criteria [to be recognized as a chartered student organization] without fail, and we were nevertheless denied, turned down simply because of what we stand for."
The piece went on to say that the group's "experience with the Student Government promoted… the notion that those who voice beliefs and attitudes some do not agree with can be silenced and forcefully rejected."
Following the student government's decision, the Augsburg College Web site was updated with information about its policies for student organizations. There it was stated that "Augsburg College is committed to fostering an environment where students of different backgrounds and perspectives can grapple with challenging topics."
To further clarify the college's position, a letter was sent to faculty and staff from Augsburg President Paul C. Pribbenow, which also is available online. In it, he reiterated that "no student organization has been banned from meeting or expressing their views on campus."
Pribbenow also noted that Augsburg's Campus Activities and Orientation (CAO) office was conducting a review of the Sept. 17 student government meeting, "which was requested by the student leaders of Students Supporting Israel as part of the standard appeal process options for student organizations seeking to be chartered."
On Oct. 3, Ann Garvey, Augsburg's vice president of student affairs, made decisions as a result of the findings of the CAO investigation, which she said "are final and are not appealable." Among them was that "Students Supporting Israel shall be recognized as a chartered student organization."
In her statement, a copy of which was provided to the AJW, Garvey said: "The lack of clarity in the Augsburg Day Student Body Bylaws allowed for a debate to occur that easily steered away from the content of SSI's constitution. ADSG Senators were found to have based their decisions on rationales that did not pertain to the content of SSI's constitution."
Garvey also found that "three ADSG Senators were found to have spoken out of turn, three engaged in debate directly with SSI members, and one made inappropriate comments to SSI members stating the rationale of the decision."
Garvey pointed out that the usual next step is for SSI to go through the chartering process again.
"However, the current system served neither SSI nor ADSG well, and Augsburg will not send SSI through a process that did not function properly a second time," Garvey said. "Thus, the decision is being overturned and SSI is being recognized as chartered."
In response to Augsburg's decision, Steve Hunegs, executive director of the Jewish Community Relations Council of Minnesota and the Dakotas (JCRC), released a statement.
"The JCRC is proud to have worked closely with Students Supporting Israel in reaching this victory for the free exchange of ideas at Augsburg College," Hunegs said. "We applaud Julian Yigal Kritz, president of the Augsburg Students Supporting Israel chapter, and his classmates for their poise and diligence. The JCRC looks forward to working with Mr. Kritz and his Augsburg colleagues as they bring their positive pro-Israel/pro-peace message to Augsburg College."
(American Jewish World, 10.10.14)