Oldest living former member of Congress — who was targeted for death five times — tells all
By BEN SALES
MUTTONTOWN, N.Y. (JTA) – Lester Wolff served eight terms in the House of Representatives, which is slightly above average for lawmakers. But he has a distinction few of his colleagues share: He was targeted for death five times.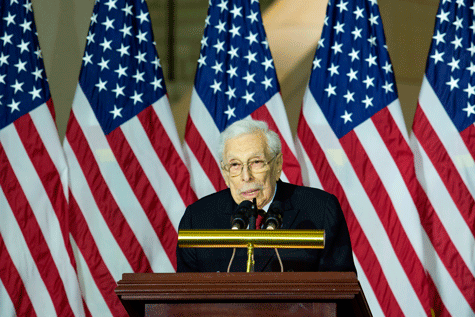 Once, Wolff says, a Burmese militia of 5,000 spread out across that country to shoot down his helicopter in order to stop his efforts to curb the Burma narcotics trade. A Thai assassin, foiled by intelligence, had the same goal. Two Palestinian terror groups, upset at his support for Israel, tried to kill him, he says  – one by hijacking a plane he was supposed to be on. And the father of a soldier who died in Vietnam sent a death threat to Wolff, angry about his opposition to the war.
The threats earned him a nickname from one local newspaper columnist: "The 007 of Congress."
"I carried a weapon, which was meaningless," Wolff told JTA in an interview in his Long Island home. "Then I had a bodyguard assigned to me. This bodyguard said to me, 'I want you to know, if someone is trying to kill you, I can't stop them. But you can be happy in knowing that I got the man who killed you.' That's hardly compensation."
But Wolff survived all of them, and plenty else, too. Now, at age 99, he's the oldest living former congressman. And he isn't slowing down. More than three decades after he left the chamber, Wolff is writing three books at once, runs a website and collects Asian art. And he tweets.
"I live, basically, for the future," he said. "I am working on projects that are five years out in front. You have to have some sense of God being with you. That protected me."
Wolff was 44 years old and a successful businessman and television host when President John F. Kennedy convinced him to run for Congress against a conservative Republican on Long Island. Wolff won the election in 1964, following Kennedy's assassination, which swept a wave of Democrats into office. He served until 1981, at one time chairing the Select Committee on Narcotics Abuse and Control and the Subcommittee on Asian and Pacific Affairs.
Along the way, he worked and sparred with the names that define the politics of the 1960s. The walls in his office are crowded with photos: Wolff shaking JFK's hand, pinning a campaign button on Robert Kennedy, having an intimate conversation with President Lyndon Johnson in the Oval Office, meeting with Israeli Prime Minister Golda Meir. A campaign sign from Kennedy's election is leaning in one corner, still attached to a stick.
"They were just people," he says of the political leaders he knew. "People get a different view of these individuals in bolded positions … but the fact is they're just people, and if you get to them in terms of their interests, they open up and become someone you're talking to in ordinary conversation."
One of Wolff's fiercest fights was against Johnson, a fellow Democrat. In 1967, ahead of what would become the Six-Day War, Wolff sought to add an amendment to a military spending bill that would provide Israel with Phantom jets. Support for Israel was not nearly as widespread in Congress as it is now, and the president opposed the measure. But Wolff managed to push it through by working with a Republican congressman from an adjacent district. He later met with Egyptian President Anwar Sadat as part of the effort to reach a peace treaty between Egypt and Israel.
"I am not overly religious, but I wonder why I ended up in the Congress, and that's one of the things that came to me — because of my relationship with Israel," he said. "That stands out in my memory as one of the occasions because it was kind of a political fight to get it done."
Wolff laments how rare that kind of bipartisanship is now. He recalled that as a committee chairman, he appointed Republicans as heads of subcommittees. But today, he said, the opposing parties infrequently find common ground.
And while his era saw its share of polarizing politicians, Wolf reserved special opprobrium for President Donald Trump, whom he called "un-American" and regularly tweets about at @RepWolff. He said that unlike the antiwar movement of the 1960s and 1970s, the marches happening now do not seem to be gaining traction.
"I think they're great, but there must be something that goes beyond that," he said of the anti-Trump protests. You can't just be against Trump, but you have to be for something. There is a lack of focus upon the part of those people who oppose Trump."
Wolff's memory remains sharp, and his house is like a museum of memorabilia that goes far beyond political swag. His open foyer is ringed with statues of Buddha and other Asian art that he has collected on numerous trips to the region. A corner of his basement displays an exhibit of stone fragments from the Egyptian pyramids, the Parthenon in Athens, the Arch of Titus in Rome and Jerusalem. On the opposite wall is a blown-up photo of him with former Chinese Premier Deng Xiaoping, whom he worked with to formalize relations between the United States and China.
But Wolff isn't living in the past. He credits his longevity to God, genes and a serving of lox on a bagel (sans cream cheese) every morning. He has two children, four grandchildren and six great-grandchildren.
And his work goes on. There's the Twitter account, as well as a website, AskCongress.org, that lists contact information for every parliamentarian worldwide. In 2014, he was awarded the Congressional Gold Medal.
And then there are this three books: One is on the secret to long life. The second is on his role in U.S.-China relations. And the third is on all those death threats. But he isn't worried for his life anymore.
"Look, I'm 99," he said. "They tried to shorten that period. I don't think they're after me anymore."