by MAX SPARBER
Community News Editor
Paula Vogel's play Indecent, opening Feb. 23 at the Guthrie, presents a special, explicitly Jewish challenge in staging.
The play is filled with music — there is a live klezmer band onstage — and, over the course of the play, the cast must dance to the music. Moreover, several of the dances are meant to be historic Jewish dances from Europe.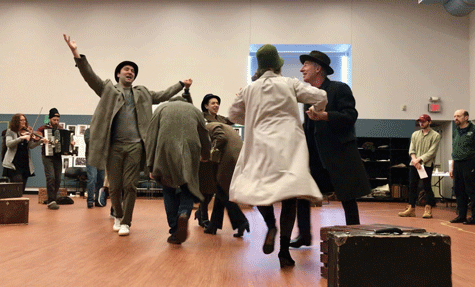 Adding to this complication, for the most part the cast of this production are neither dancers, and half of them are not Jewish. So what to do?
The Guthrie was fortunate in that, as it happens, there is a choreographer who is ideal for the show: Yehuda Hyman, actor, dancer, playwright, and scholar of Jewish dance, who spoke to American Jewish World about the pleasures and challenges of working on this play.
Indecent retells the tale of a Yiddish play, God of Vengeance. Playwright Sholem Asch offered an unsparing look at a family in conflict. In the play, the father is an abusive brothel owner playacting at piety in order to marry his daughter off to a Jewish scholar. His daughter, in the meanwhile, is desperate to escape, especially as she develops a lesbian relationship with one of the prostitutes. The play's Broadway debut in 1923 was the first time a lesbian kiss had been staged on the Great White Way; the entire cast was arrested on an obscenity charge.
"It's not a nostalgia piece," Hyman said. "It really very much speaks to our moment. The play talks about immigration, assimilation, censorship, self-censorship."
"I cry every time I see a rehearsal," Hyman added.
Discussing choreography, Hyman explains that "I do have experience with Hasidic dance in particular." In fact, Hyman wrote a chapter on the subject for Judith Brin Ingber's Seeing Israeli and Jewish Dance.
Hyman also researched historic dances at Lincoln Center, although he points out that not all the dances in the show are Hasidic, or even explicitly Jewish. As an example, there is a cabaret sequence, but there are also scenes set at a Jewish vaudeville on the Lower East Side. "The play is very theatrical," Hyman said.
He admitted that there were challenges to teaching non-dancers to move in a Jewish way, although was quick to praise the cast as "fabulous actors. Really incredible."
He pointed to Stephen Epp, formerly of the Theatre de la Jeune Lune, who had extensive training in movement from the Ecole Jacques Lecoq in France and plays multiple characters in this production. "He's not specifically a dancer," Hyman said, "but he moves so beautifully."
"We take what actors have to give, it's very give and take," Hyman explained. "The choreography must change, shift, be molded to what the actors can do. It has to belong to the performers.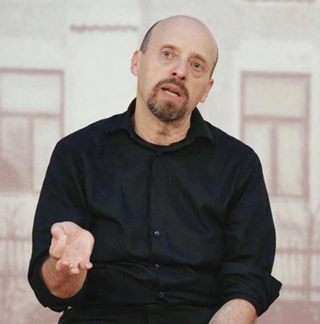 "I spent the first few days of rehearsal working with them on vocabulary," he continued. They explored what made a dance Jewish: "Is it a shift of the wrist, a caved in chest, a shoulder that rises? For me, Jewish dance comes from very deep emotion and feeling, and I tried to take actors through that in rehearsal."
Hyman described later rehearsals, where his suggestions became more nuanced: "Could you raise the shoulder? Could you do this?" The goal was to impart the subtleties of the dance, the movements that felt most Jewish.
Of course, the play will be performed to a largely non-Jewish audience, whose members will be seeing Jewish dance for the first time, but Hyman does not think the subtleties of the Jewish experience will be lost on them. "I think the playwright has done an incredible job of explaining as the play goes along. I do know non-Jewish friends who felt they completely understood what was going on.
"it's about the joy of living," Hyman said, "and the joy of theater."
***
Indecent plays Feb. 23 through March 24 at the Guthrie Theater, 818 S 2nd St, Minneapolis. For information visit guthrietheater.org.