Despite a slow recovery from a 2015 earthquake, as many as 1,500 Israeli and Jewish backpackers could show up for Chabad's annual Passover feast
By CNAAN LIPHSHIZ
(JTA) — When the ground started to shake beneath Rabbi Chezki's feet, he was praying near a doorway at the Chabad House of Kathmandu, where he lives with his wife, Chani, and their six children.
Lifshitz, 42, an energetic redhead who was born in Israel, has served as the Chabad-Lubavitch movement's first permanent envoy to Nepal since 2000, when he and Chani opened the Chabad House in the earthquake-prone nation's capital. Since then he has lived in expectation of tremors.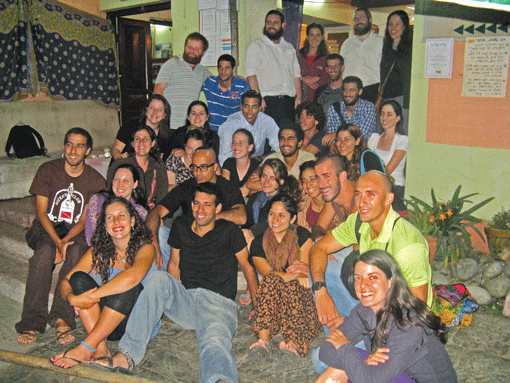 But nothing could have prepared him for the 30 seconds of violent shaking on April 25 of last year, which was so powerful it shifted the whole of Kathmandu 10 feet southward. The city was devastated and some 9,000 people throughout the small, mountainous country were killed.
In the days following the quake, Lifshitz conducted dozens of airborne rescue operations while his wife, staff and volunteers followed a contingency plan they had spent years preparing. The plan included building a cache of supplies (food and purified water, medical supplies, gasoline for the power generators) and setting up a network of emergency service providers, such as helicopter pilots and chauffeurs, who could be counted on in times of crisis.
Last year, the Chabad House was transformed into an island of safety for hundreds of Israelis who were in the country, along with dozens of locals and tourists from around the world — Jews and non-Jews.
Now, in a country that even before the quake was ranked as Asia's second poorest, the Lifshitzes are preparing to kick off a massive annual production that is among the highlights of their mission in Nepal: a feast believed to be the world's largest seder, which attracts some 1,500 Israeli and Jewish backpackers each year.
The event in Kathmandu comprises three, sometimes four, simultaneous seders — two in Hebrew, the rest in English. Some years, as is the plan for this Passover near the end of April, the venue is the 8,000-square-foot Chabad House compound — a heavily guarded fortress in the city's touristic Thamel district. In other years the feast is hosted at a hotel, often the Radisson, whose kitchen is especially kosherized for the event.
Two weeks ahead of the seder, Thamel's guesthouses fill up with many hundreds of Israelis, mostly 20-something backpackers who have recently finished their army service. They're drawn to Nepal in the spring, as it's one of the best season for trekking in the Himalayas.
At the seder, they are joined by a diverse melange of Israelis and Jews, including middle-aged hikers on unusual honeymoons and "homesick" drifters from India and Thailand — some on spiritual journeys, others on a different kind of trip. Sporting dreadlocks, bindis and Teva sandals, they descend on Thamel's shops to buy the traditional Kathmandu seder uniform: white cotton shirts and loose-fitting salwar pants, though nothing stays white for long in the city's thick smog, said Keren Singer, an Israeli participant in the 2012 seder.
An interior designer in her 30s, Singer and her architect husband, Daniel, were in Nepal on a trip around the world that year. Both nonobservant Jews, they had planned an intimate seder with four other friends — Singer said she was looking forward to cooking and to "get away from the Israeli crowd" they had met in tourist destinations across Nepal and India.
But they went for the Chabad option "out of a desire to have a proper seder and because we didn't have time to organize our own," she said. Before the event, Singer joined dozens of other Israelis who each year volunteer to help prepare the event.
"Being away from home for so long brought us closer to anything reminiscent of it," she recalled.
For the Lifshitzes, the Passover preparations are somewhat more demanding. Immediately after one seder they start fundraising for the next, as each meal costs north of $60,000. And while Chabad-Lubavitch World Headquarters provides much of the funding, the Lifshitzes still strive to collect as much as possible from private donors. It's a struggle in a country lacking the kind of local philanthropists that bankroll Chabad activities elsewhere in the world.
Four months before the big night, the Lifshitzes and their helpers kick off logistical efforts that include transporting into Nepal some 800 pounds of matzo, 2,000 kosher wine bottles and thousands of tins of fish. They also organize a schechita, a kosher slaughter, of hundreds of fowl and some beef.
The process is always challenging in a corrupt nation with a bad transportation system, but this year has been extra difficult because of the post-earthquake chaos, Lifshitz said.
Describing Nepal as a "beautiful and uniquely spiritual," Lifshitz also said that "misery here is enormous," with "whole villages wiped off the map."
While some roads are blocked because of the earthquake, others are targeted by road thieves. The combination has complicated and delayed the process of shipping this year's Passover necessities to Nepal from neighboring India.
"We just had to begin earlier than usual," Lifshitz said of the preparations.
In addition to readying for the event, the rabbi and his staff are helping rebuild a village that was destroyed during the earthquake.
Another hurdle is Nepal's gas shortage — the worst in recent history. The Lifshitzes had planned to offer a cold seder dinner — a major downgrade from previous years — because of the lack of fuel.
However, the couple acquired enough butane to ensure warm meals. Lifshitz declined to specify how he managed it beyond saying that Chabad "still has some friends."
With Nepal's already poor infrastructure in shambles, the tourist traffic to Nepal last fall – the other popular trekking season — was significantly lower than the previous year. So the Lifshitzes expect fewer guests this seder.
But the event is on, as are the two other (and far smaller) seders being organized by the Lifshitzes in Nepal: in Pokhara, a city near the capital that is a point of departure for the famous Anapurna trail, and Manang, a trekkers' hub at an altitude of 11,545 feet. According to the Chabad-Lubavitch World Headquarters, it is the world's tallest.
"Every seder in the world has four children," Lifshitz said in reference to a passage in the haggada, the text that sets forth the Passover seder, that explores four attitudes to Judaism. "In Nepal, we have seders for the fifth child: the one who's never home for seder."