Simone Zimmerman's appointment is either a deeply flawed choice or the perfect hire, depending on your political views
By URIEL HEILMAN
NEW YORK (JTA) — Simone Zimmerman, the Bernie Sanders campaign's newly hired national Jewish outreach coordinator, is quite familiar with the American Jewish establishment.
She is used to fighting against it.
During the 2014 Gaza war, Zimmerman was one of the leaders of a group of young Jews that held regular protest vigils outside the offices of the Conference of Presidents of Major American Jewish Organizations, reading the names of Palestinians and Israelis killed in the conflict.
Elections 2016
She opposes Israel's occupation, wants Hillel to allow participation by groups that support the Boycott, Divestment and Sanctions movement against Israel, is against Jewish federation funding for Israeli projects in the West Bank and wrote favorably of the efforts of Jewish Voice for Peace, a pro-BDS group, to get "international corporations to stop profiting off human rights abuses." (The Anti-Defamation League has called JVP one of America's top 10 anti-Israel groups.)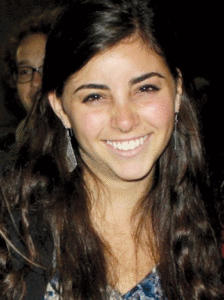 "We're paying attention to what's happening in Israel — and we are angry," Zimmerman said in a column on her fellow millennials in Israel's daily Haaretz in February.
"The hypocrisy of expecting feel-good social justice projects to offset millennials' deep outrage at the grave injustices committed by the Jewish state is almost too much to bear," wrote Zimmerman, who is in her mid-20s. "No public relations trick can save Israel's image. The problem isn't with the hasbara [public relations]. The problem is nearly 50 years of occupation. The problem is rampant racism in Israeli society. The problem is attacks on human rights defenders by extremists and by the state. The problem is a Jewish establishment that ignores or justifies all of this."
Now charged with reaching out to Jews and Jewish groups to try to corral support for the only Jewish candidate in the race for president, Zimmerman either may be a deeply flawed choice for the job or the perfect hire, depending on your political views and your analysis of Sanders' prospects among varying kinds of Jewish voters.
Zimmerman declined JTA's requests to be interviewed for this story.
Jews who back Sanders invariably say they are doing so largely because of the candidate's positions on socioeconomic issues. But many of these Jewish progressives also like Sanders' questioning of American political orthodoxy on Israel. Sanders is a proponent of Israel's security and survival, but also criticizes the Jewish state for using "disproportionate" force against the Palestinians and says the U.S. position on the Israeli-Palestinian conflict needs to be more "evenhanded."
"It makes me feel good to be supporting a candidate where I don't have to make excuses for them being part of the pro-occupation establishment," said Charles Lenchner, a Jewish Sanders supporter from Brooklyn.
"This is a candidate who has embraced the full humanity of Palestinians in a way we have not seen from any past president except for Jimmy Carter," Lenchner told JTA. "We need a president who will stand up to Israel's settler minority, which has captured the government there and captured the foreign policy establishment in the U.S. Bernie Sanders might actually be able to bring American power to bear on the intransigence of the Israeli right wing."
But other Jews, including some inclined to vote for Sanders, are troubled by some of the candidates' statements on Israel, including his erroneous recall in a New York Daily News interview of the number of Palestinian civilians killed in the 2014 Gaza conflict. Sanders said he thought the number was 10,000 dead, but the actual U.N. estimate was 1,462. When someone in the room did a quick search for the official number and offered the corrected figure, Sanders immediately accepted it.
Critics nevertheless seized upon the mistake and other Sanders statements as evidence that he buys into the Palestinian narrative that Israel is the primary aggressor in the Israeli-Palestinian conflict.
For these Jews, Zimmerman's appointment is unlikely to allay their concerns about Sanders. Some anti-Sanders groups already have seized upon Zimmerman's hire, first disclosed in a JTA story published Monday, as fodder for their argument that a Sanders presidency would be bad for the Jews.
"Yes, this is what the Bernie Sanders version of Jewish outreach looks like," Daniel Greenfield wrote in FrontPageMag, a right-wing website associated with the David Horowitz Freedom Center, which describes the political left as an enemy of America. "Stone throwing and BDS papered over with random Yiddish and Jewish words to make anti-Semitism and hatred of Jew seem socially acceptable."
Zimmerman is hardly an anti-Semite. A native of Los Angeles born in 1990 and the great-granddaughter of a Holocaust survivor, Zimmerman grew up in a Conservative Jewish household, went to Jewish day school and Jewish camp, and was active in United Synagogue Youth, the Conservative movement's youth organization, according to a biography of Zimmerman on the website of the American Jewish Peace Archive. The bio is based on an interview with Zimmerman last May. Zimmerman said she visited Israel a number of times during her childhood.
When she started college at the University of California–Berkeley, Zimmerman initially gravitated toward the traditional pro-Israel camp. She joined Berkeley's Israel Action Committee, protested a divestment bill in the student senate and went to Washington in the spring to attend AIPAC's annual policy conference.
But Zimmerman's political views changed as she learned more from advocates of divestment and witnessed Israeli mistreatment of Palestinians during a visit to Israel, she said. She soon joined her campus chapter of J Street, the "pro-Israel, pro-peace" lobbying group that supports U.S. pressure on Israel to support a two-state solution. She spent the summer after her sophomore year studying colloquial Arabic at Hebrew University in Jerusalem. In 2012, Zimmerman was elected president of the national student board of J Street U, the group's campus arm.
Throughout her college years at Berkeley, Zimmerman said she opposed BDS, but over time she became supportive of the rights of pro-BDS groups to be part of the Jewish communal conversation on Israel.
"We are doing this out of love for our community and love for our neighbors," she wrote of her work opposing the occupation. "We know that Jewish liberation is inextricably tied to the liberation of all people."
When Israel and Hamas went to war in Gaza in 2014, Zimmerman helped found a group called IfNotNow that seeks to end Israel's occupation and during the war protested American Jewish groups like the Presidents Conference. Malcom Hoenlein, who heads the umbrella organization, told JTA he remembers the protesters outside his office during the war but did not talk to them and was not familiar with Zimmerman.
Since moving to Brooklyn, Zimmerman also has marched in #BlackLivesMatter protests and helped raise money for Jews for Racial and Economic Justice, a group that aims to "dismantle racism and economic exploitation" in New York.
But Zimmerman remains very focused on Israel. In her Haaretz column in February, she wrote of the importance of "bringing American Jews to do civil resistance work in solidarity with West Bank Palestinians."
"What we need is for the community to stop willfully blinding itself to the disastrous reality of holding millions of Palestinians under military occupation," Zimmerman wrote. "Moreover, we need the community to stop policing and demonizing those of us who say these truths in public and are fighting for change."
Now Zimmerman is fighting for the change Sanders champions. After Sanders won his first primary election in New Hampshire in February, Zimmerman hailed the historic moment.
"The first Jew in history just won a primary, as a proud socialist calling for political revolution, backed 85-15 by millennials," Zimmerman wrote on Facebook, according to a report in the Forward (Zimmerman's posts are not all viewable to the general public). Referencing Hillary Clinton, Sanders' Democratic rival for the presidency, Zimmerman added, "Hil thinks she can win us back with hawkish Israel policies? Wake the f—k up."