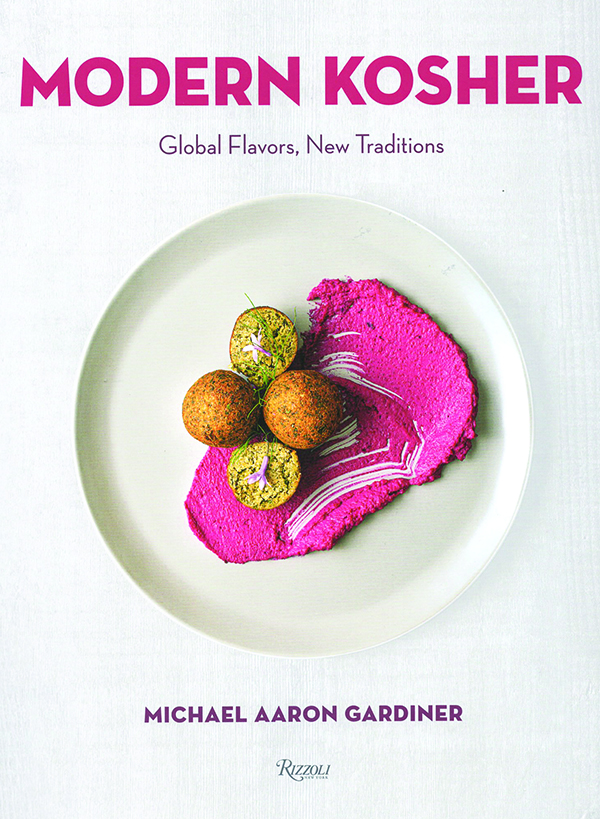 AJW Staff Report
In explaining how to use his new cookbook, award-winning food writer Michael Aaron Gardiner points out: "My goal is inspiration as much as replication. It's my genuine hope that for nearly every center-of-the-plate, star ingredient this book will offer interesting and delicious flavor combinations and new-to-you techniques and approaches (or all of them) to bring to your dinner table. That is, after all, pretty much exactly how Jewish cuisine has evolved over the years."
Modern Kosher: Global Flavors, New Traditions, with 50 color photographs by Sam Wells, and 100 recipes, is a beautiful volume — what one would expect from Rizzoli, a publishing house known for its art and photography books.
As the publisher's press release notes, the cookbook is divided into three parts: large and small plates of culturally Jewish recipes from Ashkenazi, Sephardic and contemporary Israeli traditions; global recipes from Asia, India, Latin and European countries and the Middle East; and "The Pantry," which includes essential sauces, stocks, pickles, spice blends, garnishes and flourishes.
Apart from the meat dishes (Short Rib Goulash, Lamb Shank "Birria," Tacos of Gribenes in Salsa Verde, etc.), the book includes a variety of vegan and vegetarian fare, along with gluten-free recipes.
"One thing you will not find in this book, however, is desserts," writes Gardiner. "It's just not the way I eat. I'm not sugar-phobic; sugar is just not where I choose to spend my calories. When my family finishes a meal with something sweet, it tends to be some berries (with or without a dollop of fresh cream), stone fruit (with or without a drizzle of good balsamic vinegar), or fresh mango (with or without a sprinkling of Tajin)."
In any case, there so many mouth-watering recipes in Modern Kosher, you might easily forget about the cakes and pies.
This is a must-have cookbook for Jewish foodies.
And to give you a taste, so to speak, of the treasures found in Modern Kosher, a recipe for couscous follows.
"Israeli couscous may be Israeli, but it's definitely not couscous," Gardiner explains. "Couscous is ground semolina (crucially without being mixed with either egg or water) rubbed together with wet hands until tiny granules form and are then dried. Israeli couscous, on the other hand, is tiny balls (about the size of larger peppercorns) of true pasta made from both wheat flour and semolina then toasted. Asparagus is a natural mate to Israeli couscous. Its brightness and astringency pairs well with the earthiness of the pasta. Tomato confit completes the picture by bringing sweetness, acidity, and color to the dish."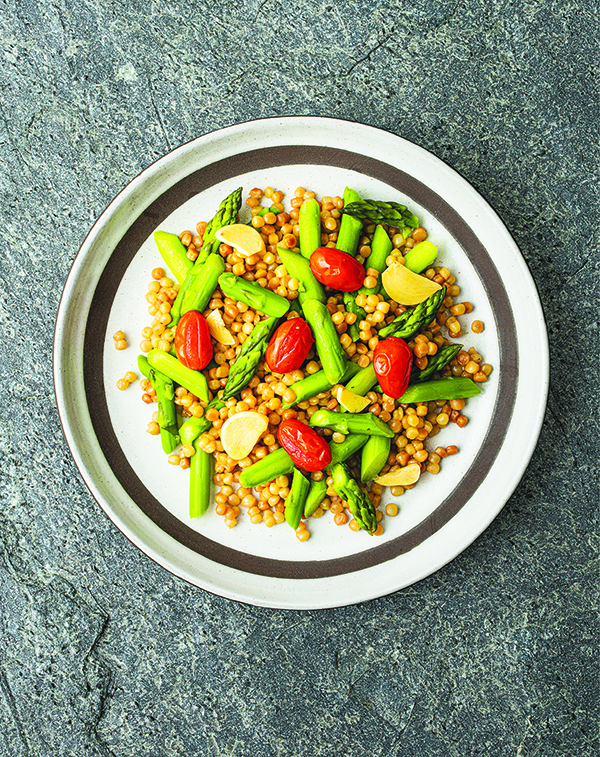 ISRAELI COUSCOUS WITH ASPARAGUS AND TOMATO CONFIT
(Serves 4)
1 tablespoon extra-virgin olive oil
1 cup Israeli couscous
Salt
2 to 3 cups vegetable stock
14 ounces slender asparagus spears, trimmed, cut diagonally into ¾-inch pieces (about 2½ cups)
¼ cup tomato confit
In a medium heavy saucepan, heat the olive oil over medium heat until shimmering. Add the Israeli couscous, season with salt, and cook until most of the couscous is golden brown, about 5 minutes. Add 2 cups of the vegetable stock, increase the heat to high, and bring to boil. Reduce the heat to medium-low, cover, and simmer until the stock is fully absorbed and the couscous is tender, about 10 minutes, adding more broth by the tablespoonful if the couscous is not yet tender.
Meanwhile, bring 4 cups of salted water to a boil in a large sauce-pan. Prepare an ice bath. When the water boils, add the asparagus segments and blanch until their color brightens, 3 to 4 minutes depending on the thickness of the asparagus. Remove the asparagus from the water and shock in the ice bath to fix the color. Drain and pat with paper towels to remove excess water.
Toss the asparagus with the couscous and divide into four bowls. Top each bowl with 1 tablespoon of the tomato confit and drizzle with as much as a teaspoon of oil from the confit (depending on how saucy the confit is).