by MAX SPARBER
Community News Editor
Interviewing Kinky Friedman is about three parts fascinating war stories from a half-century in music, one-quarter listening to your puzzling Jewish uncle whose politics you can't quite sort out, and five minutes of listening to Friedman try to locate someplace to smoke a cigar.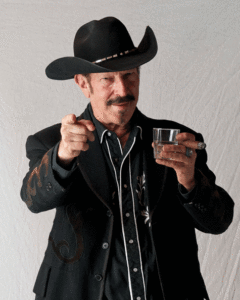 Friedman, at age 73, is an unrepentant smoker, even selling his own brand of cigars via his website kinkyfriedman.com. During an interview with American Jewish World, he wandered around a hotel in Cleveland, where he was staying as part of a punishing multi-state tour. "Where the hell can you smoke around here?" he wondered aloud.
Asked about the tour, he sighed. "Not too smart," he said.
Friedman probably remains best-known for a string of satiric country songs from the 70s, often with Jewish themes, including "Ride 'Em Jewboy" and "They Ain't Makin' Jews Like Jesus Anymore," has never been anything less than prolific. But his interests have been wide-ranging and have often caused him to roam away from music.
He has authored somewhere in the vicinity of nine novels, many of them detective tales featuring himself as the main character, as well as a book on etiquette and a forthcoming nonfiction piece about Bob Dylan, co-authored with and told from the perspective of Louis Kemp, who went to Herzl Camp with Dylan and then spent years as Dylan's tour manager.
And, as mentioned, Friedman has had a long and puzzling career in politics, mostly as a candidate, running for various Texas positions, including justice of the peace, governor and agriculture commissioner. He vacillates between being a Democratic and a Republican candidate, and in the last presidential election he backed Bernie Sanders before switching his support to Trump, a decision he still cautiously defends on the grounds that Trump supports Israel's right to self-determination, including Israel declaring Jerusalem its capital, in ways that other candidates didn't.
But I wasn't looking to talk politics with Friedman; for the sake of a short article, his politics are too complicated and reflexively contradictory to do justice. I wanted to talk music, which is hardly a simpler discussion to tackle with Friedman, but as Friedman will be performing Aug. 7 at St. Paul's Turf Club, it seemed the appropriate subject.
Friedman went a long time between his last album of all-new material and his recent ones: four decades. So what inspired his return to recording albums?
"Willie Nelson," is Friedman's surprising answer. "Willie called me one night. It was three in the morning. He asked what I was doing. I said, 'Watching Matlock.' He said that's a sure sign of depression. 'Turn it off,' Willie said. 'Start writing.'"
Friedman wrote the entirety of his newly released album, Circus of Life, in about a month. "They're arguably the best stuff I've ever done," he said. "I think they're better than anything I've ever written."
Friedman struggled at first, finding himself alone in a Denny's in the very early hours of the morning. "I was depressed, not actively trying to write a song," he remembered. "A guy comes in in his pajamas, a knit cap, trying to sell me some coupons."
Ordinarily, according to Friedman, he would have given the man some money, but he had no cash. Friedman left and, minutes later, he was overcome with guilt. "I should go back there and give this guy some money, for Chrissakes," Friedman recalled thinking. "I always give on the theory that this guy could be Jesus."
Friedman located a cash machine and returned to the restaurant, but the man was gone. "The cashier and customers had not even seen him," Friedman said, puzzled. And so, shortly afterward, on the way from Dallas to Fort Worth, Friedman wrote his first song for the new album, titled "Jesus in Pajamas" and retelling the incident.
When I noted that the subject of Jesus is an unexpected one from a performed so associated with Jewishness, he explained his opinion about the subject, that Christianity was "birthed by Judaism. Christians are our spiritual children.
"A Jew had to write that song," Friedman continued. "Leonard Cohen didn't do it and Dylan didn't do it, so Kinky had to."
After Friedman completed his new collection of songs, he called Willie Nelson to update him, and also because there had been reports of ill-health on Nelson's part. "I've been hearing that you're not well," Friedman said.
"I'm okay," Nelson said, "but what channel is Matlock on?"
***
Kinky Friedman will perform 6:30 p.m. Tuesday, Aug. 7 at The Turf Club, 1601 University Ave. W., St. Paul. For information visit turfclub.net.
(American Jewish World, 7.27.18)