By MORDECAI SPECKTOR
Dick Bancroft, my dear friend for the past 40 years, succumbed to complications from chronic obstructive pulmonary disease on July 16. He died just a few days before his 91st birthday.
Although not Jewish, he was a partner in Minnesota Jewish Media, LLC, the parent company of the American Jewish World. His involvement in the newspaper sprung from our personal friendship and his enthusiastic support of my journalism.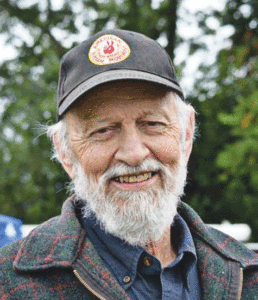 In the 1980s, before I started on the Jewish beat, we traveled around the United States documenting American Indian struggles for land, treaty rights and cultural survival. Dick was the photographer and I was the writer. From the North Woods to the Sonora Desert, and to visits with incarcerated Indian activists and nonviolent resisters, Dick was a delightful traveling companion. He was always searching out the odd roadside attraction and the small-town café that cooked up the best local fare.
Richard M. "Dick" Bancroft, a St. Paul native, had a varied career as an insurance salesman; missionary to urban squatters in Nairobi, Kenya, in the 1960s; and a social activist with a 35mm SLR camera. His community involvements early on included serving on the boards of Hallie Q. Brown House and Neighborhood House, both in St. Paul.
In the early days of the American Indian Movement (AIM), which formed as a street patrol in 1968, in response to police brutality against Indians on Franklin Avenue in south Minneapolis, Dick was recruited to document the contemporary American Indian rights movement. In 1972, he photographed AIM's Trail of Broken Treaties cross-country caravan when it reached Washington, D.C.
Dick was not overly concerned about marketing his photography; rather, it was a labor of love and his contribution to Native people. In 2013, Minnesota Historical Society Press published a collection of Dick's photographs, We Are Still Here: A Photographic History of the American Indian Movement, with text by Laura Waterman Wittstock, and an introduction by Rigoberta Menchú Tum (K'iche' Maya from Guatemala), winner of the 1992 Nobel Peace Prize.
Before the onset of his pulmonary problems, Dick enjoyed cutting firewood in the woods by his home in Sunfish Lake. He also made a portion of his land available to Hmong gardeners, and for a sweatlodge, the structure for an American Indian purification ceremony.
And he was proud of his children.
Dick's eldest daughter, Ann Bancroft, the famous polar explorer, told the Pioneer Press that her father "influenced the paths" of his children's lives and "the way in which we try and lead our lives — looking out for injustices, paying attention, eyes wide open."
"He was the most adventuresome person I have ever met," Dick's wife, Debbie Bancroft, told the newspaper.
Dick was preceded in death by his son, Bill, who died in 2004. In addition to Debbie and Ann, Dick is survived by daughters Carrie and Sarah, son Hunter, and six grandchildren.
The family is planning a public memorial later this year. In memory of Dick, donations can be made to Neighborhood House, the AIM Interpretive Center or to a charity of the donor's choice.
The partners of Minnesota Jewish Media, LLC extends sincere condolences to the Bancroft family. May Dick's memory be for a blessing.
(American Jewish World, 7.27.18)