It was another eventful month in the Twin Cities. They just keep happening.
The news in April was dominated by the trial of former Minneapolis police officer Derek Chauvin, who was charged in the death of George Floyd, in downtown Minneapolis. Then press attention shifted to Brooklyn Center, north of Minneapolis, where, on April 11, Kimberly Potter, a veteran officer of the Brooklyn Center Police Department, intervened in the traffic stop of Daunte Wright, a 20-year-old Black man, who was driving a vehicle with expired license tabs, and ended up fatally shooting him.
Potter reportedly claimed that she meant to use her Taser, but instead fired her gun, hitting Wright in the chest with one round and killing him. She has been charged with involuntary manslaughter; but protesters are demanding that she be charged with murder.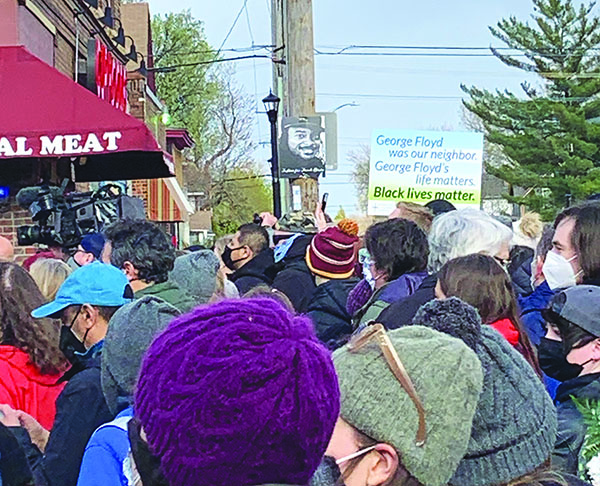 And Brooklyn Center erupted in protests for several nights. Demonstrators gathered at the police station, which was fortified with chain-link fencing and barbed wire, and defended by dozens of cops, State Patrol troopers and Minnesota National Guard soldiers. A raucous crowd late in the evening was met by "less lethal" munitions, including flash-bangs and tear gas. Several reporters and photojournalists were physically assaulted by the militarized police force. Dozens of protesters were arrested. Businesses were looted around the Twin Cities.
Prior to the police shooting of Wright, the Twin Cities was already in a state of anticipated siege, as authorities feared another round of civil unrest, as happened after the murder of Floyd last year. Businesses boarded up their windows, and the National Guard patrolled the streets. Eventually there was a brigade-size deployment of 3,000 National Guard troops, augmented by local cops and highway patrol officers from other states. There were more soldiers on Twin Cities streets than the number of troops deployed to Afghanistan.
On April 20, a few hours after Derek Chauvin was convicted on murder and manslaughter charges, my wife and I visited George Floyd Square, the memorial to the 46-year-old Black man murdered at that spot by Chauvin and three former cops under his command. The so-called autonomous zone is eight blocks west of our home in the Powderhorn Park neighborhood. It was a celebratory mood in the zone; feelings of relief mixed with jubilation that the judicial system held a white cop guilty for killing an unarmed Black civilian for the first time in Minnesota state history. There also was an interfaith service early in the evening, and several local rabbis and cantors participated.
Absent astute political leadership in the face of endemic social problems, we seem destined to lurch from crisis to crisis, amid calls for racial justice, an uptick in crime and political divisiveness. (I wrote about our feckless Minneapolis elected leaders in my April editorial, so I won't plow that field again.)
In the way of responding to the global movement for racial justice ignited after the police murder of George Floyd last year, Robin Washington, an illustrious member of Minnesota's Jewish community, proposed some ideas in a recent article for the Forward. Washington, the former editor of the Duluth News-Tribune and recently named editor-at-large for the Forward, wrote on May 2: "If you do nothing else over Shabbat on May 14 and 15, whether you go to shul or not, say kaddish. And say it for George Floyd. Say his name.
"George Floyd was killed on May 25, or 2 Sivan, which corresponds to May 13 this year. If it is your tradition on the following Shabbat to say kaddish for those to whom you are not related or those who are not Jewish, say kaddish for him. If it is not, say his name sometime during that Shabbat, perhaps when you rise or when you pause during the day."
Washington, who is of African American and Jewish ancestry, continued: "It isn't an act of baptizing the dead and hardly a posthumous conversion. As is oft-repeated, kaddish is a prayer for the living, and an opportunity and responsibility to remember the dead.
"And the best thing we could do to go on with our lives in these troubled times is to say his name. It's the ultimate reminder of the inhumanity of racial oppression that we must and shall overcome. It's also, barely a month after the officer who killed Floyd was convicted of murder, a glimmer of hope that maybe, finally, justice long denied to a people wronged for centuries can at last be achieved."
And in the way of educating ourselves about the history of this land, the events that have brought us to this dismal pass, I suggest watching the HBO series by Raoul Peck titled Exterminate All the Brutes. The four-part docuseries, about four hours in length, blends Peck's experiences growing up in Haiti, the Congo and the United States, with an examination of European colonialism and white supremacy, as manifested in the conquest of the Native nations on this continent and the horrific history of the trans-Atlantic slave trade and chattel slavery, followed by Jim Crow, American apartheid, in the South, that reverberates to this day. In his examination of racism, Peck — who directed the acclaimed 2016 documentary about author James Baldwin, I Am Not Your Negro — returns repeatedly to the Holocaust, the greatest mass murder of the 20th century, and ties the destruction of European Jewry by the Nazi regime to the depredations committed by the colonizers of the New World.
If we are going to engage in work toward creating a more humane society, we really need a clear view of what happened here over the ages. If we cling to historical fantasies — and a large fraction of the citizenry continues to embrace wingnut conspiracy theories and "alternative facts" — we are doomed to fail in our attempts to create beneficial change.
— Mordecai Specktor / editor [at] ajwnews [dot] com