At six-foot-three, she towers above all of the other Jewish lesbian comics
By MORDECAI SPECKTOR
Perhaps you've noticed that there are many Jews in the comedy branch of show business. I'm not going to publish a list here; but Jewish shpritzers have been disproportionately represented in the comedy biz for a number of decades.
"I never knew that," comic Judy Gold replies disingenuously. "I have to tell my partner that."
Gold, 50, then shifts gears. "I know. We're funny — we're smart and funny. If you think about the whole Jew-in-comedy thing, comedy is taking a situation and looking at it from a completely different point of view that no one would ever think about. The joke really is a surprise, like you don't expect it."
And the veteran stand-up makes an analogy to the rabbis of yore who studied the same passage of Torah — "for how many thousands of years?" — turning it over and over. "It's the way we're taught to think."
"And I believe that comics are Talmudic scholars," she kids, during a phone interview last week with the Jewish World, from her vacation home in Provincetown, Mass.
Gold will schlep from her home on the West Side of New York City for a three-night stand, Sept. 19-21, at Acme Comedy Company in Minneapolis. She hasn't played Minneapolis in quite some time, although she has fond memories of being cooped up in a local hotel room during a blizzard many years ago.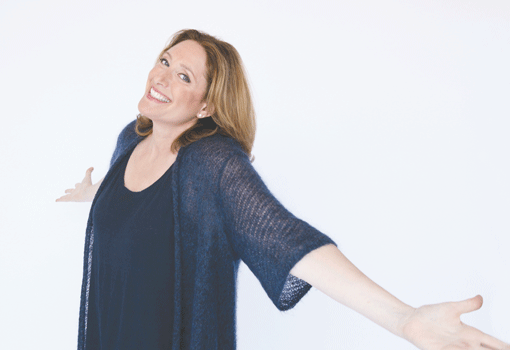 Widely known for her TV appearances (The Tonight Show with Jay Leno, The View, 30 Rock, The Big C, and comedy specials), Gold has won two Emmy Awards for writing and producing The Rosie O'Donnell Show. Her one-woman off-Broadway show, 25 Questions for a Jewish Mother, ran for five years.
And Gold reprised her off-Broadway hit, The Judy Show — My Life as a Sitcom, this summer at the Geffen Playhouse in Los Angeles.
The Judy Show is about Gold's life "and how I was addicted to sitcoms growing up." She wanted to run away to The Brady Bunch, or hop aboard The Partridge Family band bus.
She makes no pretense about her ambition to appear weekly on hi-def flat screens across this land.
"I'd love to do a sitcom of a gay family, where you forget that they're gay, because they're just a family and they have the same exact issues that you have," she says. "That would be my dream."
We discuss some of the sitcoms with gay characters; then Gold notes, "By the time I get a sitcom, I'll be playing my grandmother on it."
In the way of summing up her comedy thing, Gold describes herself as a "6-foot, 3-inch lesbian Jewish mother of two boys."
Asked about the kids, Gold responds, "I have two boys: annoying and annoying."
Henry is 17; and Ben, who's 12, will celebrate his Bar Mitzva next year.
When not pacing around comedy club stages, as she'd done for the past 30 years, Gold performs for various Jewish groups. She lights Shabbos candles, and attends shul "at random times." Gold's synagogue is B'nai Jeshurun, on New York's Upper West Side. BJ, as it's called, is renowned for its SRO musical Kabbalat Shabbat services.
And I'll mention, apropos of nothing really, that Gold enjoyed my David Brenner story.
(Here it is: I wrote about Brenner many years ago in the AJW, when he had a gig at the comedy club in the Mall of America. At the end of the phone interview, Brenner told me to stop by and say hello after his show. So, we went to the club, caught his act, and after the show I handed my business card to an employee who went backstage. After a few minutes the club employee returned and handed me back my card: "David says that he doesn't know you.")
In parting, Judy Gold says, "If you come see the show, which I hope you do, I promise I will say hi to you after."
***
Judy Gold performs Thursday through Saturday, Sept. 19-21 at Acme Comedy Company, 708 N. First St., Minneapolis. For reservations, call 612-338-6393; for information, go to: acmecomedycompany.com.