Reviewed by NEAL GENDLER
Most Jews are born that way, others have to work at it — but few as hard as an Israeli named Zerubbabel Tzidkiya.
The Prophet of the Andes, born Segundo Villanueva, in 1927, in an impoverished Peruvian hamlet, was a mestizo — descended from Spaniards and Andean women — and a Catholic until opening his murdered father's trunk.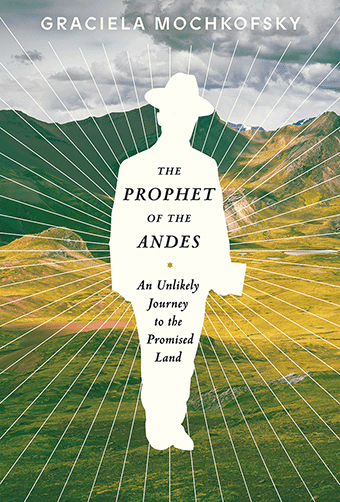 At the bottom was a forbidden object: a Bible.
Possessing a Bible then was considered "an act of arrogance," heresy, says Graciela Mochkofsky, author of six nonfiction books in Spanish and daughter of a Jewish father and Catholic mother. "The Bible was for priests; they alone were permitted to read it and understand it."
This Bible was in Spanish. Segundo, 21, began to read it.
"Segundo was overcome with awe-inspiring emotion," Mochkofsky says. "God was speaking to him … showing him the way to live."
But how to make sense of the first five books' rules and follow them?
"What he grasped immediately, and with the shocking force of revelation, was that the priests lied. For example, graven images and idols were forbidden, but his region "was overflowing with idols," images of saints, statues of the Virgin and Jesus.
Shabbat was Saturday, "yet the priests claimed that Sunday was the holy day."
More things conflicted with what was taught. Then he read the New Testament, finding conflicts within it and with the Old.
He drew a few men into Bible discussion; debate was vigorous. Segundo "would accept no half-truths or ambiguity … but he didn't impose himself. Segundo always left open the possibility of a new discussion," Mochkofsky says.
Segundo tried Protestant denominations, settling with Seventh Day Adventists. He and his brother Alvaro kept Shabbat like observant Jews and took new names: Zerubbabel and Aaron (later Mordecai in Israel).
After a decade they left the Adventists. In 1962, Segundo, 35, founded his own church, Israel of God. Eventually they dropped Jesus; the prophets hadn't mentioned the Messiah coming twice.
Mochkofsky describes Segundo's long path to creating a Jewish congregation with a branch in Trujillo led by Victor Chico, taken in as an orphan by Segundo.
Mochkofsky's account of how this group — and eventually 500 Peruvian converts — ended up Jews in Israel is extensive. A few highlights:
In 1967, Segundo and followers create Hebron, a settlement with 21 family plots along a river in the Amazon. Despite two crops a year, they don't prosper and eventually leave.
Of his many Bibles, Segundo decides the authentic version is Hebrew; he knows the alphabet but not the language. A rabbi in Lima provides written instructions, and Segundo obtains a Hebrew-Spanish dictionary and a copy of Jewish Traditions and Customs. Reading it while traveling home, he realizes his group follows its calendar and customs. Reaching Hebron, he tells his people that they're Jews.
Unfortunately, others disagree.
He, Alvaro and a few others go to Lima to be circumcised. The mohel refuses. A Jewish surgeon agrees.
At Lima's Sephardic synagogue, congregants shun Segundo's group. The rabbi and Lima's Ashkenazic rabbi conclude that the group is messianic and end contact.
Now, "he'd lost his church, his leadership and his foreskin," Mochkofsky says. "In exchange, the people he declared himself a part of rejected him, their rabbi refused to speak to him, and only as an intruder could he attend the rituals that no one was willing to teach him and that were conducted in a language he didn't understand."
Reading Judaism and Christianity, he concludes that the New Testament is false. He and followers rip it from their Bibles.
In 1973, Segundo moves to the city of Trujillo to start again, opening a broom factory. With followers in two cities, the congregation renames itself Bnai Moshe, slowly building a small synagogue in El Milagro.
In 1987, a Peruvian-Israeli is shown a photo of Victor in a tallit and arranges for an Israeli rabbi to meet him and Segundo in Trujillo. In 1989, Israel's chief rabbis — who hadn't responded to Segundo's son's repeated letters — authorize a beit din (rabbinic court) in Trujillo for conversions. Of about 160 Peruvian candidates, 86 pass.
Six months later, the converts are at Elon Moreh, in Samaria. But Segundo, now Zerubbabel Tzidkiya, and Alvaro/Mordecai come to reject the authority of the rabbis and Talmud. They visit the Karaites of Ramla, who recognize only the Torah as legal authority. Then Zerubbabel starts praying with Samaritans, causing problems with Elon Moreh.
After four years, Zerubbabel moves his family to Kfar Tapuach, which doesn't offer the Torah discussion he and Mordecai want, "only dogma, what the rabbis said," Mochkofsky writes. After five years, during the 2000 intifada, Mordecai moves near Haifa.
"We didn't leave because of the Arabs," Mordecai says. "We left because of the Jews."
Zerubbabel goes to Peru for a time, then returns to Kfar Tapuach.
Prophet, with photos, is easy reading, if slowed by many names, places and events while lacking an index.
Over nearly two decades, Mochkofsky did enormous research to provide rich detail, interviewing living principals including Segundo's family and Victor, and she mentions that small Jewish congregations now dot Latin America.
Mochkofsky met Zerubbabel in Israel in 2005, but his dementia prevented a cogent interview.
In 2008, nearly 81, he apparently suffered a seizure or stroke, dying in an ambulance as it entered Jerusalem.
***
Neal Gendler is a Minneapolis writer and editor
(American Jewish World, October 2022)